Dow AgroSciences LLC is spending millions of dollars and racking up hundreds of patents as its expands ever deeper in the burgeoning global market for genetically modified crops and pesticides.
Indianapolis-based Dow Agro has more seeds, herbicides and fungicides about to reach the market than it has at any time since 1989, when it was founded by locally based Eli Lilly and Co. and Dow Chemical Co., the Midland, Mich., chemical giant.
Now owned exclusively by Dow Chemical, Dow Agro is about to roll out a set of products experts predict will be a blockbuster on the scale that antidepressant Cymbalta was for Lilly.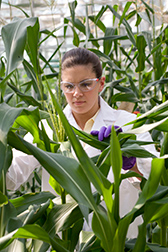 As Dow develops its new herbicide, it's also designing corn seed that will be resistant to the chemical. (Photo courtesy of Dow AgroSciences)
Enlist Weed Control System, expected to start selling in 2015, kills weeds that have grown resistant to glyphosate, the active ingredient in the popular Roundup herbicide developed by competitor Monsanto Co.
Enlist is just one of dozens of products Dow Agro expects to put out in the next few years. The company is looking to build on canola and sunflower oils, as well as the old-line pesticides that helped grow the company in recent decades.
Dow Agro had almost 3,500 patents worldwide at the end of 2013, up from 2,800 just a year earlier, according to Securities and Exchange Commission filings.
Dow Agro received more patents than almost any other Indiana company last year, eclipsed only by a handful of surgical equipment producers and drugmakers, according to ipAnalytx, an Indianapolis company that tracks intellectual property.
The frenzy of research at the 1,800-person complex on Zionsville Road, near West 96th Street, has created 13 products set to reach the market by 2018. Almost 30 more products are slated for roll-out later.
"The pipeline has been better than ever in our history," said William Kleschick, global leader of discovery research at Dow Agro.

Revenue, $7 billion in 2013, is on track to double over the next five to 10 years because of the wave of product launches, Dow Agro says.
ipAnalytx owner Mike Pellegrino said of Dow Agro's R&D work: "We've only scratched the surface of what they're doing. You've really not yet even captured the momentum of where these things are going to go."
Innovation drivers
Dow Agro had been a longtime maker of pesticides for crop insects and such household pests as termites when it began delving into genetically modified crops in the mid-2000s.
Last year, had it been a stand-alone public company, Dow Agro would have been fifth-largest in Indiana behind WellPoint Inc., Lilly, Cummins Inc. and Steel Dynamics Inc.
"Crop protection"—herbicides, fungicides and insecticides—accounted for more than three-quarters of sales in 2013. But the company is tipping R&D increasingly toward the plants themselves.
The global market for agricultural technology is valued at $100 billion and is set to explode as the human population swells from the current 7 billion to an anticipated 9 billion by 2050.
More people creates need for more food, but experts worry crop yields won't keep pace.
Dow Agro is not alone in chasing the surging industry. In addition to St. Louis-based Monsanto, competitors include DuPont Pioneer, headquartered in Des Moines, Iowa, and Germany's Bayer AG.
The explosion of research was enabled not by crop science but by the quest to decipher human genetics.
The Human Genome Project, which lasted from 1990 to 2001, opened the doors to crop and seed R&D by making the research methods substantially easier and cheaper than they had been 15 to 20 years earlier, said Mitch Tuinstra, a Purdue University plant breeding and genetics professor.
"Lots of groups are sequencing the different genomes of the plants—'It looks like this is the gene. These are our problems,'" he said.
Dow Agro's fat profit margins have motivated Dow Chemical to keep investing in agricultural sciences.
Officials at the parent company would not provide specifics on how much the company invested in its Indianapolis operations. However, a February filing with the SEC notes that, in 2013, corporate-wide R&D expenses increased about $40 million to $1.75 billion, "largely due to higher spending on strategic growth initiatives in Agricultural Sciences."
"We've received very, very favorable treatment in terms of investment versus many of the other Dow businesses for a number of years now," Kleschick said.
Enlisting Enlist
One of Dow's most-watched new products is Enlist, an herbicide paired with corn, soybean and cotton seeds that are resistant to the herbicide.
Dow is trumpeting the system as a blockbuster.
Weeds that have grown resistant to glyphosate through genetic mutations have proliferated in recent years, forcing seed and chemical companies to escalate the battle with new chemicals and genetically modified seeds.
Before the advent of Roundup in 1976, farmers typically killed weeds by uprooting them or covering them with dirt—both through tillage. However, tillage led to soil erosion because stalks and other plant material remaining after harvest were buried, leaving the soil exposed to wind and water.
But weeds began to develop resistance to Roundup; today, dozens of species no longer wither under its power. About 85 percent of U.S. farmers have herbicide-resistant weeds.
"It seems like weeds and insects are always evolving," said Don Villwock, president of the Indiana Farm Bureau.
Enlist is strong enough to kill those weeds, but also crops, which is why Dow developed seeds to resist it.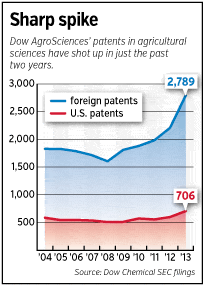 A substance that potent has attracted criticism.
"It's kind of like this toxic spiral," said Bill Freese, science policy analyst at the Center for Food Safety in Washington, D.C. "It seems like we need to get back to more sound agricultural practices."
Critics respond
The staunchest opponents are quick to note that Enlist's key chemical component, 2,4-D, is one of the main parts of Agent Orange, the herbicidal weapon used to kill the enemy's crops during the Vietnam War.
Medical research has connected 2,4-D to non-Hodgkin's lymphoma and Parkinson's disease, among other health issues.
The herbicide also can drift to neighboring farm fields where crops aren't resistant, Freese warned.
Dow Agro retorts that many claims about its products' effects on health and the environment are unsubstantiated.
Issues with the drift have been addressed, it says, by making the chemical stick better to soil and plants.
If the products weren't safe, the company would not spend millions of dollars on R&D, Kleschick said. Otherwise, the U.S. Department of Agriculture and Environmental Protection Agency would keep the products off the market.
"In the earliest days of discovery, when we're worried about efficacy first, we don't get too far down the road … before we start worrying about potential health-and-safety or environmental factors," he said.
"Occasionally, you have to make a painful decision," he added. "You may be enamored with something from an efficacy standpoint, but if it doesn't meet the regulatory hurdles, it stops there."
Farmer reaction

Kleschick
Indiana farmers are divided on Enlist, said Villwock, who operates a 4,000-acre farm near Edwardsport in southern Indiana.
Corn and soybean farmers want Enlist because Roundup-resistant weeds are choking their fields. But farmers who grow more sensitive crops—tomatoes and grapes, in particular—worry about drifting herbicide, he said.
Proponents have "known of this coming technology, and they're just flustered with the length of time it takes the EPA and USDA to get these products approved and registered," Villwock said. "From everything I've seen, it's a very safe product."
The battle against weeds is expected to fuel seed R&D, industry wide, and keep growing as costs continue to drop, said Purdue's Tuinstra.
"Dow is absolutely going to invest more in research," he said. "It's a sign of the times."•
Please enable JavaScript to view this content.