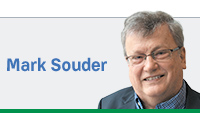 This debate is not new. A famous president of Purdue University once said that whoever raised the abortion debate was the loser. Political debate over issues such as gay marriage, abortion, marijuana, prayer in schools, hiring rights of religious organizations, and posting of the Ten Commandments has long been a part of the American political process.
The leadership of those motivated primarily by moral issues led to the end of slavery, child labor laws and Prohibition. All were bitterly contested in elections. In our self-absorption, we tend to think our current arguments are original.
In the last few years, however, those who had the momentum on moral issues have lost it. Since social conservatives are the largest sub-group in the Republican coalition—a fact forgotten at its peril—it is instructive to analyze some of the key stumbling points.
• Todd Aiken's rape comments in the Missouri Senate race.
This signaled the key turning point. It wasn't abortion but rape, and the implication that if a female got pregnant it was her fault. He didn't mean to say that, but when you take apart his answer, that is the underlying point. It made abortion even more toxic in public debate.
• Richard Mourdock's comment during the Senate debate with Joe Donnelly.
His comment, a rather simplified version of Calvinist theology (God's in control of all things), worked for those who understood that even Calvinists believe rape is a result of sin that leads to evil; that the rapist committed an evil act; that Christian hearts go out to the one raped, and Christians believe in harsh justice for the rapist and love for the victim. Only he didn't say the last part.
• Donnelly set up the blunder perfectly by claiming Mourdock's approach was "my way or the highway" in repeated creative ways.
• The core challenge is that the No. 1 moral issue today seems to be "tolerance"—both outside and inside the religious community.
The tone of Aiken, Mourdock and Bennett exacerbated this trend but did not cause it.
• A Howey Politics poll just before the 2012 election caught this underlying drift.
When Brian Howey printed his last poll on the Senate race, I was upset because, in looking at the "underneath" numbers that showed how the respondents felt on different issues, I felt the final results were skewed because the voters were evenly split on gay marriage and legalization of marijuana.
I did not think those were the views of Hoosiers. But I was looking at it from a wrong perspective critical to this discussion. The present political mentality is not policy but process: It is wrong to judge others.
Let me make this point in a personal way. Since my resignation, people are nicer to me than when I was a congressman and say that I should not have resigned.
But there is a difference between forgiveness and lack of accountability. Hyper-individualism has been substituted for love with standards. We are in a "me want mine" political cycle.
Moral issues are not just a "don't" list, but include moral imperatives toward the poor, the hungry and the hurting. Jesus Christ is going nowhere, His followers will remain committed to His teachings, and moral activists are needed in the public arena.
Many social conservatives have retreated to the back benches, beaten down by politics. They, however, are not gone.•
__________
Souder, a former business owner and Republican representative of the 4th Congressional District, is a political commentator living in Fort Wayne. Send comments to ibjedit@ibj.com.
Please enable JavaScript to view this content.