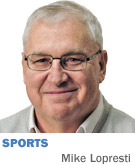 OK, this is getting serious. It's mid-March, and Wichita State still has a zero on the right side of its basketball record.
Wonder if the 1976 Indiana Hoosiers have noticed?
Perhaps you know them by their stage name, which would be a fine choice for a personalized license plate. LTTGU. Last Team To Go Unbeaten.
It has been 42 years since a man walked on the moon and 38 years since a men's Division I college basketball team finished a season with a perfect record. You can probably guess which one Quinn Buckner knows more about.
He was one of the Indiana ringleaders back in '76. The question was if those Hoosiers ever worry about an interloper trespassing on their hallowed ground.
"Scott [1976 teammate May] is a dear friend and we live a few blocks from each other. We don't even talk about that," Buckner said the other day. "My view, and I don't think it's unlike that of our group, is somebody probably at some point will do that. But our team won't be beaten, and that's something to be proud of."
Certainly. But it's time to start wondering if "somebody" might be Wichita State and "some point" might be in three weeks.
Odds are, no. Blowing over the flatlands of the Missouri Valley Conference like a thunderstorm is one thing; surviving six games in the NCAA Tournament microwave oven is another. Wichita State will not be on the last line in many office pools.
But the Shockers have been unflappable and unstoppable on the way to 34-0. They are dismissive of the critics who question the calorie content of their schedule. When asked his view, coach Gregg Marshall deferred to a recent Twitter offering from Shocker forward Chadrack Lufile: "Wolves do not fret over the opinions of sheep."
Hard to decide what is more striking about that—the message, or the fact that the probable national coach of the year is now quoting one of his players' tweets.
Anyway, they're making a rare threat to take away Indiana's official LTTGU designation. This is only the third team since 1976 to carry an unbeaten record into the NCAA Tournament, and the other two came close to finishing the job.
Indiana State and Larry Bird got as far as the national championship game and Magic Johnson in 1979. Defending champion UNLV was deposed in a Duke coup in the Final Four in 1991.
Now here's Wichita State, having earned the right to be taken seriously. Last April, the Shockers pushed Louisville in the Final Four, before giving way 72-68. It was the closest finish the Cardinals had in their championship run.
Images come to mind of the 1972 Miami Dolphins, supposedly drinking a toast each season when the last unbeaten falls in the NFL, thereby protecting their status. There is probably more myth than fact to the story, but it is true many of the Dolphins don't mind their 17-0 record staying unmatched.
Might the 1976 Hoosiers' favorite team now be whoever's playing Wichita State?
"For me to root against some other kid and his success is inconsistent for me," Buckner said.
"I'm amazed at the time that's passed since. I thought it would have been done by now. Frankly, my kids are probably more proud of it than I am. I'm not unproud of it; I'm just not an athlete anymore, so I don't view it that way.
"But for my children and my grandchildren, they're very proud of it, and for that reason, it's kind of nice."
So many things work against such a thing now. Parity. A more balanced bracket. More tournament games to play. And most of all, the quick exit ramp underclassmen take from college. Seldom are powerhouses allowed to mature. Indiana started four seniors in 1976.
That is why reasonable people have predicted no one will be replacing the Hoosiers for eons. The average number of defeats for the 14 national champions so far this century is 4.9.
"Never is a long, long time," said Ron Wellman, chairman this year of the NCAA Division I Men's Basketball Committee. "But it's going to take a unique set of circumstances and a unique team for someone to go undefeated these days."
But the '76 Hoosiers better get ready for the spotlight. If Wichita State advances to the Final Four, their phones will start ringing like Domino's pizza on the weekends. Thirty-eight years later, that comes with the territory.
"It's amazing that it comes up that way," Buckner said. "They bring up a team from 1975-'76 and I'm like, 'Whew, that's a long time ago.' But in terms of it happening again, inevitable may be the word, it may not be the word. It's just the nature of life that things change, and I expect at some point it will change."
The guess is, not yet. Too many traps out there await Wichita State. LTTGU. The title belongs to grandfathers now.•
__________
Lopresti is a lifelong resident of Richmond and a graduate of Ball State University. He was a columnist for USA Today and Gannett newspapers for 31 years; he covered 34 Final Fours, 30 Super Bowls, 32 World Series and 16 Olympics. His column appears weekly. He can be reached at mlopresti@ibj.com.
Please enable JavaScript to view this content.