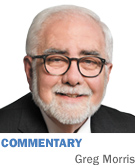 I don't know Jim Irsay personally, but I feel like I know him. I'd like to know him better. I've been thinking a lot about Jim and his situation the last few days. I keep wondering if there's something I can do to help, and for now this column is my best effort in that regard.
At this time, I don't really care what Irsay's arrest does, if anything, to the city's chances of hosting the 2018 Super Bowl. We'll either get it or we won't. I'm not overly concerned about the reputation of the NFL or the Indianapolis Colts franchise. They will carry on just fine. Jim's daughter Carlie, along with a highly experienced management staff, will watch over the Colts, and veteran coaches and players will continue to excel at their jobs.
The only thing I care about right now is the well-being of Jim Irsay. I care about Jim and his mental and physical health. Voluntarily checking himself into rehab is a very positive step and already puts him on the long road to recovery.
I also believe he needs the support of the entire community. Jim Irsay is a good and caring man. I've heard too many stories of Jim's kindness, compassion and generosity to believe differently. These are stories that don't make headlines. Stories like quietly helping send to college a kid whose family couldn't afford it. Jim helps out whenever he can. And he deserves our best wishes.
Of course, we haven't seen a lot of support in the media. Early on, in particular, I was sick of the relentless replaying of Irsay's booking by the Carmel Police Department at the Hamilton County Jail—along with the double mug shot and sensational headlines plastered everywhere. We've seen non-stop promos touting the arrest, with assurance that the latest update is coming up in just a few minutes even when there's nothing new to say. And of course, there's all that analysis from the so-called experts.
There's been a lot of erroneous reporting. So, don't be too quick to judge based on what you've heard so far. Remember, you need to know the facts before you can make a judgment.
I've been especially disgusted with many of the blogs that feature mean-spirited comments made by anonymous posters. If you've got something to say—man up and identify yourself.
There have been caring exceptions. Bob Kravitz's column in the March 18 Indianapolis Star is my best example. It was well-written with a mixture of compassion and tough love. Also, WTHR-TV Channel 13 Sports Director Dave Calabro did a nice job giving the facts early on and closed the segment I watched with best wishes for Jim. These are just two examples.
My hope is that Jim can totally detach from all this insanity for a while. His voluntary rehab should allow him time to focus on himself and the people around him who really matter. Forget about all the mindless chatter in the media. And in time, I hope, he will realize how many people in this community really care about Jim, the man, and that will bring some comfort and peace to a troubled soul. But, make no mistake; it's going to be tough going for a while.
I was pleased to see attorney Jim Voyles by Irsay's side. I have great respect for Voyles and his abilities. If I were in a similar situation, that's whom I would want representing and counseling me. Yes, Voyles will offer Irsay sage legal counsel, but additionally and maybe even more important, his personal advice to a friend in need will be a critical component to a successful outcome.
So, can we cut Jim Irsay some slack, please, at least for the moment? At press time, we hadn't seen the specific charges, if any, from the prosecutor. We hadn't seen the defense. We don't know all the facts. Yet, in the haste to fill a lot of airtime and print and Web pages, we're sure getting a lot of opinion of what needs to be done.
Indianapolis is a better place to live and work because of the many personal contributions of Jim Irsay. Jim, God speed and best wishes for a speedy recovery. Take all the time you need, but please know there's a lot of love waiting for you when you're ready to receive it.•
__________
Morris is publisher of IBJ. His column appears every other week. To comment on this column, send e-mail to gmorris@ibj.com.
Please enable JavaScript to view this content.