It takes just a 10-minute drive from his company's newest nursing home to its oldest for Dr. Stephen Moore to show in stark terms that the facilities aren't what they used to be.
In fact, can't be what they used to be.
From the sprawling $18 million structure Bloomington-based CarDon & Associates is building on 46 acres behind a massive new housing development in Bargersville, Moore steered his white Toyota SUV north to Greenwood Health & Living, which is tucked on five acres between modest 1960s ranch homes.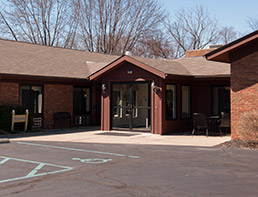 Greenwood Health & Living, built in 1982 when most nursing home patients paid via the Medicaid program, features narrow hallways, two patients per room, shared bathrooms and showers down the hall. (IBJ Photo/Eric Learned)
The old facility was built in 1982, when many owners did much of their own construction work. Moore's parents, who founded CarDon in 1977, hung wallpaper in the Greenwood facility. Moore himself spent a summer as a teenager putting a new roof on one of the buildings there.
But today, the forces of health care reform are pushing nursing homes to convert from places where the elderly live out their years into an extension of hospitals that help sick seniors recover quickly and return to their homes.
At the same time, patients have become accustomed to the hotel-like amenities added by hospitals in the past 15 years, and now expect the same from the nursing homes they visit after their hospital stays. That means the dormitory-style living at facilities like Greenwood Health & Living—with two to a room and showers down the hall—doesn't cut it anymore.
"It's time for us to provide a more market-responsive community," said Moore, 50, who leads CarDon along with older siblings David Moore, Dan Moore and Kathy Headley, chairwoman of CarDon's board of directors.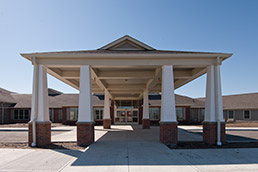 Aspen Trace, currently under construction, spreads out its 104 beds—most of which are in private rooms—over 118,000 square feet. It features a separate entrance for each kind of patient—long-term Medicaid patients, Medicare rehab patients and private-paying assisted living patients. (IBJ Photo/Eric Learned)
Greenwood Health & Living, built in 1982 when most nursing home patients paid via the Medicaid program, features narrow hallways, two patients per room, shared bathrooms and showers down the hall. The Moore family's strategy is at odds with most of their industry peers. Other companies contend—correctly—that most of the 40-year-old facilities that predominate among Indiana's 520 nursing homes provide care that receives good or better quality scores from the state health department than the newest facilities built by such companies as CarDon, Carmel-based Mainstreet Property Group and Louisville-headquartered Trilogy Health Services.
Older facilities can also produce higher profit margins—since their construction is extremely economical and, in most cases, the debt on the facilities has been paid down.
"The medical community knows that a provider's ability to care for a patient is not based on how new a building is. It is based on the professional staff that works inside the building, their established protocol and who
is managing them on a day-to-day basis," Patrick Boyle, CEO of Miller's Health System, an employee-owned company based in Warsaw, wrote in an email. He noted that Miller's is also spending $20 million to upgrade its older facilities, "So our facilities are evolving as our patients' needs change."
Trouble is, patients are viscerally opposed to staying in a nursing home before they even consider a facility's quality scores.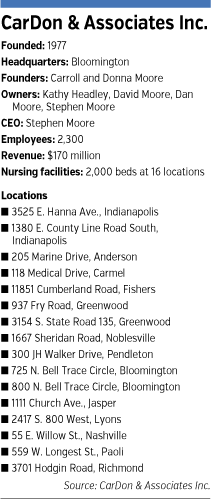 A 1997 survey of thousands of seriously ill patients in hospitals found that 30 percent answered yes to the question, "Would you rather die than put up with living in a nursing home all the time?" Another 37 percent said, even though they were seriously ill, they would be unwilling to live in a nursing home permanently.
That sentiment has driven rapid growth of two other long-term-care industries—assisted living and home health care.
There is still a need for nursing homes—formally known as skilled nursing facilities—because many patients are too sick to be cared for at home. But occupancy at skilled nursing facilities declined to 74 percent, compared with a national average of 86 percent.
That's why the nursing home industry pushed earlier this year in the General Assembly to halt construction of new nursing homes. The moratorium was unsuccessful but will likely be back on lawmakers' agenda next year.
Supporters of the moratorium argue that a spate of new facilities is to blame for declining occupancies.
They argue that the real investments nursing home operators need to make are in staffing—which directly affects the quality of patient care—not in hotel-like amenities.
"Our focus really needs to be on the quality of care that's being provided," said Rep. Ed Clere, R-New Albany, chairman of the House Committee on Public Health. "In many cases, older facilities are providing excellent care. They just don't have all the bells and whistles that their brand new competitors have."
To this staff-versus-structure debate, Moore answers, both.
"You can go to a restaurant that's not very nice, and it can have great food. They're not necessarily correlated," Moore said.
But, he added, a nice building, like the new Aspen Trace facility in Bargersville, is a powerful signal to customers of the quality of everything that happens inside. He feared that the moratorium would stifle innovation in the industry.
"If we're not going to deliver quality care, then the building doesn't matter. But what we found is that people wouldn't come into our buildings," Moore said. "So it's not just about the residents' care. It's about the residents' experience. And we want to give them a better resident experience with a building that meets today's demands."
Family business challenges
Moore acknowledges that doing two things at once—building high-quality facilities and operating them efficiently—is a challenge.
But the Moore family has never shrunk from challenges.
Stephen's father, Carroll Moore, stumbled into nursing homes in the late 1960s while working for the former Winona Hospital in Indianapolis. Winona was looking to convert some of its hospital beds into long-term care, an industry just launched by the creation of the Medicare and Medicaid programs.
Most of the earliest nursing homes were built as cheaply as possible because nearly all the revenue came from Medicaid, which has never paid health care providers well.
After stints at two of the earliest Indiana nursing home companies, Turtle Creek and ManorCare, Carroll Moore became a part owner in a newly built nursing home in Bloomington.
When that facility was sold in the mid-'70s, Carroll Moore decided to strike out on his own. He and his wife, Donna, bought Hillside nursing home in Greenwood, now the site of Greenwood Health & Living. Carroll administered the facilities and Donna made the finances work.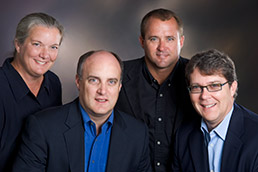 Bloomington-based CarDon & Associates Inc. is owned and led by siblings, from left, Kathy Headley, chairwoman; Dr. Stephen Moore, CEO; Dan Moore and David Moore.(Submitted photo)
"My mom is the master of taking a dollar and paying $10 worth of bills with it. I don't know how see she did it," recalled Dan Moore, who worked for CarDon for 20 years and is now on its board. He said Carroll was the classically optimistic entrepreneur, always looking to grow the company even when it wasn't clear how.
"Quite honestly there were times where Mom wasn't in agreement with my dad. She didn't want to buy another building. But he just wanted to grow the business. He didn't care if he didn't have the money—he would figure it out."
All six of the Moore children have worked in their family's nursing home business in some form. But mixing business and family hasn't always been easy.
In 1988, Carroll Moore wanted to build two new nursing homes and acquire two other facilities—all at the same time. But most of the rest of the family thought it was too much.
"Several of us said, 'Dad, two's a big bite. If we do four, it may take us down,'" Dan Moore said. "There was a day where they called us all in and said, 'Here's how it's going to be, and if you don't like it, we'll give you $5,000 and you can leave.'"
Several of the Moore children did leave—but some came back a few years later.
"When you start working with your family members, it's challenging," Dan Moore said. "You can't fire anybody. Or, you can fire them, but you can't get rid of them."
Another critical moment came soon after Carroll and Donna Moore retired. The Moore children didn't immediately fall into clear roles of responsibility, and that hurt the company's performance.
"We struggled to figure it out for a while. As a result of our struggle, the business faltered," Stephen Moore said. "That was kind of scary."
It was at that point, in June 2000, that the siblings voted to make Stephen Moore CEO.
After that, the Moore siblings concluded CarDon should hire non-family professionals into the key executive roles. That meant three of the Moore siblings had to relinquish their positions.
But the four Moore siblings that now own CarDon and constitute its board remain more involved in the business than a typical corporate board. They tour CarDon facilities regularly to check up on operations and develop strategies both for the nursing homes and the company as a whole.
While the transition of the family out of day-to-day operational decision-making roles has been difficult at times, the financial results of those changes have been dramatic.
CarDon's annual revenue skyrocketed from about $25 million in 2000 to $170 million today.
Health reform changes
Now the Moores, along with their nursing industry peers, face another big challenge: how to adjust to the financial pressure on health care providers coming from the federal government.
Much of that pressure is hitting hospitals. The federal Medicare program for seniors will no longer pay hospitals if they readmit a patient 30 days after a previous hospital stay, for one of seven medical conditions. So hospitals are under the gun to make sure patients are cared for properly when they leave the hospital.
At the same time, Medicare has been cutting hospital reimbursement rates in general.
The Affordable Care Act, aka Obamacare, has spurred the creation of new payment arrangements that call on hospitals to reduce the money they spend on groups of Medicare patients from year to year. Private insurers have been following suit.
Under these "accountable care" arrangements, hospitals have a huge incentive to get patients out of the hospitals as soon as possible—because the costs of a patient staying in a hospital are higher than most anything else health care providers do.
Caring for a sick patient in a hospital typically costs $800 to $1,100 a day compared with $300 to $400 in a nursing home, said Dan Benson, chief operating officer of Indianapolis-based American Senior Communities LLC.
"As the government has continued to cut reimbursement, it has forced us to look at ways to be more efficient," Benson said. "If you want to survive, you've got to deliver high-quality care at a lower cost."
So hospitals are trying to work with nursing homes and other long-term-care providers to take patients sooner than they did just three years ago. That means nursing homes are handling sicker patients with more complex medical needs.
At the same time, hospitals don't want patients coming back—because the costs will come out of the hospital's pocket. So they are working with nursing homes to share patient outcomes data and to create common protocols—all to make sure the nursing homes can provide adequate care, even in tough circumstances.
"Sometimes I've even had patients transferred straight from the ICU to us," said Jill Rusk, a registered nurse who serves as CarDon's director of business development. "So now our model has changed. We are like an extension of the hospital."
This shift is requiring nursing homes to increase staff training. And nursing home operators have had to establish closer relationships with a much wider variety of physician specialists—rather than relying on once-a-week visits from a "house doctor."
American Senior, when it has built new facilities, has kept them economical, and has instead invested more money in hiring talented managers and training its staff or paying for them to obtain higher degrees.
"It's not about the building, because health care is not about the building. It's about the people," Benson said. "Nobody wants to fly in an old, broken-down airplane, because that's scary. But if you have a well-maintained airplane, and it's clean, then your biggest focus is now, 'Who's the pilot?' The whole idea of, 'We've got to go out and build these brand new buildings in order to handle this acuity'—that's hogwash."
But again, CarDon's Stephen Moore said, it's both. CarDon is investing in staff. But Moore also noted that CarDon's new and upgraded facilities include private rooms for patients coming out of hospitals—in part because it allows them more opportunity to rest and recover from the rigors of their therapy. At the same time, he added, nice facilities also do wonders for recruiting top-notch staff.
"It takes more than one thing to be effective. Certainly, we are focused on providing the right facility in the right location providing the right services," Moore said. "But it also has to be about developing the right relationships in the health care continuum."•
Please enable JavaScript to view this content.