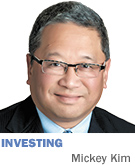 Carl Richards is a financial planner, creator of The New York Times' "Sketch Guy" column and author of "The Behavior Gap: Simple Ways to Stop Doing Dumb Things with Money."
According to Richards, investors continued to suffer self-inflicted damage in the decade ending Dec. 31, 2013. He said, "We're still making the same old mistake of buying investments when prices are high and selling them once their prices have fallen."
Richards coined the term "behavior gap" to refer to the difference between what the average investment returned and what the average investor actually earned.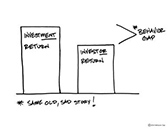 Richards cited a recent Morningstar study showing that, at the end of 2013, the average U.S. equity mutual fund had a 10-year average annual return of 8.18 percent. Morningstar then adjusted this stated return for investor purchases and redemptions, to determine how the typical investor actually fared. Unfortunately, Morningstar found the average investor's return for the same period was only 6.52 percent.
The annual difference of 1.66 percent might sound insignificant, but in dollar terms and compounded over 10 years, the negative impact was huge. Assume you invested $100,000 in the average mutual fund at the beginning of 2004 and just left it alone. Your shares would have been worth $219,517 at the end of 2013. In other words, your investment return and investor return were both 8.18 percent.
However, "just left it alone" is much easier said than done. We get scared when stocks drop and the talking heads scream the sky is falling. We're all tempted by the "get rich quick" siren-song of the next hot investment. Human nature is, we're driven to act by fear and greed—we're not wired to just leave it alone.
The upshot is, the average investor ended up with $188,066. The behavior gap of 1.66 percent translated into a penalty of $31,451, more than 30 percent of the original investment. As Richards said, "It's critical to understand that none of this is the investment's fault—our behavior determines what we actually get."
Examining the same 10-year period through a different lens yields a similarly brutal result. According to Crandall Pierce & Co., if you invested $100,000 in the S&P 500 Index (excluding dividends) at the beginning of 2004 and left it alone, you would have had $166,230 at the end of 2013. However, if you had missed even the single best trading day in each of the 10 years, you would have ended up with $111,110, a difference of $55,120, or more than 50 percent of the original investment.
As Richards says, "The past is the past, and there's nothing we can do about it now. But here's the key: The next 10 years starts today. If the past is any indication of the future, we need to do something different if we want a different result."•
__________
Kim is the chief operating officer and chief compliance officer for Kirr Marbach & Co. LLC, an investment adviser based in Columbus, Ind. He can be reached at (812) 376-9444 or mickey@kirrmar.com.
 
Please enable JavaScript to view this content.