Pay raises were a pipe dream for many Hoosiers last year—as the median wage in Indiana inched up 0.8 percent, to $31,990, according to federal data released this month.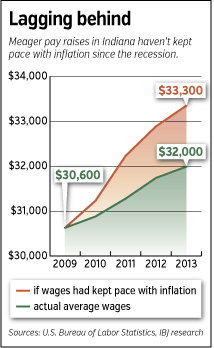 Considering inflation ticked up 1.4 percent in the Midwest, Indiana workers in effect actually saw their wages decline.
It was the fourth straight year in which inflation grew faster than wages.
Annual pay—excluding benefits or other sources of income—crept up 4.4 percent through last year from the bottom of the Great Recession in 2009. However, Midwestern consumer prices rose more than twice as fast—8.9 percent.
The widening gap between pay and living costs continues to beleaguer the broader economy.
"When people don't earn money, they don't have money to spend. When they don't have money to spend, retailers cut back and don't hire," said Richard Feinberg, a professor of consumer sciences and retail at Purdue University. "It's a giant snowball. It hasn't changed."
A high number of job seekers continues to hold down the amount companies are willing to pay employees.
"There's a lot of income ground yet to be made up before consumers can support the economy and drive up wages," said Kurt Rankin, a PNC Financial Services Group Inc. economist who covers Indiana.
Sluggish wage growth has burdened the nation as a whole, but Hoosiers have seen the gap between wage growth and inflation widen faster.
Out of 22 general career categories over the span, only two in Indiana kept ahead of inflation: legal, and construction and mining.
Economists and business officials offered an array of explanations for why Indiana's wages have slumped.

Marcus
The state is too focused on the quantity of jobs and not enough on the quality, contends economist Morton Marcus.
Companies are not paying employees enough to support the economy, offered Jeff Harris, a spokesman for the Indiana State AFL-CIO.
Indiana Chamber of Commerce President Kevin Brinegar countered that workers don't have enough skills or education to command higher wages.

Brinegar
Marcus, former director of the Indiana Business Research Center at Indiana University, said Indiana's deteriorating wages are part of a relative decline dating back decades.
Each time the state's economy recedes and recovers, it ends up a little further below the national economy. The most recent recession hasn't been any different, Marcus said, "just because the nature of our state hasn't changed."
Factory fallout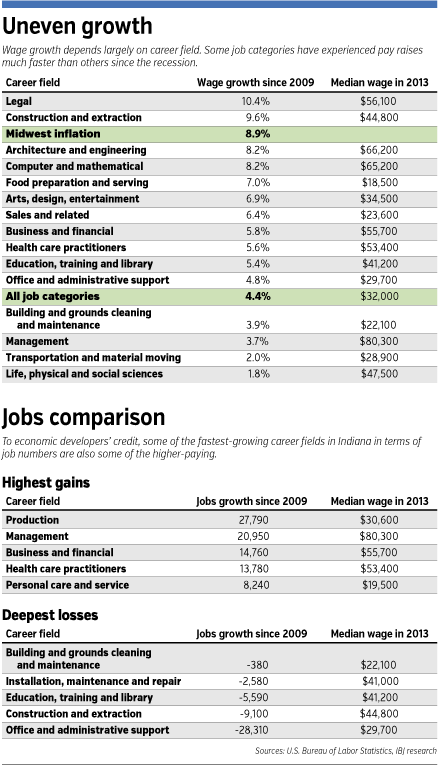 The state's roots in manufacturing have hurt wage growth. Indiana lost about 100,000 production jobs from 2001 to 2009, and has since recovered only about 28,000.
The gains in many cases have been overshadowed by new two-tier wage systems in which new employees earn significantly less than more experienced co-workers doing the same jobs.
Meanwhile, companies expect more qualifications from job applicants, even when the jobs pay less.
"As I travel the state and talk to folks, people get the sense that they're working harder and harder and they're making less," Harris said.
Indeed, Indiana production wages dropped 2.2 percent from 2009 to 2013, to $30,580. And that doesn't take inflation into account.
Part of the decline, Harris noted, is due to workers' conceding pay during the recession just to keep their jobs.
The chamber's Brinegar pointed to the state's lack of workers with diplomas or trade skills. Low-skill factory jobs moved overseas, where labor is cheaper, so Indiana workers need better credentials to command higher salaries.
"More and more, there are less-skilled people in the world who will do that work and demand less compensation than what we've come to expect in the United States," he said. "It's better to compete at the high-skill, high-wage level."
Quantity vs. quality
Economic developers haven't focused enough on creating high-pay jobs, Marcus said, because they are too concerned with just getting jobs. As a result, the state is missing out on businesses in fields such as biotechnology.
"Much of what they've been doing just doesn't indicate that we're getting a mix of businesses that have high-paying jobs," he said. "Call centers give you [job] figures, but not very high wages."
The state has grappled with quantity versus quality since the recession, Brinegar acknowledged. But unemployment remains high, and jobs are jobs.
"We need to focus on growing and attracting jobs, period," Brinegar said, "but we also need to recognize we need to maintain a focus on the quality of jobs so we can reverse this trend" of weak wage growth.
One bright sign: Indiana's biggest non-manufacturing jobs gains have been in high-wage professions including management, business and finance, and health care.
But Indiana cannot lose sight of its strengths in manufacturing, cautioned PNC's Rankin.
"It's never a bad idea to diversify, be it a local economy or a state economy," he said. "But … the tendency to shy away from manufacturing development may lose its supporters over the next five to 10 years as the U.S. natural-resource base sees more and more development."•
Please enable JavaScript to view this content.