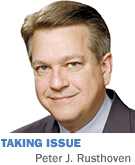 In Plessy vs. Ferguson, decided in 1896, the U.S. Supreme Court held it constitutional for states to discriminate on the basis of race, pronouncing the now-discredited notion that "separate but equal" comported with the Fourteenth Amendment's guarantee of "equal protection of the laws."
The lone dissenter was John Harlan. "Our constitution is color-blind," he wrote, "and neither knows nor tolerates classes among citizens." Harlan's grandson and namesake, appointed to the same court by President Eisenhower, was proud of his grandfather's courageous stand in Plessy, over half a century before it was overruled in Brown vs. Board of Education.
Plessy is now seen as one of the court's embarrassments, almost on a par with the pre-Civil War Dred Scott decision holding that blacks weren't citizens. The first Justice Harlan's vision of a color-blind Constitution was shared by Martin Luther King Jr., who dreamed his children would "not be judged by the color of their skin, but by the content of their character."
It is sad, then, that commitment to color-blindness is now condemned by those who favor race-based preferences for some (but not all) minorities. The Supreme Court's decision last week in Schuette vs. Coalition to Defend Affirmative Action, Integration and Immigration Rights and Fight for Equality By Any Means Necessary (there's a mouthful) brought this to fore again.
In 2006, Michigan voters overwhelmingly approved a state constitutional amendment forbidding race-based admissions decisions by state universities. In 2012, a federal appeals court ruled this violated "equal protection." The Supreme Court, by a 6-2 vote, has now set that counter-logical conclusion aside.
The six justices voting to do so had different reasons, found in four separate opinions. But the most telling opinion is Justice Sotomayor's scathing dissent, joined by Justice Ginsburg.
In 58 pages—more than the combined length of all other opinions—Sotomayor excoriated the court's result. Among other things, she compared Michigan's ban on race-based admissions to the Jim Crow laws that once prevailed in the South. She also said upholding Michigan's action "eviscerates an important strand of our equal protection jurisprudence."
Remarkable. Barring race-based decisions is comparable to the invidious discrimination against blacks embodied in Jim Crow laws? Holding that a state may prohibit favoring members of one race over those of another "eviscerates" the guarantee of "equal protection of the laws" to all?
As George Orwell said, and Ronald Reagan was fond of quoting, "some ideas are so stupid that only intellectuals believe them." Sotomayor is not stupid in the least. But topsy-turvy conclusions of this sort defy common sense—and are one reason many ordinary citizens doubt the common sense of our courts.
As often, it was Justice Scalia's opinion, joined by Justice Thomas, that cut to the chase. "It has come to this," Scalia said. "We confront a frighteningly bizarre question: Does the Equal Protection Clause of the Fourteenth Amendment forbid what its text plainly requires? Needless to say [except that this case obliges us to say it], the question answers itself."
Scalia and Thomas are right. So was Chief Justice Roberts, who observed in 2007 that "the way to stop discrimination on the basis of race is to stop discriminating on the basis of race."
Sotomayor disparaged this as "a sentiment out of touch with reality." Wrong. It's a truth, reflecting the consensus of most Americans that race discrimination in any form is unfair and unjust.
They're right. This decision was another step in the right direction.•
__________
Rusthoven, an Indianapolis attorney and graduate of Harvard College and Harvard Law School, was associate counsel to President Reagan. Send comments on this column to ibjedit@ibj.com.
Please enable JavaScript to view this content.