Rush-hour backups along State Road 37 in Hamilton County have local officials considering a Keystone Parkway-like overhaul for one of central Indiana's hottest commercial corridors.
A Metropolitan Planning Organization study, undertaken at the county's request, recommends replacing as many as 10 signalized intersections with roundabout interchanges, dropping the highway under the cross streets to keep traffic flowing.
It's an expensive proposition—about $250 million in today's dollars—that could take years and would require buy-in (literally and figuratively) from the county, the town of Fishers, the city of Noblesville and the Indiana Department of Transportation, which now owns the thoroughfare.
Another complication: the businesses and developable land lining the road.

"That corridor is so, so important to economic development," said County Commissioner Steve Dillinger, who is serving his seventh term on the elected board. "It will be a high priority to make sure anything we do is retail-friendly."
The alternative is gridlock, according to the 2012 study conducted by Indianapolis engineering firms United Consulting and American Structurepoint. It found four intersections from 126th Street to State Road 32 already are operating with unacceptable delays—more than 80 seconds is considered "failing"—and more are on the brink as growth continues.
About 40,000 vehicles travel the four-lane highway daily.
Retailers typically want to see high traffic counts since more vehicles usually mean more potential customers. But congestion can become an obstacle when it creates "intolerable access issues," said Tim Stevens, director of development for Indianapolis-based Mann Properties, which has holdings in the area.
Easy access is key for businesses that rely on impulse buyers, whether they're selling cheeseburgers or gasoline. The longer it takes customers to get somewhere, he said, the less likely they'll bother.
So business owners are particularly interested in the street-level specifics of any proposed road improvements.
"The concern … is the idea that there are going to be further restrictions on access from 37 to their businesses," Stevens said. "There are going to be winners and losers."
He cited the impact of a new median that blocks one of two entrances to Mann's Parkside development south of 131st Street, making it more difficult for motorists to get to the CVS, Dairy Queen and Arby's locations there.
Claude & Annie's owner Bill Smythe watches traffic back up on 141st Street west of 37 every afternoon, past his Fishers bar, but he prefers that to the prolonged turmoil of road construction. He noticed a drop in business when town crews were fixing potholes nearby last month.
"Can you imagine a two-year project?" he asked. "I won't survive."
 

Dillinger
Officials say any roadwork is years away. Preliminary discussions with key stakeholders went well, but countless details need to be addressed before finalizing a proposal.
"It's still conceptual; we're formulating a plan," said county Highway Department Director Brad Davis. "We want to achieve a free-flowing corridor down to [Interstate] 465. Doing it piecemeal doesn't fix anything."
If the locals want to control timing and design of improvements on 37, they could ask to take over the road from the state, as Carmel did with Keystone. In that case, INDOT handed over the road and $90 million it had allocated for a widening project, and the city assumed responsibility for construction along with ongoing maintenance. Six split-grade interchanges were completed in 2010 at a cost of $112 million.
INDOT is focused for the near term on Interstate 69, including an interchange at 106th Street to be built in partnership with Fishers and Hamilton County.
Such arrangements are increasingly common as communities pitch in to address local needs, said INDOT spokesman Will Wingfield. The state's focus has to be broader.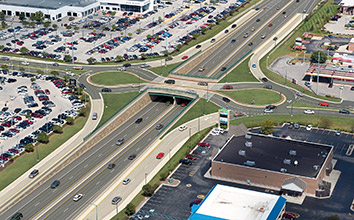 Overpasses on cross streets could ease traffic flow on State Road 37. (Rendering courtesy of Hamilton County)
"Any effort in the near term to replace S.R. 37 traffic signals with interchanges would require the partnership of local communities with significant funding commitments," he wrote in an email.
That's still a work in progress.
Fishers Town Council President John Weingardt told IBJ that members were receptive to the idea when it came up last year, but it hasn't been discussed lately. Noblesville Mayor John Ditslear said the devil is in the details.
"We definitely need to think about how it is going to affect us," he said, given the dense commercial development north of Greenfield Avenue. "Keystone is a beautiful drive, but there's not much retail. Ours is a little bit different.
Although he doesn't think the Noblesville stretch of highway is overly congested now, Ditslear praised county leaders for looking to the future. "As we grow and the economy grows, it's going to be a problem," he said.
Better to address it now, Dillinger said, when there's time to build consensus along with a project war chest. Funding is always a challenge, and federal matching grants can take years to come through.
"If we didn't act until everyone was screaming, it would be too late," Dillinger said. "And it can't be done all at once, as much as we would like it to be."•
Please enable JavaScript to view this content.