A hungry Angie's List employee tiptoed her way into a break room and slowly, quietly, tugged open a refrigerator door.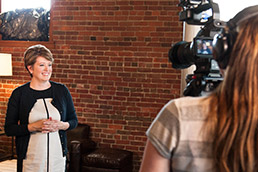 Move over, Martha Stewart. Angie Hicks-Bowman is becoming her own celebrity brand. (IBJ photo/ Eric Learned)
For on the other end of this room in a former elevator plant, Angie's List namesake Angie Hicks-Bowman stood before a camera giving tips on how to stain bricks. And how to care for bicycles, driveways and lawns.
"Don't cut it too short, and use the right fertilizer," a smiling Hicks-Bowman told the camera.
"That's it. That's a wrap. Thank you very much," said Brooke Padilla, a clipboard-cuddling former news producer at WISH-TV Channel 8 who now heads video production at Angie's.
Welcome to the 1-1/2-hour monthly ritual for Angie—America's queen of consumer and contractor advice.
Hicks-Bowman is almost as omnipresent on company TV commercials as Flo, the Progressive Insurance character. Only Hicks-Bowman, Angie's chief marketing officer, isn't a fictional character. On this day, she was recording segments that are downloaded by more than 100 television stations around the country and incorporated into their own consumer news segments.
Of all the competitors in the consumer-reviews-site genre—such as Yelp, HomeAdvisor and LivingSocial—Angie's List is the only one with a company namesake in the public eye vying for trust and industry primacy.
Hicks-Bowman knows well the value of being a "content expert" as a relatively low-cost supplement to paid advertising.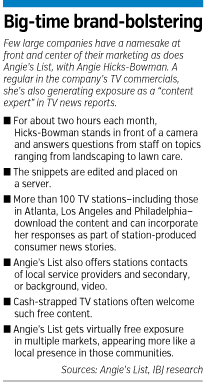 Unlike buying millions of dollars in air time for commercials, producing these consumer segments costs relatively little.
"Establishing a client as a content expert is a proven PR strategy," observed Tom Hirons, CEO of Indianapolis ad agency Hirons & Co.
Hirons said Angie's List has used everything from newspaper columns to these TV news "video press releases" to position itself "as a trusted source of consumer information."
Indeed, Hicks-Bowman is becoming almost the same sort of "celebrity brand" as a Martha Stewart, opined Mark Gause, president of Indianapolis-based Lunar Strategies. "It's almost of that level."
"We've always viewed our PR strategy as also a marketing strategy. It's a way for us to get in front of the consumer and expand the brand," Hicks-Bowman said.
"For us to be on the local TV station in a market—that just gives us an even greater tie to that community. People think I live in their city, which is awesome. That's exactly the kind of neighborhood feel that we want. Like, 'Hey, we're right there on your side.'"
Becoming the face of a brand
It's a far cry from the early days of the mid-1990s in Columbus, Ohio, where she went door-to-door signing up members. At age 22, the graduate in economics from DePauw University figured the city's daily newspaper should be writing about her company.
"Kind of being ignorant about public relations, I called [a reporter] up and said, 'Hey, I saw your story you wrote the other day about such-and-such a company," she recalled.
But it worked, and soon local stations noticed Angie's List. She'd appear during live newscasts with advice for consumers.
"I had no desire to ever be on camera, I guess. That wasn't my nature. I'm kind of the math geek who's perfectly comfortable to sit in front of a spread sheet. But it was one of those things where I was young and I didn't know what to be afraid of, I guess."
Personality is a plus, but Hicks-Bowman has also had to work at being a public figure, said Angie's CEO Bill Oesterle, who hired Hicks-Bowman straight out of college as the sole employee of the tiny firm he and co-investors bought and renamed in 1996.
"You only find Angie once in a lifetime. Angie is a genuinely good person. From this standpoint, all she has to do is be herself and people are attracted to her," he said.
But Oesterle said the hard part for her is that being a public figure does not come naturally or comfortably.
"So to become 'The Angie,' she's had to work incredibly hard for a long time to refine a set of skills and techniques that have made her a world-class professional. So really, her uniqueness derives from a combination of fantastic raw material and then tireless, thankless commitment to make it the best," Oesterle added.
As the company grew, Hicks-Bowman found herself jumping on airplanes to do TV appearances all over the country.
It got to be too much
She told her marketing staff: "'Just so we all realize, I spent an entire day for 30 minutes' worth of questions.' … I said, 'I'm not going to keep getting on airplanes.' At this point, I was a new mom. 'We've got to figure out a solution.'"
So in 2006, Angie's List hired Padilla, the former TV news producer, to develop the company's own segments for stations. Many of the questions she answers come from the stations and are read to her from Padilla's clipboard.
The television station still has control over the overall segment.
"That's why we've had that longevity. … It really feels like their product and not just our product. We minimize the work for them."
Stations receptive to content
The content in a can has a certain appeal to TV stations.
"Cash-strapped television newsrooms are increasingly welcoming 'video news releases,'" said Hirons, "provided they are well-produced, have genuine news or viewer interest, and are adaptable to individual station needs."
Hirons said station acceptance of these has paralleled the increased use and even solicitation of viewer content—such as tornado footage.
Angie's List has found takers for the video snippets in top media markets such as Atlanta, Minneapolis, Los Angeles and Philadelphia. In Indianapolis, WRTV-TV Channel 6 incorporates Angie's List content into some of its consumer reports.
Angie's List now has more than 2 million members, who write reviews on everything from roofers and health care providers. Increasingly, the company derives more of its revenue—about 73 percent of the $246 million last year— from contractors who advertise.
But the company is still about growing members in each market. The more members, the more worthwhile it is for contractors to advertise in Angie's List and to offer special deals to Angie's members.
Gause said having Hicks-Bowman in the spotlight, in part because her name is on the company, should help build brand credibility.
Of course, there's a potential downside, such as overexposure. The company has tried to temper that with keeping the video snippets concise and to the point, as well as timely.
Hicks-Bowman's video clips for May include tips on dealing with contractors who travel from state to state to chase storm damage. Many stations will keep those on the shelf until the next round of spring storms rolls in.
Now on radio
Some of the topics she's covered over the years have been meatier. Hicks-Bowman pointed to segments she's done on how some medical care providers were effectively trying to gag patients by having them sign away their rights to talk about their experience.
She's also done segments about a new kind of PVC-like piping being substituted for iron pipes to carry natural gas into homes. Some contractors had failed to ground the non-metallic piping, resulting in fires.
Angie's approach toward providing expert content moved up a notch recently, when the Indianapolis company announced it would produce a radio show for WIBC-FM 93.1.
Only this time, it won't be Angie on the air but rather veteran Oklahoma radio host Kiel Hauck.
The bottom line for the company's expert-source tack is to keep Angie's List in a "top of mind" place for consumers to turn, such as when the water heater goes kaput.
"Typically, people join Angie's List when they have a need," Hicks-Bowman said. "Part of it is making them aware we're that trusted resource for them to turn."
As to what extent the news snippets have translated into new members or other financial benefits for the company, that's hard to say. If Angie's has data, the company isn't sharing it.
It's a safe bet they're spending less on earned media than they are on traditional advertising: Angie's List has spent hundreds of millions of dollars over the years trying to build out a mature, national footprint of members. Last year alone, it spent $87.5 million to acquire new members, with much of that on TV commercials.•
Please enable JavaScript to view this content.