As Indianapolis tries to attract more high-earning residents, the toughest sell will be its aging suburbs.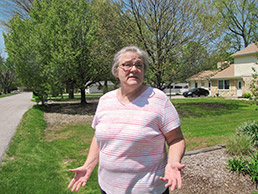 Anna Peay lives in a Wayne Township neighborhood that lacks sidewalks and connections for sanitary and storm-water sewers. She said ditches are prone to flooding. (IBJ photo/Kathleen McLaughlin)
Poverty is encroaching on the outer townships of Marion County, adding to their handicap in the competition with doughnut counties, where houses are newer, and sidewalks, sewer connections and bike paths come standard.

Now, Marion County's suburban neighborhoods also face the flight of national retailers and poverty-driven challenges for their school districts. Spreading poverty makes it even more difficult to market a four-bedroom, two-bath house on a suburban lot in, say, Warren Township on the east side against a similar product over the county line.

"That's a tough nut to crack," said John Marron, an analyst at the Indiana University Public Policy Institute. "To me, it's easier to sell the authentic urban experience."

Ballard
The rise of the urban core and decline of the outer townships is evident in census data Marron compiled for Indianapolis Mayor Greg Ballard, whose top goal is to grow the county's income-tax base by keeping and attracting middle- and high-income residents.

While the number of people living in low-income areas of Center Township declined slightly from 2003 to 2013, it grew by nearly six times in the other townships combined, Marron found.

The high-income residents of Marion County are concentrating downtown and nearby. The number of Center Township residents living in low-income census tracts fell by about 2,000, to 104,003 in 2013, Marron found.

That's mainly a result of the Fall Creek Place development initiated by former Mayor Bart Peterson, Marron said. He thinks the trend will be more pronounced when the data catches up with the downtown apartment-building boom.

Over the same 10-year span, the number of Marion County residents living in low-income areas, as well as the size of those areas, mushroomed. All of those newly poor neighborhoods are in the outer townships. In 2003, just 29,087 residents lived in low-income, or "qualified," census tracts in the outer townships, but by 2013 the number was 169,842.

U.S. Housing and Urban Development defines qualified census tracts as those where at least half of households earn less than 60 percent of the metro-area median, which is $66,900 for Indianapolis-Carmel, or where the poverty rate is at least 25 percent.

Some neighborhood activists recognized the competition they were facing years before Ballard this spring formulated his strategy, nicknamed "Live Indy."

"It really, really hit home to us when we heard the mayor was looking at ways to bring people into the county and increase the tax base," said Kas Vargo, president of Binford Redevelopment and Growth, or BRAG, which formed in 2005 to promote commercial areas on Binford Boulevard and the surrounding neighborhoods. "We looked at each other and went, 'Yeah, this is what we're about.'"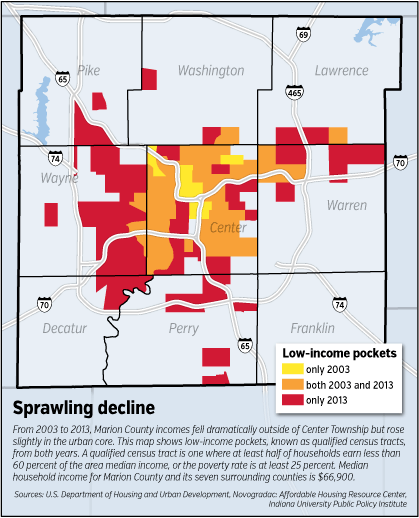 The BRAG area hasn't fallen into low-income status, but Vargo said residents feel the heat from Hamilton County. BRAG area residents want a variety of retail shops and businesses and connectivity in the form of trails and mass transit, she said.

"And we need the city's help to make that connectivity part happen," she said.

Businesspeople in Pike, Wayne and Decatur townships formed the West Side Chamber of Commerce in 2011 partly to address negative perceptions.

West Side Chamber President Rick Proctor said marketing neighborhoods is "a key issue the West Side Chamber is going to be involved with over the next decade."

After cutting the ribbon on a new downtown Marsh supermarket on May 15, Ballard said he's trying to bring improvements to all neighborhoods.

"We've certainly been putting infrastructure all over the city," he said. "We've been working on all the schools across the board."

For decades after Unigov merged city and county government in 1970, Marion County's suburban townships propped up the city's tax base. Now they could become a drag.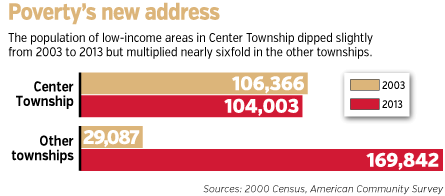 Adding to the pressure are constitutionally mandated property tax caps, which have upped local governments' reliance on income taxes. Because Hoosiers pay local income taxes to the county where they live, rather than where they work, Indianapolis doesn't collect the tax from commuters who work in the city and use its roads but live in doughnut counties.

Ballard said he's not concerned about changing demographics. It's something all big cities are experiencing, he said. "It's not an Indianapolis trend."

Suburban poverty

Wayne Township has the largest low-income area outside of Center Township, with 20 square miles and 62,327 residents.

Many of those neighborhoods are inside the I-465 belt. One encompasses a cluster of apartment complexes just south of Ben Davis High School.

Marron thinks the changes in Wayne Township stem from its concentration of homes built in the 1970s or earlier—a less desirable housing stock than is available farther west in fast-growing Hendricks County.

Home sales back up his theory. Total sales volume declined from 2003 to 2013 in Pike, Warren and Wayne townships, according to the Metropolitan Indianapolis Board of Realtors, and the largest drop was in Wayne, 35.6 percent, to $89.9 million.

The median Wayne Township sales price in 2013 was $66,505, according to MIBOR.

It's hard to pinpoint whether neighborhoods fell into poverty because higher-income families moved away and lower-income families filled the void, or because of the falling fortunes of longtime residents, Marron said. He thinks it's some of both, pointing out that the period he studied included the Great Recession and the foreclosure crises.

Wayne Township's decline is no surprise to Wayne Township schools Superintendent Jeffrey Butts. In the eight years Butts has been superintendent, the portion of students qualifying for federally subsidized lunches has increased from 53.5 percent to 77.5 percent.

And from 2007 to 2014, the total assessed value of property in the school district declined 32 percent, to $2.2 billion, Butts said.

Wayne Township schools began working on a new strategy in early 2013 that Butts said will address "how not only the school district but the entire community can work together to create a great place to live."

Butts said he's also talking to the Mayor's Office about economic development opportunities.

"We have not seen any significant economic development here on the west side for some time," he said.

Waiting for upgrades

Anna and David Peay moved to a Wayne Township neighborhood southwest of Rockville and High School roads 12 years ago because it offered big suburban-style lots along with the convenience of being only a 15-minute drive from downtown.

They always hoped to be connected to city sewer but finally spent $10,000 to upgrade their septic system. They also buffered their front yard from the flooding generated by their next-door neighbor's failing ditch.

The Peays have no plans to move, but they're frustrated.

"We know we have way too much money in the house. We have to live it out," said Anna Peay, a Democrat who ran unsuccessfully for City-County Council in 2008. "We sure would like city services while we're here."

Ballard's attempts to fund upgrades have hit a wall in the Democratic-majority City-County Council. Citing concerns about long-term borrowing for relatively short-lived improvements, most Democrats oppose Ballard's plan to issue a $150 million bond that, combined with other sources of funds, would provide $350 million to spend on infrastructure. Installing sidewalks would be a major focus of the program, dubbed Rebuild Indy 2.

Last year, council Democrats stopped Ballard's proposal to hike storm-water fees, which are tacked onto property-tax bills, to solve flooding problems throughout the city.

As for sewer connections, that's the responsibility of Citizens Energy, which bought the city's water utility in 2010. Seventeen-thousand Marion County residences are on septic systems, and Citizens plans to use its recent rate hike to fund conversions for the next two years. Citizens expects to convert about 800 homes per year, spokeswoman Sarah Holsapple said.

"There's probably never going to be enough money to retrofit all of Indianapolis with the amenities all of us would like in our neighborhoods," said Proctor, the West Side Chamber president.

In the meantime, Proctor said, he hopes officials will support neighborhood-driven makeovers. Lately, West Side Chamber members have been talking about whether their neighborhoods might benefit from creating not-for-profit community development corporations, which have played a key role in revitalizing urban neighborhoods like Fountain Square.

"Folks are tired of waiting and are more interested in participating in the process than they have been before," Proctor said.•