One of Indiana's most familiar legal names—a frequent flier on buses, billboards and TV commercials—says enforcement of disciplinary rules governing attorney advertising is a mess and needs an overhaul.
"It's enforcement by ambush," said longtime personal-injury attorney Ken Nunn of Bloomington-based Ken Nunn Law Office. "I'm terrified I'm going to accidentally mess up. This shouldn't be on my worry plate."
Nunn and others say Indiana's attorney advertising regulations are unclear, unevenly enforced and offer little practical guidance to avoid running afoul of the rules. A technical or even an unknowing violation can result in a costly and time-consuming disciplinary case.
"The whole process of helping lawyers, that's gotten lost in the shuffle," Nunn said. "Other states are helping their lawyers."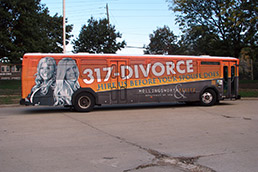 Carmel-based Hollingsworth & Zivitz P.C. uses humor on its high-impact, wrap-around ads for IndyGo buses. (Submitted photo)
But the Indiana State Bar Association is taking tentative steps in that direction and might be looking to the Bluegrass State for guidance. The Kentucky State Bar has developed a pre-approval system in which its Attorneys' Advertising Commission reviews ads in advance to ensure they comply with state Supreme Court rules. If an ad contains only information specifically permitted under state rules—things such as name and address, practice areas, education and the like—the review is free. A fee of $75 to $175 applies for other ads.
Nunn said he thinks most attorneys who advertise would gladly pay a fee for advance approval that also buys peace of mind. "Charge me," he said. "I'll sleep at night."
Calls for changing the state's attorney advertising rules enforcement increased after the recent Supreme Court disciplinary action In Re: Anonymous, in which Crown Point attorney Tim Kelly was issued a private reprimand for testimonials appearing on the Law Tigers website and for failing to include an address on a communication. Kelly was affiliated with Law Tigers but had no control of content that appeared on the site.
Ronald Layer, a partner in the Dyer law firm Layer Tanzillo Stassin & Babcock P.C., chairs the Attorney Advertising Committee of the Indiana State Bar Association. Layer said his committee and the bar's Ethics Committee recently formed a subcommittee to explore changing the regulatory system.
"Our hope is to either get some sort of pre-approval or the next-best thing," Layer said. That might be an advisory opinion that would assure an attorney who has sought pre-approval that "they're not going to get whacked" over the content of an ad.
"In the meantime, we're trying to disseminate as much information as we can so attorneys can at least get some help, albeit at this point kind of unofficial," he said.
Layer said he was sympathetic to Kelly's situation. "This is someone who tried to get information and tried to do what was right. Maybe it was a misstep, but was it an intentional breach? One would argue absolutely not.
"The point is, if we can get these committees going in the direction we'd like them to go, the Law Tigers thing wouldn't have happened," Layer said.
Certain regulations on attorney advertising have been struck down on First Amendment grounds in Florida, Louisiana and New York, among others. The very definition of advertising varies from state to state, as do the rules, and some critics say rules haven't kept pace with an age where a website might be viewed as a law firm's address.
Nunn's firm advertises heavily, spending about $2.5 million annually. He said the firm typically is either No. 1 or No. 2 in the state, neck-and-neck with Keller & Keller P.C. of Indianapolis.
Carmel attorneys at Hollingsworth & Zivitz pay to build their brand, but partner Kena Hollingsworth estimated less than 5 percent of firm revenue goes toward advertising.
The firm's lawyers and staff brainstorm to come up with sometimes-cheeky and attention-grabbing ads like the IndyGo full-bus wrap that carries the firm's 317-DIVORCE phone number and the slogan "Hire us before your spouse does."
"When we started the firm almost 10 years ago now, we were young girls just out of law school, so we knew we had to do something to set ourselves apart a little bit," Hollingsworth said. "We don't take ourselves too seriously, but we are serious lawyers."
But she acknowledged compliance with advertising rules is always a concern in those brainstorming sessions, and she'd favor a pre-approval system. "I think it would be great," she said.
"We're always very mindful of what the rules are," Hollingsworth said. "First and foremost, we would never misrepresent ourselves or do anything unethical." The firm's business is about 90-percent family law, she said, and its ads aim to present an image that clients feel they can relate to during an emotional time.
"That's the overwhelming feedback I've received," she said of the firm's ads. "At the end of the day, that's how we get clients in the door."
Terre Haute personal-injury attorney James O. McDonald acknowledges that it's sort of an advertisement when his firm's website contains the message, "Non Advertising Trial Lawyers." But it also hammers home a point he thinks resonates with potential clients: "I choose not to march in that parade."
"I think when clients come to an attorney through advertising, they're less apt to have confidence in the lawyer's advice when it comes to personal-injury work," McDonald said, averring that firms which advertise heavily have a "factory" reputation and may settle cases for less than they're worth. He believes advertising can backfire, especially direct solicitations to people injured in accidents. He said he's had clients who "resent it very much."
"To me, the worst thing [lawyer ads] do is give the potential jury pool the impression that people are trying to get something for nothing," he said.
Hall Render Killian Heath & Lyman P.C. partner John C. Render said he's concerned that clients who choose an attorney on the basis of an ad might not be making the best choice. Render said his firm limits advertising to such communications as sending informational newsletters to existing clients.
"What it may come down to is the public chooses a lawyer based on who has the most resources to advertise," he said. "There's something intuitively wrong with that in my mind, and I don't think it serves the public very well.
"If I can advertise or want to with a TV ad, am I going to get more calls, more clients, etc.? I might … because advertising works," Render said. "I'm just not sure it has the same value in choosing professionals."
Nunn acknowledges that being a heavy-advertising attorney carries a stigma, but he rejects the "settlement factory" criticism. He's heard it, "and yet, we lead the state of Indiana in terms of doing the most jury trials for injured clients," he said.
He also doesn't accept claims that the public can't be trusted to choose or not choose a lawyer based on advertising. "We can trust them as jurors," Nunn said, "but somehow they're too dumb to understand what an advertisement is."
 
Please enable JavaScript to view this content.