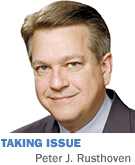 A while back, we wrote about Gov. Pence's efforts to use federal health care dollars for our state's successful Healthy Indiana Plan, rather than expanding the failure that is Medicaid.
One Obamacare feature makes Medicaid expansion a condition for additional health care funds. Using such funds for anything else requires a federal waiver.
Pence has worked to secure a waiver so Indiana can keep moving forward with HIP. This is about to pay off, with this month's announcement of a revised program, called HIP 2.0, that will go through the formal waiver process and is likely to be approved.
Pence explained the program, including key differences from (and improvements on) Medicaid, in a thoughtful Wall Street Journal article and an address to the American Enterprise Institute. Typical of today's politics, however, both the left and some on the right are straining to label his initiative "Medicaid expansion."
The left does so in an attempt to portray Pence as now recognizing the supposed virtues of Medicaid and even of Obamacare. The Obama administration calls Pence's proposal a "Medicaid coverage expansion." Left-leaning Politico headlined its story "Mike Pence Proposes Expanding Indiana Medicaid Plan," stating "Pence would become the eighth Republican governor to expand his state's Medicaid program."
The Washington Post's Dana Milbank, weathervane of conventional liberal thinking, titled his column "Indiana's Gov. Pence taking the Obamacare money and running with it." In Milbank's rendering, Pence's expanding HIP is somehow transformed into "what Obamacare is all about."
Meanwhile, some on the strident right detect betrayal of conservative principles, as they often do. John Davidson, writing in The Federalist, derided HIP as "merely the latest iteration of full Obamacare Medicaid expansion thinly disguised as a conservative entitlement reform." Goodness.
Another Federalist column, titled "Mike Pence's George W. Bush Problem," discerned in HIP signs that Pence, like Bush, would use "conservative rhetoric to justify a number of very unconservative ideas."
Heritage Foundation chimed in with a piece proclaiming "Pence's Indiana Medicaid Decision a Disappointment." Heritage, once respected, has been transformed by its new president, former South Carolina Sen. Jim DeMint, into a virtual Tea Party pressure group. DeMint's Heritage spearheaded the "defund Obamacare or shutdown the government" strategy—with DeMint opining "we don't know" if Obama would veto a defunding bill. Oh, I think we do.
Pence's critics from left and right are off-target. Only a determined Obama apologist like Milbank could twist a waiver from the act's Medicaid expansion provisions as being "what Obamacare is all about." HIP differs markedly from Medicaid; and Obamacare is mainly "about" health insurance mandates that Pence forcefully opposes.
Doubt HIP differs from Medicaid? Well, Indiana's program includes "placing enrollees in private insurance instead of traditional Medicaid, requiring some enrollees to pay modest premiums, conditioning enrollment for some on paying into a health savings account, encouraging unemployed or underemployed beneficiaries to pursue work opportunities and attempting to limit overuse of the emergency room."
These Medicaid opposites are listed in the Politico piece that claims Pence is "expanding" Medicaid. The description actually understates key HIP features making it a consumer-driven model that has reduced costs, while encouraging healthier lifestyles and preventive care.
HIP works. Medicaid doesn't. Pence is making Indiana a model for the nation.•
__________
Rusthoven, an Indianapolis attorney and graduate of Harvard College and Harvard Law School, was associate counsel to President Reagan. Send comments on this column to ibjedit@ibj.com.
Please enable JavaScript to view this content.