A company quoting the expertise of former New York Mayor Rudy Giuliani is targeting Indianapolis as part of a nationwide campaign to sell insurance for home water line repairs.
HomeServe USA Repair Management Corp., headquartered in Norwalk, Conn., mailed postcards last week to local homeowners with the headline "Water service line information for Indianapolis homeowners."
With an ominous black-and-white photo of a backhoe tearing up a residential front yard, Guiliani is quoted on the front of the mailer as saying, "Failing water systems can quickly become a very real threat to homeowners."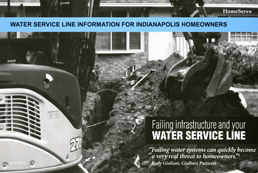 The front of the mailer quotes Rudy Giuliani, alongside a photo of a residential yard under siege by a backhoe
The mail alert cautions that the nation's water-service lines are deteriorating at a dangerous rate, potentially leaving homeowners on the hook for thousands of dollars in repairs for lines between public mains and their homes.
HomeServe's notice cites a report by Giuliani Partners, a private consulting business Rudy Giuliani started in 2002. Giuliani Partners'  report states 45 percent of water pipes in the U.S. are in "poor shape," up from 10 percent in the 1980s, among other findings.
In fine print, the mailer refers to Guiliani Partners as "an advisor to HomeServe." The eight-page study says that Guiliani Partners and HomeServe are "working together" to educate homeowners on water-line issues.
A spokeswoman for Giuliani Partners did not respond to questions from IBJ on Wednesday about the firm's relationship with HomeServe.
A spokeswoman for HomeServe said in an email to IBJ that Indianapolis was not being singled out for the warning: "[These issues] are indicative of similar issues emerging in cities and towns across the U.S. as the water and sewer infrastructure ages."
The spokeswoman declined to reveal which other cities were targeted by HomeServe with the mailing.
Beyond the warnings, HomeServe hawks its insurance services and asks recipients to look for additional information in their mailboxes after May 30.
The Indiana Office of the Utility Consumer Counselor has seen an increase in the past few years in advertisements pitching "line protection plans," said agency spokesman Anthony Swinger. In fact, some utilities offer them, including Citizens Energy Group in Indianapolis.
Make sure to read the fine print on these types of advertisements, Swinger advised.
"The advice we'd give to someone considering this is the same advice we'd give a consumer considering any utility line protection plan," Swinger said. "Look it over carefully and make an informed decision."
The mailer specifically notes that HomeServe is separate from and independent of any utility companies.
Indeed, aging water and sewer lines are in issue in Indianapolis. Citizens Energy recently received state approval to increase its rates to cover infrastructure upgrades for both its water and wastewater divisions. And Indiana-American Water filed in March to raise its rates.
A representative for Citizens Energy said the utility had no comment on HomeServe's mailer or services.
Please enable JavaScript to view this content.