Pedcor Cos. is asking Carmel to help pay for a 600-space parking garage at its ambitious City Center development, laying the foundation for a $100 million expansion that could begin this year.
Preliminary plans call for starting work on the garage and as many as three mixed-use buildings this fall, with another half-dozen projects in the pipeline.
The parking and other infrastructure should cost about $16 million, Pedcor CEO Bruce Cordingley told IBJ.
Carmel has used revenue from its tax-increment financing districts to subsidize such expenses in the past. That also is the most likely source of funding this time around, though the City Council has kept a tight grip on the municipal checkbook since refinancing $185 million in redevelopment commission debt in 2012.

Cordingley
The second phase of Carmel City Center construction will fill in vacant land between the Monon Greenway and Range Line Road, better connecting the existing commercial-and-residential hub with the Center for the Performing Arts campus.
But just as important, finishing the 88-acre development will add to the city's tax base, helping the cash-strapped Carmel Redevelopment Commission meet its financial obligations.
"We need these projects to go forward so that we can elevate our TIF revenue and do what we need to do," said CRC Executive Director Corrie Meyer, who was hired this year to oversee operations.
(In the video below, Pedcor provides a flyover of City Center with renderings of projects in the works.)
Carmel-based Pedcor has developed the bulk of the ambitious City Center project in partnership with the city and the CRC. Cordingley unveiled conceptual designs for the new buildings in December, and since then has been briefing council members on the plans.
Cordingley said interest from potential commercial tenants is strong enough to start the next wave of construction—and luxury apartments planned above the office and retail space should fill up fast—but not without the parking garage.
"Everything else is financeable," he said.
So far, council members have responded favorably to his pitch, Cordingley said. A formal proposal is expected to be made public this summer.
It makes sense for the city to support projects like City Center that build density rather than encourage sprawl, Mayor Jim Brainard said. Extending city services to previously undeveloped areas is expensive, he said, and it takes longer to see a return on the investment.
Park East is projected to start this fall with a three- to four-story parking garage, to be surrounded next year by retail and office space. (Rendering courtesy of Pedcor Cos.)
"The basic infrastructure already is there," Brainard said. "Now, let's create some additional assessed value."
City Council member Luci Snyder doesn't disagree, but she'd like to see more specifics—and maybe even a signed lease—before committing to anything.
"Eventually, someone has got to build something that isn't speculative," said Snyder, a former commercial real estate broker and chairwoman of the council's finance committee. "That's what I want to see: Who are the users? What taxes are they going to pay? … We primed the pump enough with public money. Now I'd like to see some real tenants."
Pedcor is in talks with four businesses interested in as much as 19,000 square feet of space in the new buildings, Cordingley said: two financial institutions, one service provider and a retailer. But given the two-year construction time line, few are prepared to sign on the dotted line now.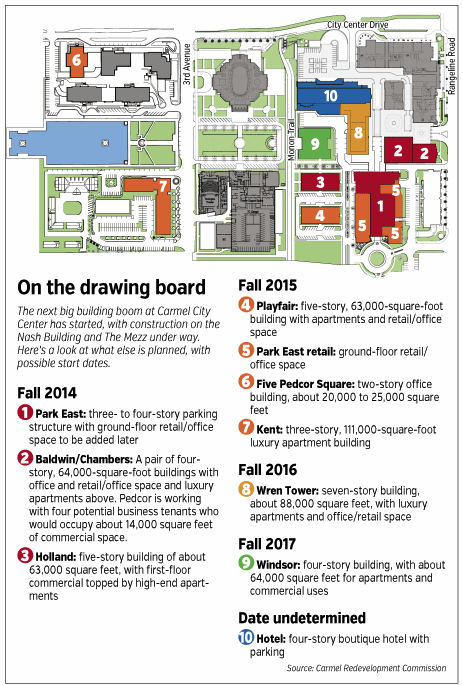 He pointed to the success of City Center's first phase as evidence the concept works. Its 106 apartments are 95-percent leased, according to a CRC report to the council, and 79,500 square feet of retail/commercial space will be fully occupied by August.
Pedcor's Nash Building is under construction and should come online this year; about half of its 10,000 square feet of commercial space is leased, Cordingley said. Work also is continuing on developer Anderson Birkla's two-building The Mezz project nearby.
"With the time it takes to build these, we can't wait for tenants," Cordingley said. "Nobody signed up for phase one or the Indiana Design Center before we started, and those are doing quite well."
Pedcor pays more than $1 million in property taxes on its commercial holdings in Carmel each year, he said.
The company owns most of City Center already, and Cordingley said it has "indicated willingness" to buy the former Shapiro's Delicatessen building that has been vacant since last summer. The CRC owns the building at 918 S. Range Line Road and has it listed for sale with Colliers International's local office.
While it's too early to discuss possible uses for the 11,500-square-foot structure, Cordingley said, Pedcor may want to acquire additional land to expand the building.
Also on the drawing board: a four-star hotel near the tony Palladium concert hall. Pedcor is seeking an investment partner for that project, Cordingley said, and designers are looking for ways to speed up construction by building it in phases.
He suggested starting with a 30- to 35-room boutique hotel that could grow along with demand.
As Pedcor's plans come into focus, the CRC is working to find a balance between the developer's needs and the city's priorities, Meyer said. And more parking is a key building block for any expansion of City Center.
"The parking on-site now will not support additional development," she said. "We know getting the garage built is a critical element. Now we're working on logistics—how to get it done."
Snyder acknowledged parking has been a problem since City Center opened, but she nevertheless wants to know more before offering a publicly funded solution.
"If they have a marvelous tenant that needs extra parking, we'll take a good strong look at it," she said. "I like to keep my mind open and one hand on my purse."
Last year, Snyder was part of a four-member council majority that voted not to support Pedcor's application for a state tax credit that would help pay to redevelop Midtown—a blighted former industrial area between Carmel City Center and the Arts & Design District.
Although no city funding was requested at the time, she said then that the city simply could not afford to get involved with new projects.

Snyder
A subsequent change in state law allowed Pedcor to pursue the industrial recovery tax credit without the city's blessing. Cordingley is still waiting on a decision.
The company is working on plans for upscale offices and housing on 15 acres of land it owns west of the Monon. Carmel-based Old Town Development LLC has been acquiring property east of the Monon and could file a rezoning application this summer.
Cordingley said a revived Midtown could provide a much-needed link between City Center Drive and Main Street, complementing existing development and bolstering the city's efforts to build a dense, walkable community.
"We hope to get something going there next year," he said.•
Please enable JavaScript to view this content.