I like to think of myself as a diligent researcher when it comes to this column.
 
Azy, makes friends with a visitor. (Photos courtesy Indianapolis Zoo)
At least, that's the excuse I've given for having visited the Indianapolis Zoo multiple times over the past few weeks.
The reality, though, is that I just can't get enough of the eight residents of the recently opened Simon Skjodt International Orangutan Center. And, truth be told, I intend to find every excuse I can to visit this amazing octet again soon.
The Indianapolis Zoo is, of course, filled with wonders. The polar bears rock, the sea lions are a hoot, petting sharks never gets old, and on your next visit, you really should get there early enough for the daily flamingo mingle.
But watching our distant cousins, the orangutans, in action transcends those experiences. You should go to see alpha male Azy wisely tap a computer screen to put objects in their proper order—and see his fellow curiosity-filled simians eager for their turns at the machine.
To witness gregarious Rocky—the most "hey-look-at-me" of the bunch—methodically figure out how to strip the rubber caulking from around a window of the Center … then do the same to the other windows in less and less time. (I have no doubt that, if left alone for a week, the orangutans would occupy City Hall).
To just spend time staring into Knobi's eyes … and being honored by the way she stares back in return. All offer more than just great photo ops to post on Facebook. There's something soulful about these connections.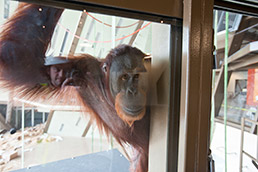 Rocky, bottom, swings into action.
It helps that the area they occupy is so wisely designed. The cathedral-like main building offers plenty of window space to see the apes from outside or in. Inside, smart—and brief—displays give plenty of context to help understand the beasts within while also providing opportunities to help conserve the natural habitat of the orangutans in Borneo and Sumatra. (For the record, our orangutans were rescued from the entertainment industry, not plucked from the wild.)
Visit in the afternoon and you are more likely to see Azy and company at their computer.
If you're lucky, you'll also see one of the bunch head out across the high-wires like an especially hairy Flying Wallenda, climb down a tower, and into one of the outpost oases. (Soon, you'll be able to see that from a gondola circling the same path.)
And, like me, you might find yourself speculating about what's going on in that almost-human brain as it looks out over the Indianapolis skyline.•
__________
This column appears weekly. Send information on upcoming arts and entertainment events to lharry@ibj.com.
Please enable JavaScript to view this content.