Longtime ExactTarget Inc. executive Scott McCorkle soon will take the reins of one of the most critical divisions of one of the biggest firms in Silicon Valley, potentially signaling more focus on international business.
McCorkle, ExactTarget's president of technology and strategy, will replace CEO Scott Dorsey, who announced to his staff Thursday that he would hand over the reins of the email-marketing software developer he co-founded in 2000. IBJ was first to report the departure.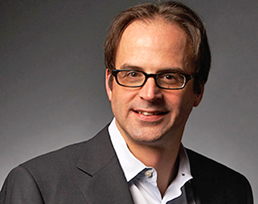 McCorkle has overseen all technology, products and services for Indianapolis tech darling ExactTarget. (Photo courtesy ExactTarget)
"This is a great time to begin a new chapter—both for our company and for me personally," Dorsey wrote in a memo to employees. "We have made enormous strides integrating our business with Salesforce over the last year—and Scott McCorkle, ExactTarget's President of Technology and Strategy, is absolutely the best leader on the planet to become our next CEO.
"Scott has led the technology team at ExactTarget for nearly 9 years and was instrumental in every stage of ExactTarget's growth—from acquisitions to the IPO to the acquisition of ExactTarget last year."
McCorkle, 48, is the logical choice to succeed Dorsey, said Bob Compton, an early investor in the company.
He has a rare mix of technical know-how and people skills, both  working with customers and managing employees, Compton said.
"To me this is a very logical succession," he said. "McCorkle's brought in and run development over the years and took more and more responsibility. He's basically run day-to-day operations for a long time."
ExactTarget spokespeople did not respond to requests to interview McCorkle by IBJ's deadline.
McCorkle has worked for ExactTarget since 2005, according to a biography on the company's website. He has overseen all technology, products and services for the company.
He will steer a small but ever-growing piece of business for Salesforce.com Inc., which bought ExactTarget for roughly $2.5 billion in 2013.
CEO Marc Benioff took all digital marketing offerings at the San Francisco company, which reported $4.1 billion in revenue last year, and placed the services under Dorsey and his team's management. That included lumping a set of other subsidiaries under ExactTarget while moving Pardot, a subsidiary of ExactTarget, to another division of Salesforce.
The ExactTarget Marketing Cloud produced $111 million in revenue last quarter, Salesforce disclosed Friday morning in a regulatory filing.
The marketing cloud is the smallest of Salesforce's four main divisions. But it is an area of business Benioff has played up as the software industry targets marketers as an ever-growing area of business.
Benioff will likely look to McCorkle to steer the marketing cloud's growth abroad as Salesforce continues to integrate ExactTarget into its business, said Jeff Houston, an analyst for Barrington Research Associates Inc.
"McCorkle's big role was building out [ExactTarget's] international operations," Houston said. "Clearly, Salesforce is a global company with a lot of business outside the U.S., so maybe that's why it made more sense for him to take the reins."
Before ExactTarget, McCorkle co-founded and was president of software developer Mezzia Inc. VFA Inc., a larger competitor, acquired Mezzia in 2006.
He also was a vice president at Software Artistry, which was Indianapolis' first software firm to go public. He was a senior analyst for Eli Lilly and Co. before then.
He has a bachelor's degree in computer science from Ball State University and a master's of business administration from Indiana University.
McCorkle will transition into the CEO's job through August, when Dorsey plans to leave.
The changeup shouldn't cause much disruption, Houston said, since McCorkle has been at the top of the company for almost a decade.
Dorsey's departure will cap 14 years since he began ExactTarget out of a Greenfield business park alongside partners Chris Baggott and Peter McCormick. McCormick remains at ExactTarget. Baggott left in 2007 to start software firm Compendium, which he sold to Oracle Corp. last year. He currently runs a collection of food-related businesses.
A handful of other top ExactTarget executives have left since the Salesforce acquisition. Chief Financial Officer Steve Colins and Chief Administrative Officer Traci Dolan stepped down earlier this year. Chief Marketing Officer Tim Kopp left at the end of 2013.
Dorsey's announcement received a flood of well wishes on Friday morning.
"You left a true legacy that so many of us are forever grateful for," Kopp tweeted to his former boss. "Enjoy every second of your victory lap!"
Please enable JavaScript to view this content.