They shimmer.
And that's just the surface appeal of many of the works in the Indianapolis Museum of Art's "Face to Face: The Neo-Impressionist Portrait, 1886-1904" (June 15-Sept. 7). The exhibition shines a light, so to speak, on one of the IMA's strengths (one of the most impressive collections of neo-Impressionist paintings outside of France) and supplements its holdings with loans from up the road and around the world.
The term "neo-Impressionist" might seem intimidating to those who didn't major in art, but the basic idea is simple: As demonstrated in his masterpiece "Sunday on the Grande Jatte" (the work that inspired the musical "Sunday in the Park with George"), Georges Seurat showed how complementary colors could create a greater intensity when combined in the eye rather than mixed on the painter's palate. He did that not just through pointillism—the use of dots in lieu of broader strokes—but through the careful placement of color, a science whose theorists he studied.
Some saw his technique as cold, but as one of the leading art critics of the time, Felix Feneon, wrote, "The atmosphere is transparent and uncommonly vibrant; the surface seems to flicker or glimmer."
Alas, Seurat's "Grande Jatte" is not part of this show (You'll have to head to the Art Institute of Chicago to see it—which you should do if you haven't already). But its influence permeates "Face to Face." What the show does primarily feature are artists Seurat influenced, exploring and expounding on his breakthroughs. The addition catch: Unlike Seurat, they focused their paintings on people.
The most famous of the works collected here, Vincent van Gogh's 1887 self-portrait, comes from a period he spent in Paris when he was "seeking oppositions of blue with orange, red and green, yellow and violet." On loan from the Art Institute of Chicago, its familiarity doesn't minimize its power.
Given more prominence is Theo van Rysselberghe, a Belgian artist (most of the work here comes from France and Belgium) who, inspired by Seurat's "Grande Jatte," transitioned from realism to this new brand of pointillism. His trio of portraits of the Sethe sisters, the earliest from 1888 and the latest from 1894, showcase his evolving technique. His "In July, Before Noon" offers a bucolic, populated parkscape that recalls Seurat's most famous painting but gives it a style all its own.
Art mavens and newcomers alike are likely to pay particular attention to Paul Signac's painting with the long-winded title "Opus 217. Against the Enamel of a Background Rhythmic with Beats and Angles, Tones and Tints, Portrait of M. Felix Feneon in 1890." The striking, almost psychedelic piece should appeal to the academics for its historic value and the fact that it hasn't appeared in America in about 30 years.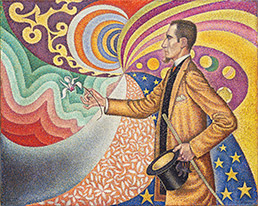 Paul Signac's "Opus 217…" offers a background that would seem to come from 1969 rather than 1890. (Photo courtesy Indianapolis Museum of Art)
The layperson, on the other hand, is more likely to be stopped by its background, which would seem more at home on a 1969 album cover than in an 1896 gallery. Perhaps the IMA is missing an opportunity by not selling a black-light version in the gift shop.
Signac also offers "Woman Arranging Her Hair," in which his then-mistress and future wife's mirrored face is cryptically blotched out, and "Portrait of My Mother," whose sourpuss stare seems to be wilting the flower she holds. One wonders at her response to the work, which nonetheless seems to hold its own brand of magic, with a simple sailboat and fantastic trees in its background.
Here and elsewhere, it becomes clear that a portrait doesn't have to be a staged would-be glamour shot. Maximilien Luce's "Morning, Interior" honors the anonymous laborer, sitting on his cot, putting on a shoe before a day's work. Henry van de Velde's peaceful "Portrait of Laurent in Blankenberghe" features the artist's brother, lost in a book, while the seascape looms, seemingly in another frame, behind him. And Georges Lemmen's "Loie Fuller" dispenses with facial—or even body—recognition completely and, instead, re-creates the sense of movement in his subject, an American dancer popular in Europe at the time.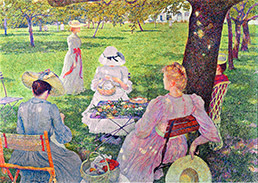 Théo van Rysselberghe's "In July, Before Noon" can be seen as a response to Georges Seurat's "Sunday on the Grande Jatte." (Photo courtesy Indianapolis Museum of Art)
There are surprises in the show, too, including a gallery largely devoted to black-and- white work using the same dotted building blocks. One lesson: Shades of gray can also resonate as well as color.
For those who need some hands-on activity—and for younger visitors brought along by grown-ups—a sidebar gallery, set with café tables, offers a chance to create your own pointillist image.
The exhibition is accompanied by a beautiful Yale University Press-published book (I know the technical term is catalog, but that always sounds cold and off-putting to me) with text by IMA curator Ellen Wardwell Lee and Jane Block, a professor at the University of Illinois at Urbana-Champaign. Docent-led exhibition tours are offered daily, but I recommend sitting in on the no-extra-charge curator talk on June 19.
While the IMA is free to anyone, this special exhibition does have a $12 adult cover charge for non-members.•
__________
This column appears weekly. Send information on upcoming arts and entertainment events to lharry@ibj.com.
 
Please enable JavaScript to view this content.