Fletcher Place on the southeastern edge of downtown for years served as little more than a pass-through for folks traveling between downtown and Fountain Square.
But the triangle-shaped historic neighborhood is starting to carve out its own identity by drawing more residents and visitors to patronize the restaurants and drinking establishments sprouting along Virginia Avenue.
The Chilly Water Brewing Co. opened late last month in The Hinge building and the Milktooth restaurant and Hotel Tango Whiskey micro-distillery are set to follow. On top of that, construction has begun on the Slate mixed-use project featuring 68 apartments and 9,900 square feet of retail space.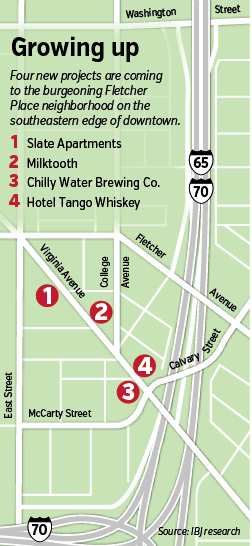 What's driving the resurgence? Real estate observers agree the biggest factor is the opening of the Indianapolis Cultural Trail. The spur from downtown to Fountain Square passes right through Fletcher Place, bringing loads of discretionary income into it.
That's what prompted Travis Barnes to choose Fletcher Place for Hotel Tango Whiskey. The former Marine—along with his wife, Hillary, and friends Adam Willfond, Brian Willsey and Nabeela Virjee—hopes to be open at 702 Virginia Ave. by the end of August.
"It's always been kind of a bridge too far to get into Fountain Square," Barnes said. "But now that it's finally connected, we've noticed a huge increase in folks just biking and walking by."
Barnes and his partners plan to invest $400,000 in the whiskey distillery and have signed a five-year lease to occupy 3,500 square feet—split between production and a tasting room, lounge and retail space.
They've pledged to hire 21 employees within five years in exchange for $160,000 in conditional tax credits from the state.
Storied past
Fletcher Place is named for Indianapolis pioneer Calvin Fletcher, who arrived in the area a few years before Indianapolis' founding in 1821 and amassed vast land holdings. He was the city's first attorney and established a bank that ultimately became American Fletcher National Bank.
The neighborhood began to decline in the 1950s, as residents moved to suburbs. The construction of interstates 65 and 70, which abut the neighborhood to the east, didn't help.
Neighbors banded together in 1977 to form a neighborhood organization to help save the area. In 1980, Fletcher Place became an Indianapolis historic district and two years later it was listed on the National Register of Historic Places.
The area's revitalization has been a slow grind. Until 2010, residents were still departing, with the population shrinking 1 percent from 2000 to 2010, according to Cassidy Turley statistics. But from 2010 to 2013, the population ticked up 1 percent, though the average annual income in the neighborhood was a lowly $20,496.
While nearly half the homes in the neighborhood were built before 1939, it is new construction that has helped stoke renewed interest.
The 64-unit Villaggio at Page Pointe condo project, which sits along Virginia Avenue near the corner where South and East streets meet, opened in 2007. About the same time, Deylen Realty built the smaller, eight-unit Fletcher Place Lofts at 410 S. College Ave. in the old Fletcher Place Community Center.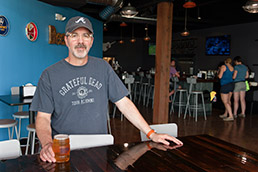 Skip DuVall opened Chilly Water Brewing Co. last month in the Hinge building. The 2,800-square-foot space has seating for about 50, plus another 30 seats outdoors.(IBJ photo/Eric Learned)
"We bought that building because it had a basketball arena in it and we thought it was kind of cool," Deylen principal Craig Von Deylen said. "It was kind of the beginning of a second turnaround for the neighborhood."
While working on that project, Von Deylen met his future wife, Jennifer Rice, who was a coordinator of the Greater Indianapolis Neighborhoods Initiative. She persuaded him to invest further in Fletcher Place.
His firm then developed the 11-unit Fletcher Place Terrace apartments across from the Lofts and two years ago finished the 56-unit Hinge, which sports 12,000 square feet of commercial space that is completely leased with the arrival of the Chilly Water Brewing Co.
Deylen now is embarking on Slate, which it's building between Milhaus Development LLC's Mozzo apartments, which opened last year, and the Villaggio.
"It's really kind of an amazing renaissance," Von Deylen said. "And truthfully, there's more happening that we can't even talk about yet."
Nearby corporate offices for Anthem, Farm Bureau Insurance and Eli Lilly and Co., along with easy access to interstates 65 and 70, also are bolstering development prospects.
'This area's hopping'
Chilly Water is operated by Skip DuVall and his wife, McKee. Local beer connoisseurs might remember him from his days as head brewer at the former Alcatraz Brewing Co. in Circle Centre before he helped open Fountain Square Brewing Co.
Wanting to open his own microbrewery, DuVall, 47, already was familiar with the Hinge building, which also houses the Rook restaurant, from riding his bicycle to and from the Fountain Square brewery.
Chilly Water occupies 2,800 square feet and seats about 50 inside and 30 outside.
"I really liked it," he said of the building. "And this area's hopping. My first weekend, we killed."
Jonathan Brooks is hoping for the same success for his Milktooth restaurant that's slated to open by the end of the month in the former Downtown Car Care space at 534 Virginia Ave.
Brooks, 29, grew up working in Indianapolis restaurants, starting as a dishwasher at The Jazz Kitchen when he was 14. He traveled to Portland, Seattle and Chicago before returning and working 4-1/2 years at Recess on North College Avenue, the last two as chef de cuisine.
He quit about a month ago to focus on Milktooth, where meals range from large Dutch baby pancakes for breakfast to fried chicken at dinner, with wine, beer and spirits available. Plates range from $5 to $16.
The building that will house Milktooth is owned by Tom Battista, who founded Bluebeard in 2012 up the street with his son Edward.
Brooks and his wife used to live in Fletcher Place and knew they would return one day.
"In a lot of ways, we watched it develop, so we wanted to stay here once we were ready to open a restaurant," Brooks said.
With the arrival of Milktooth and Hotel Tango Whiskey, on the heels of Chilly Water Brewing Co., Fletcher Place is cementing its status as a destination.
For Barnes of Hotel Tango Whiskey, "it was serendipity for us that Fletcher Place became the up-and-coming, hip, sexy, cool place to be."•
 
Please enable JavaScript to view this content.