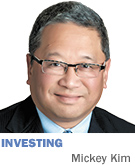 A persistent seasonal anomaly for stocks is the "presidential cycle," a pattern of performance coinciding with various years of a presidency. In particular, year two of a presidency is a midterm election year (MTEY), with congressional elections held in November. Historically, stock prices have been weaker in MTEYs than in years one, two or three of a presidential cycle.

We are at the halfway point of 2014, an MTEY. Past performance is no guarantee of future results, but studying historical patterns might give clues as to what to expect in the weeks and months ahead.
Sam Stovall, chief equity strategist of S&P Capital IQ, examined monthly price changes for the S&P 500 Index since 1945. He found the S&P 500 recorded the worst six-month stretch of the entire 16-quarter presidential cycle during the second and third quarter of the MTEY, with average declines of 2.5 percent and 0.3 percent, respectively.

According to Stovall, the MTEY effect was even more pronounced for small-capitalization stocks. Since 1978, the Russell 2000 Index declined 3.5 percent and 6.6 percent during the second and third quarters of MTEYs, respectively.

Fortunately, the two worst quarters of the presidential cycle were followed by the three best.

Jason DeSena Trennert, CEO of Wall Street research firm Strategas Research Partners LLC, examined the S&P 500's performance during MTEYs in a different light. The S&P 500 experienced a swoon in all 13 MTEYs starting in 1962, with maximum, minimum and average peak-to-trough declines of 38 percent, 8 percent and 19 percent, respectively.

On a brighter note, Trennert looked at the S&P 500 one-year from the trough and found it was higher 100 percent of the time. The lowest bounce was 12 percent, the highest 58 percent, and average 32 percent.

Though stocks have reached record levels and avoided a 10-percent correction in this MTEY, history suggests investors could be in for rougher sailing in the months ahead.•

__________

Kim is the chief operating officer and chief compliance officer for Kirr Marbach & Co. LLC, an investment adviser based in Columbus, Ind. He can be reached at (812) 376-9444 or mickey@kirrmar.com.