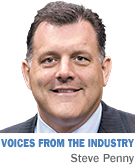 One of the hottest topics in sports is the cry for change in intercollegiate athletics. As issues are battled out in courtrooms and dissected by the media and general public, only one thing is certain—change is likely coming. Change in the governance model as well as the relationship of a student-athlete to his or her school.
Almost unanimously, collegiate administrators stress that additional benefits for the student-athlete are necessary, but the professionalization of collegiate sports is a game-changer and would affect opportunities for young people.
Leaders of the U.S. Olympic movement are closely monitoring these developments and the potential impact on Team USA.
For years, the collegiate system has been a fundamental component of our athlete development and an important ingredient for Team USA's success at the Olympics. In London in 2012, 65 percent of the U.S. Olympic Team participated in collegiate athletics, and 30 of America's medalists were student-athletes at the time.
The United States relies on the college system to groom its athletes, and equally important, provide steady employment for many of the best coaches in the world.
The U.S. Olympic Committee and its national governing bodies recognize the importance of the collegiate model to Olympic sports and are working to form a higher level of partnership with all parties.
Significant economic change in the collegiate sports landscape is a threat to U.S. Olympic Team-bound athletes and the USA's continued prominence as a top medal-winning country. The resources invested by universities are invaluable because the U.S. Olympic movement is based entirely on private funding, and maximizing our combined efforts is an essential element of our stability.
For decades, collegiate gymnastics programs have provided the backbone of talent for USA Gymnastics' men's national team. Our Olympic team consistently includes student-athletes and recent graduates. College campuses have provided important training facilities, and even though the number of men's collegiate programs is dwindling, those that remain are vital to our pipeline.
Increased cooperation between the Olympic movement and the NCAA has yielded NCAA legislative improvements that support our country's best athletes in the pursuit of representing their school and Team USA under the banner of Operation Gold. Throughout the years, Olympic and collegiate sports administrators have worked to find common ground in the best interests of the student-athlete.
It is no secret that the collegiate sports economic model is heavily skewed toward the "revenue" sports of football and basketball. Olympic sports traditionally generate low revenue, but clearly epitomize the student-athlete opportunity and experience. Olympic-sport athletes typically maintain strong GPAs, and their international success reflects positively on their schools.
Unfortunately, Olympic sports can be easy targets for cuts when budgets get tight, and eliminating them can result in a reasonable degree of public and alumni outcry.
A variety of reform models are under consideration, and even the largest and most successful schools are concerned about the impact of proposed changes. University presidents from around the country have voiced their opinions, individually and collectively through conferences such as the Pac-12 and Big Ten.
The current legal actions are ominous because court-imposed sanctions could set new precedents without a solution-based approach. Indiana University Director of Athletics Fred Glass recently announced an Athlete Bill of Rights, which demonstrated a uniquely healthy and proactive measure.
Young swimmers, wrestlers, fencers, gymnasts, rowers and volleyball players understand that professional sports are not their destiny, but dream of raising an NCAA championship trophy or hearing their national anthem from atop a podium.
More money than ever is being funneled into collegiate athletics, and how it gets shared is a worthy debate. Intercollegiate athletics in America are important to our sport culture and help keep our Olympic programs viable.
Regardless of which direction change takes, it is incumbent on all of us to preserve the dreams of millions of kids. USA, USA, USA!•
__________
Penny is president of USA Gymnastics. Views expressed here are the writer's.
Please enable JavaScript to view this content.