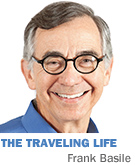 Some of the most interesting trips for Katrina and me involve hitting the road with a map, AAA guide books, a computer tablet and whatever other resources we have on hand. We have a general idea of where we are going and how much time we have, but apart from that, we are flexible.
Sometimes we drive from Indianapolis to some other part of the state or cross the border into nearby states. At other times, we fly to a city, rent a car and start our road trip from there.
One of our most interesting "fly there and drive" trips was to one of the most beautiful states: Oregon. We loved the drives along the Pacific Coast, through the wine country, along the Columbia River Gorge and in Crater Lake National Park. We explored without being on a time schedule, except for the return flight at the end of the 10-day visit.
Our general plan on these excursions is to see and experience some of the tourist sites in the area plus those that are of particular interest to us, such as national parks, presidential libraries, Frank Lloyd Wright buildings, performing arts centers, National New Play Network member theaters and so on.
However, no matter what our plan, we are always flexible about modifying it if we come across some unexpected sight or event. We have learned that frequently the most interesting sights and experiences are unplanned and happen because we are open and expectant.
For example, in pursuing one of our travel goals, presidential libraries, we drove to West Branch, Iowa, to visit the Herbert Hoover Presidential Library and Museum. On the way, we found the "Field of Dreams" movie site in Dyersville, the Amana Colonies, the Dutch village of Pella, the John Wayne birthplace and the bridges of Madison County in Winterset.
During that trip, because we had no reservations (since we were not certain where the day would end), we happened upon the Hotel Julien, a wonderfully renovated hotel in the historic downtown area near the pier in Dubuque, the oldest city in the state. A couple of blocks from the hotel is the world's steepest cable ride, located in Cable Square.
When we drove through downtown Des Moines on July 4, we discovered a giant outdoor pops concert in progress with people, activity and fireworks everywhere. So we parked the car and joined in the revelry.
And then there was a trip back home from Mackinac Island, when I noticed a billboard advertising The Cross in the Woods, in the town of Indian River. In speaking with people who have summer homes in the area, nobody had ever mentioned it (and I have yet to find anyone who has seen this cross … or even heard of it!).
So I checked my AAA tour book—today I would probably go to Google on my tablet or cell phone—and we decided to stop.
The church was staffed by Franciscan friars from the Sacred Heart Province in St. Louis. A priest at the entrance to the grounds showed us around.
Gazing upon this magnificent sculpture, with lush landscaping in the background and amphitheater-like seating in front, was a spiritual experience in and of itself. The largest crucifix in the world was carved and sculpted in 1953 from one Oregon redwood tree and then shipped to a foundry in Norway to be cast in bronze. Measuring 55 feet high and 22 feet wide and weighing seven tons, the sculpture of Jesus on the cross is 28 feet from head to toe and 21 feet between the tips of his outstretched arms.
It was not until 2003 that a glass sanctuary was built with the crucifix as the focal point so that worshippers could sit inside and see the cross. (I imagine there were not many weekends when Mass could be conducted outdoors in Northern Michigan.)
All these serendipitous stops wouldn't have happened if we were locked into too tight a schedule. So with the summer months here, get a map or a GPS and a guide book or computer tablet and hit the road! But be ready for detours.•
__________
Basile is an author, professional speaker, philanthropist, community volunteer and retired executive of Gene B. Glick Co. His column appears occasionally. Basile can be reached at Frank_Basile@sbcglobal.net.
Please enable JavaScript to view this content.