The Indianapolis Colts are about to get a whole lot richer.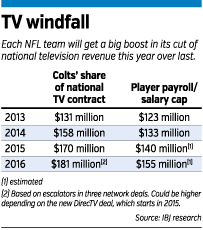 The NFL's new contracts with CBS, Fox, NBC and ESPN—which take effect this month—are set to deliver each of the league's 32 teams a $27 million bump in national television revenue, according to sources familiar with the deals.

The revenue is split evenly across the NFL's teams. That means the Colts will get $158 million in national TV revenue this year, more than enough to cover their $133 million salary cap.

Since the salary cap increased $10 million over last year, the Colts should have an extra $17 million to cover any other expense increases and help pad the team's bottom line.

The following year could get even more lucrative. The upcoming season is the last of a four-year deal between the NFL and DirecTV, and sports business experts think a new DirecTV deal could eventually push what the Colts—and other NFL teams—bring in annually beyond $200 million. The teams' 2016 haul will be $181 million, at a minimum.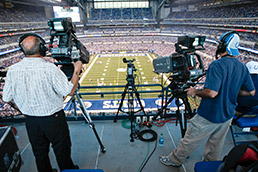 (AP photo)
It's unclear if the latest TV revenue figures even include the $12.5 million each team will get this season for the NFL's one-year deal with CBS to air Thursday night games.

"No other sports league is doing anywhere near this well when it comes to TV money," said Mark Rosentraub, University of Michigan Center for Sport Management co-director and a noted sports business author. "The NFL is simply in a stratosphere of its own. The new TV deals are a windfall for the league's teams and team owners."

Colts Chief Operating Officer Pete Ward thinks the league's sizable new TV deals "speak to the insatiable appetite people have for American football"—and what the NFL can do for its broadcast partners.

Ward
"The increase in the value of these TV contracts is an indication that the appetite for football continues to grow," Ward said.

He added that the NFL broadcast partners have used those deals to increase their brand value.

"Fox used its NFL deal to join the big three [ABC, CBS and NBC]," he said.

Regular-season NFL ratings are two to 10 times higher than the averages of all other major U.S. sports—including NASCAR, Major League Baseball, National Basketball Association and National Hockey League, according to New York-based Nielsen Media Research.

While average TV ratings for prime-time programs have declined in recent years, ratings for NFL games have continued to climb, according to Nielsen, soaring to a record 173 percent higher on average than all other prime-time network shows in 2013.

National TV revenue is by far an NFL team's biggest slice of revenue. In 2013, the Green Bay Packers—the only NFL team to disclose revenue because it's publicly owned—reported total revenue of $324.1 million. That means more than 40 percent of the team's revenue came from national TV money.

Other forms of NFL revenue are also distributed evenly among member teams.

The Packers' finances show the team received $18 million to $20 million from its share of away-game ticket revenue and another $36.7 million to $38.7 million from league sponsorships, licensing and a share of revenue from the NFL Network.

All told, the Packers filing shows each NFL team got $187.7 million from league-wide deals last season.

Fifty-eight percent of the Packers' 2013 revenue came from shared league-wide deals, and sports business experts said the percentages are likely similar for the small-market Colts.

"No other professional sports league shares money among its teams to the extent the NFL does," said Marc Ganis, president of Chicago-based Sportscorp Ltd., which counts several NFL teams as clients. "That's what allows small-market teams like Indianapolis to stay competitive with teams in markets like Chicago, Houston and New York."

That doesn't mean locally generated money isn't important for the Colts, according to team officials.

"Local revenue is important because it's not shared [with other teams] and that can translate into a competitive advantage on the field," Ward said.

Teams with larger locally generated revenue streams can better afford player signing bonuses, coaches and other non-player personnel salaries, and upgraded training facilities, Rosentraub said.

Colts officials declined to discuss team finances, but sports business experts agree each NFL team clears well over $25 million a year. Some estimate teams' annual profit at above $50 million.

"There's lots of latitude in determining what qualifies as profit and what doesn't," Rosentraub said. "But if you simply look at the sales prices of these teams, you can see they are very, very valuable assets. That should give you an idea of what kind of revenue- and profit-generating potential they have."

Shahid Kahn bought the Jacksonville Jaguars in 2012 for $760 million. Stephen Ross bought the Miami Dolphins in 2008 for $1.1 billion.

While Ganis agreed the vast majority—if not all—of NFL teams are profitable, he noted it's important to consider myriad team costs beyond the salary cap, including player health care costs, Worker's Compensation, pension funds, travel expenses and money needed to settle lawsuits over head injuries and other matters.

Still, it appears the Colts and their NFL brethren will be comfortable for years to come. The CBS, Fox and NBC deals—which all expired in 2013—were renewed through 2022. The average value of each deal grew from $1.9 billion to $3 billion, according to league sources.

ESPN has agreed to pay the NFL a reported $1.9 billion annually for the right to broadcast "Monday Night Football" through 2021, up from $1.1 billion under its old deal.•