At a time some large downtown law firms are cutting back on space, the proposed criminal justice center will gut the downtown office market.

Moving the Marion County prosecutor and public defender to the new center at the former GM Stamping Plant southwest of downtown will alone shift 130,000 square feet.

Add in the 590,000 square feet occupied by jails, traffic court and arrestee processing center and the downtown core is on track to empty a total of 720,000 square feet—roughly equivalent to the entire OneAmerica tower.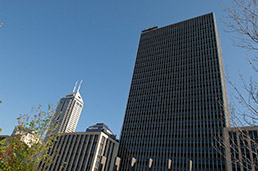 Criminal courts departing from the City-County Building for the new justice center would free space for civil courts. (IBJ file photo)
City officials claim the moves to the new justice center will add only about 1 percentage point to the existing 20-percent downtown vacancy rate. But Jon Owens, an office broker at Cassidy Turley, isn't buying it. He said the vacancies could account for three times the amount city officials predict.

With a total of 10.5 million square feet of downtown office space, the removal of the prosecutor and public defender offices alone will move the needle 1 percentage point, Owens said.

"It has the potential to take a big chunk of that southeast quadrant, kind of like what the state government center did in the early 1990s," he said. "It took forever to backfill that space."

City officials hope to select a development team in October and receive approval from the City-County Council the following month to move forward. If all goes well, the $500 million center should open in mid-2018, taking roughly 2,500 city-county employees in a mass exodus from the downtown core.

The downtown vacancy rate already is at its highest point in years and the outlook is not expected to improve much. That's particularly true for the traditional office towers that now seem staid to younger, up-and-coming companies that prefer space with more character.

The prosecutor's office occupies about 77,600 square feet at 251 E. Ohio St., at East Ohio and Alabama streets, and the public defender has nearly 52,000 square feet just to the east at 151 N. Delaware St., known as the Gold Building.

Both buildings already are struggling to increase occupancy, said Owens, noting that what tenants exist are mostly criminal defense law firms. Whether they move closer to the new justice center remains to be seen.

The justice center is expected to include a 3,500-bed detention facility (an increase of 1,100 beds from current capacity), 750 community correction beds (a 250-bed increase), 34 criminal court/hearing rooms, a 40,000-square-foot Sheriff's Office, 1,500 parking spaces and room for expansion.

In addition, under a different procurement set to be released next year, a connected building will be constructed to house the Prosecutor's Office, Public Defender Agency and Probation Department.
A new justice center has been a long time coming. The Indianapolis Bar Association has been advocating for one since 1998. Even so, IBA members would have preferred it be built at a more central downtown location.

"We believe that there's value in a courthouse being in the center of a city," said John Kautzman, a local lawyer and chairman of the IBA's justice center task force. "That always seems to aid in the public access to such a building."

Still, he said, IBA supports the location because it's better than the original proposal of land at the Indianapolis International Airport and because enough time already has been wasted studying the issue.

Ripe for opportunity

With change comes opportunity, supporters of the justice center argue.

One of the largest city-county owned properties ripe for redevelopment is the jail at 40 S. Alabama St., which spans nearly 290,000 square feet. Plans call for it to be demolished to make way for some sort of project that could complement the new mass transit center to be built just to the north on a half-block surface parking lot.

IndyGo in February unveiled the design of the sleek, $20 million transit hub in which work should start in the fall, with completion by the end of 2015.

What's known as Jail II, the 180,000-square-foot privately operated building at 730 E. Washington St., also might present opportunities, said David Rosenberg, the city's director of enterprise development.

"It holds some potential and could be redeveloped," he said, "and would help to continue to grow the east side out."

At least some of the street-level space can be backfilled by retailers and small office users, said Rich Forslund, an office broker at Summit Realty.

"If you look at the Delaware [Street] product just to the west of City Market, it's filled with a lot of bail bondsmen and such, which is fine," he said, "but it's created this line that's affected the area just to the east."

The notion of East Washington Street outside the Mile Square attracting much attention suddenly doesn't seem as far-fetched as it might have in the past.

The first phase of Milhaus Development LLC's Artistry apartment project is finished, prompting the firm to launch a second stage.

Between Artistry and the City-County Building, on a portion of the former Market Square Arena site, Columbus-based Cummins Inc. plans to build a $30 million global distribution headquarters. And just to the north, Flaherty & Collins Properties is set to start construction on its $81 million, 28-story mixed-use development anchored by a Whole Foods grocery.

What the city might have planned for any of the properties that become available due to the construction of a new justice center is not known, said Adam Thies, director of the city's Department of Metropolitan Development.

"The justice center is real, but it's not real," he said. "So we haven't got into any redevelopment planning yet. It's certainly something that we will be doing, but it's down the line."

Other city-county operations that plan to move to the justice center include the arrestee processing center at 752 E. Market St. and Marion County Community Corrections at 140 E. Washington St., both downtown, and Marion County Traffic Court at 8115 E. Washington St. on the far-east side.

The timing for the city seems to be ideal for a new justice center: The leases or contracts it has outside city-county owned buildings expire from 2017 to 2019.•