An Indianapolis startup thinks it's on to a cure for a rare but awful disease that saps its victims' energy, steals their ability to walk, gives some of them diabetes and, ultimately, stops their hearts.
And it thinks it could be a blockbuster with annual sales topping $1 billion.
Chondrial Therapeutics LLC is developing a drug for Friedreich's ataxia, a genetic condition that affects only 5,000 Americans and no more than 20,000 people worldwide. There is no treatment, let alone a cure, for the disease.
The company was co-founded last year by Dr. Mark Payne, a pediatric cardiologist at Indiana University Health's Riley Hospital for Children, and Steve Plump, former chief marketing officer at Indianapolis-based Eli Lilly and Co.
Chondrial raised $1.1 million earlier this year to help move Payne's drug technology into human trials.

Retired Lilly executive Steve Plump is leading Chondrial Therapeutics.
If the drug's success in mice is repeated in humans, Plump and Payne think they can license the drug to a larger pharmaceutical company to take to market.
"The value proposition from a business perspective is pretty good," Plump said. "You're taking a deadly disease and making it a chronic disease."
It's been done before. That's what Indianapolis-based Lilly did back in 1923 when it brought to market insulin for diabetics.
More recently, drug companies have created blockbuster products by making deadly diseases manageable—even for small groups of patients.
The poster child for a successful drug against a rare disease is Gleevec. Switzerland-based Novartis AG launched the drug in 2001 to treat a rare blood cancer that at the time afflicted roughly 25,000 Americans. The vast majority of them died within five years of being diagnosed with the disease, called chronic myeloid leukemia.
But Gleevec and other similar drugs have boosted survival rates to nearly 90 percent.
That level of success—in a disease for which there were no other treatments—has allowed Novartis to charge $92,000 per year for Gleevec in the United States, according to The Advisory Board, and hefty prices in other markets around the world.
The drug, which was initially estimated to have annual sales potential of $50 million, brought Novartis $4.7 billion last year.
Gleevec's success at keeping patients alive—and continually paying for more Gleevec—also is expanding the size of the market. A study published in 2012 in the journal Cancer estimated that there were 70,000 patients with chronic myeloid leukemia in the United States, and that the number would exceed 100,000 by 2020.
Plump thinks Chondrial's drug, if it proves effective in people, could follow a similar financial model.
A high price would be justified, Plump said, because patients suffering from Friedreich's ataxia rack up large medical bills for physical therapy, hospitalizations, spinal surgeries to relieve the severe scoliosis they develop, and treatments for the diabetes they often develop.
And, if Payne's drug technology works in Friedreich's ataxia, it might able to be applied to other diseases with similar causes.
"If we can show that we can do this for Friedreich's ataxia, we can turn around and do it for other diseases too," Payne said.
Inside the science
The basic problem experienced by patients with Friedreich's ataxia is that their cells don't produce enough of the protein frataxin, which is used by each cell's power plants—called mitochondria—to convert fat and sugar into energy.
The obvious thing to do is to give patients frataxin, just as diabetics who suffer from the lack of the protein insulin take shots of insulin to keep their disease in check.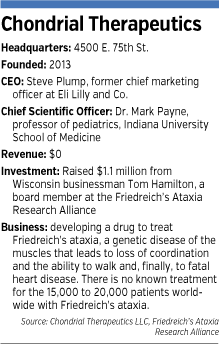 The problem is that just injecting frataxin doesn't help, because the body breaks down the protein before it gets inside the cells to the mitochondria. And even if the body didn't do that, frataxin cannot, by itself, move into cells to reach the mitochondria and stay there.
Payne's insight was to join frataxin to another protein, called TAT, which can successfully carry proteins into the body's cells and get them inside the mitochondria.
That method helped extend by 53 percent the life of mice, whose genes were altered to give them the same condition as Friedreich's ataxia.
In the decade since Payne first engineered the combination of frataxin and TAT, when he was a researcher at Wake Forest University, he has raised $3 million in grants from the National Institutes of Health and the Friedreich's Ataxia Research Alliance, to move the drug forward.
Ron Bartek, the president of the research alliance, helped Payne enter a partnership with Ireland-based Shire Pharmaceuticals, which funded the drug's development in 2008 and 2009.
After that relationship ended, Payne decided to launch his own company. A student in a class he taught at the Indiana University School of Medicine knew of Plump, 61, who retired after a 30-year career at Lilly.
Payne, 59, called up Plump and met him at a Starbucks in the Glendale area. After many such coffee sessions, Plump was convinced Payne was on to something.
"I couldn't talk myself out of it because he just had an answer for everything," Plump said.
Chondrial licensed Payne's technology from Wake Forest. Then Plump pitched the idea to several larger pharmaceutical and biotech companies, but they wanted to see more data on Payne's drug.
So Payne again turned to Bartek at the Friedreich's Ataxia Research Alliance. Bartek mentioned Payne to Tom Hamilton, a board member of the alliance. Hamilton jumped in enthusiastically.
"This was one that had good science but needed help," said Hamilton, CEO of Wisconsin-based Construction Forms Inc., which manufactures concrete pumping systems. He contributed money to secure the intellectual property rights, do some legal work and prepare for a Phase 1 clinical trial, which Chondrial hopes to start in 2016. "I'm more encouraged now than ever that we're going to get there," Hamilton said.
Bartek and his wife co-founded the Friedreich's Ataxia Research Alliance in 1998—one year after their son was diagnosed with Friedreich's ataxia. He died in 2010.
Quest for cure
The alliance has raised $30 million, which it has applied to research for a cure. It also has built up an email list of Friedreich's ataxia patients that is critical when drug companies need to conduct a clinical trial. The last clinical trial that needed patients was filled up in just 10 minutes.
Chondrial isn't the only company pursuing a cure. The furthest along is California-based Edison Pharmaceuticals Inc., which in March received fast-track status for its drug EPI-743, which is being studied in Phase 2 human trials. That drug, instead of trying to increase the amount of frataxin in patients' cells, tries to help mitochondira use frataxin more effectively.
Bartek believes there will be plenty of room for multiple drugs.
"We have never thought that this would be a one-and-done operation. We're not going to have a single curative compound," Bartek said. "It's going to be belts and suspenders."•
Please enable JavaScript to view this content.