Widowed and looking to save money, Barbara Heywood-Chasey decided in 2008 to see if she could make do without her car for a year.

Heywood-Chasey
She moved into an apartment on Massachusetts Avenue and started taking the bus, walking and relying on the occasional ride from a family member or rental car. The year-long experiment was a success, Heywood-Chasey said. She sold her car and saved enough money to take three cruises, including one around the world.
"I have no complaints," said Heywood-Chasey, 74. "I think I've designed my lifestyle around the downtown area."
Thousands more Indianapolis residents are living without cars. In fact, Indianapolis experienced one of the fastest gains in car-less households of any major city in a recent five-year period, according to U.S. Census data compiled by University of Michigan researcher Michael Sivak.
While economic hardship likely plays a role in that trend, many people are happy to be car-free.
Jaymi Tharp and her former husband, Joshua Tharp, sold their new Kia Soul, the last remaining car in their household at the time, in November 2009 after Joshua lost his job as a meter reader. The couple had discussed going car-less for five years, Jaymi said, and she said it's been a change for the better. They rely almost entirely on their bicycles, with their 8-year-old daughter riding alongside them.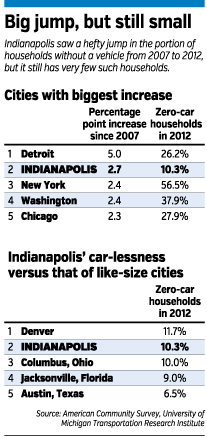 Americans on average own fewer cars, and they're using the cars they do own less frequently, according to Sivak, who contends that the United States reached its peak of car usage in the past decade, well before the Great Recession.
The average number of cars per household declined from 2007 to 2012, Sivak found, and a big factor in that trend is a rise in the number of households with zero cars. What might come as a surprise is that two car-centric cities—Detroit and Indianapolis—led the nation for growth in car-less households.
Indianapolis' share grew from 7.6 percent in 2007 to 10.3 percent in 2012, according to U.S. Census American Community Survey data compiled by Sivak of the University of Michigan Transportation Research Institute. The 2.7-point gain was second only to Detroit's, where car-less households grew from 21.2 percent to 26.2 percent.
Sivak, who published his study in January, said big-picture trends such as telecommuting, urbanization and mass transit are pushing Americans away from cars. The poor economy probably also played a role in Detroit and Indianapolis, he said.
Indianapolis is not an easy place to live without a car. Buses don't run late at night, and beyond a five-mile radius from downtown, trips take longer than they would by car, IndyGo spokesman Bryan Luellen said.
That's why IndyGo is marketing the bus as a way to use one's car less often, rather than as a complete alternative, Luellen said. IndyGo is promoting "car-free Fridays" through October by giving away event tickets and bus passes.
A research scientist at IUPUI, Bill Scott started using the bus about a decade ago as a way to save money. The more he learned the system, the more time his 1996 Honda spent idle. Last year, before selling the car, he used just over a tank of gas.
"There were some hardships," Scott said. Teaching evening classes, he had to mind the bus schedule so he could get home at night. When courting his wife, he would take a bus to her place in Castleton, then walk a mile from the stop.
"Ironically, I enjoyed the independence of not having to worry about my car," Scott said.
More than half of IndyGo's riders lack cars in their households, according to a 2009 survey of passengers. The typical rider is an African-American woman, between the ages of 34 and 50, taking the bus to work and earning less than $15,000 a year, according to the survey.
Scott said he's enjoyed the community of his fellow bus riders, and lately he notices what he presumes to be more professionals. He'll see someone opening a copy of The Wall Street Journal or a New Yorker magazine.
IndyGo's ridership increased every year the past five years, hitting 10.2 million trips in 2013. That was an 8.5-percent increase since 2008. Luellen thinks people who have multiple transportation options are part of that growth.
"We need to continue to do something different and not continue to build for the car and think of that as the only way to get around," Luellen said.
A growing resident population downtown and bicycle culture may be the biggest driver of the car-less-by-choice contingent.
Jamey McPherson, a mechanic at Bicycle Garage Indy's shop inside City Market, said he decided to move back to Indianapolis 3-1/2 years ago because it seemed there was enough bike-friendly infrastructure that he would be able get around without his car.
"I saw that Indianapolis was becoming surprisingly bikey," McPherson said. He donated his car and doesn't intend to buy another one.
At first, McPherson said, cycling was a way to save money and a political statement, proving that a car isn't necessary. Now, he said, he sees his bike as an amenity. "If you have a life that includes downtown, I think it's the best way to experience the city."•
Please enable JavaScript to view this content.