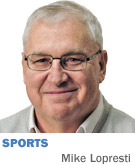 It is a club with only 21 members. There is but a single qualification: Own at least one regular-season start at quarterback for the Indianapolis Colts. With the 30th anniversary of the Colts' first game in the Hoosier Dome at hand—Sept. 2 is the date—it seemed a good time to recall the 21.

Two are dead. One is in prison. One coached his team to the Super Bowl. One has endured 18 post-career surgeries. One was on a television survivor show under an alias.

Some remain in the bright lights. The current incumbent, Andrew Luck. Jim Harbaugh, now trying to coach San Francisco back to the Super Bowl. And, of course, the Zeus of Colts quarterbacks, Peyton Manning.

The Colts had 16 starting quarterbacks their first 14 years in Indianapolis. They had one the next 13 years. The team has played 479 regular-season games as the Indianapolis Colts. Manning started 208 of them.

Dan Orlovsky and Curtis Painter, who bridged the rocky year between Manning and Luck, are still out there, trying to win jobs with the Detroit Lions and New York Giants.

And those that came before? Take them chronologically:

Mike Pagel … will forever be the man who started the first Colts game in Indianapolis, a 23-14 loss to the New York Jets. Certainly an unforgettable day, right?

"I don't remember much about that game," he said over the phone from North Carolina, where he is a service executive for AT&T. "I didn't even remember who it was against."

What he remembers is having to "spend some time explaining the do's and don'ts of the NFL, and some of the things we had to gently coach the fans about. Like when our offense has the ball, the idea is you want to be quiet, but when the defense is on the field, be as loud as you can possibly be."

He remembers the Hoosier Dome. "A very cozy feeling, even though it was 60,000. The turf was a little scary because it was so brand new, it was sticky. You had to really make sure you picked your feet up."

He remembers the first blush of Colts fever in a 4-12 season. "The city was just starting to grow and there was this vibe in the whole community. Not just the community, the whole state embraced us. It just would have been better if we had won a lot more football games."

Matt Kofler … started one game in 1985. He died of natural causes in 2008 at the age of 49, while coaching San Diego Mesa College.

Art Schlichter … is in federal prison, convicted of a ticket scam; a byproduct of his well-chronicled gambling issues.

Mark Herrmann … the hometown kid from Carmel started two games in 1984 and one more eight years later. He has done radio work and just started as director of development for the Krannert School of Management at his alma mater, Purdue University.

He mentioned his start in the 1992 season opener. "We won the game over Cleveland 14-3 and I was offensive player of the game and got the game ball, and it was a great way to start the season. Unfortunately, that was my last game, and it was over."

Jack Trudeau … started 49 games, tied with Jeff George for second most behind Manning. Until recently, he was on Indianapolis talk radio.

Gary Hogeboom … is in real estate development in Grand Haven, Mich., and helps coach middle school football one day a week.

He had a star-crossed Indianapolis stay, suffering everything from reconstructive shoulder surgery to a punctured lung. "The years in Indianapolis were tough on my body, but that's OK. I had a great time."

He also had a great time as a 2005 contestant on "Survivor: Guatemala." He competed as Gary Hawkins, not wanting the others to know he was an ex-NFL player.

Blair Kiel … started one game in 1987, and died in 2012 after battling Crohn's Disease.

Chris Chandler … was the starter in 1988 and was later renowned as a golfer in celebrity events in San Diego.

Tom Ramsey … spent one season (1989) and started one game. Time enough to meet his future wife in Indianapolis. He is now vice president of sales for a digital media company in Denver.

Ramsey's first day at the Colts complex, he tried to introduce himself to then-general manager Jim Irsay, who was tied up. So he went off to play racquetball with director of player personnel Jack Bushofsky. "All of a sudden, there's a knock at the [court] door," Ramsey said, "and I walk over and it's Jim. I say, 'Hi, Jim. I'm Tom Ramsey and I just want to say how happy I am to be a part of the Colts organization and I'm looking forward to helping the team win.'

"And he goes, 'Is that it?' I said, 'Yeah, that's it.' The door closes and Bushofsky tosses me the ball and says, 'Your serve.'"

Jeff George … was the 1990 No. 1 draft pick whose career never quite answered the hype. But he was the first Indianapolis Colts quarterback to start all 16 games in a season, in 1991.

Don Majkowski … lost his starting job in Green Bay to Brett Favre, but spent two years in Indianapolis, starting six games in 1994. Now retired from real estate in Atlanta, he has also stepped back from television football analyst so he can see his high school sophomore son, Bo, continue promising football and baseball careers.

"I absolutely fell in love with it," he said of Indianapolis. But the NFL took its toll. Since leaving the game, Majkowski has needed nine surgeries on his left ankle and 18 overall. He has had to have his ankle and back fused and needs the same procedure on his neck.

"When I was trying to coach my son's youth teams, I had three years in a walking boot," he said. "I'm 50 years old and I'm living the stories you hear about when you get older. I'm finding out how difficult it really is."

Browning Nagle … started one game in 1994, and left with a claim to fame because he had the same jersey later worn by a guy named Manning.

"I was the last person to wear No. 18 before the great one," he said from Louisville, where he is a medical-device representative and hopes one day to see his freshman quarterback son, B.J., play at Memphis. "I've used that a time or two."

Paul Justin and Craig Erickson … both were backups during the Harbaugh era.

Kelly Holcomb … started one game in 1997. He is now a volunteer coach working with the quarterbacks at Riverdale High School in Murfreesboro, Tenn. He has resisted anything more time-consuming because, "I kind of like being home with the family. I missed a lot of stuff when I was playing."

He enjoyed his Indy days, despite being stuck between the Harbaugh and Manning eras.

"I still communicate with a lot of the guys there. I see them every year when they come to Nashville to play," he said. "It's just like it was yesterday."

Kerry Collins … delayed retirement to help fill the Manning-to-Luck void.

Twenty-one men, 30 years, and the parade keeps going past.•

__________

Lopresti is a lifelong resident of Richmond and a graduate of Ball State University. He was a columnist for USA Today and Gannett newspapers for 31 years; he covered 34 Final Fours, 30 Super Bowls, 32 World Series and 16 Olympics. His column appears weekly. He can be reached at mlopresti@ibj.com.