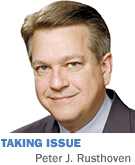 The videotaped beheading of American journalist James Foley by ISIS terrorists is a gruesome reminder of the reality of evil—a reality our president and many Americans are reluctant to face.
It is a venerable tenet among many on the left that the world would be a better place with reduced American presence and influence. This is an article of faith in Ivy League and other academic precincts, where global troubles are reflexively attributed to American capitalism and bellicosity. It was so during the Cold War. It is so now.
Obama brought that view to the presidency. He believed the United States should assume a lower profile and lesser role in a modern world where international organizations like the United Nations should take the lead.
He pushed the "reset button" on Russian relations, shelving missile defense for Poland—abandoning an ally, pleasing Putin, getting nothing in return. He withdrew U.S. forces from Iraq. He apologized to the Muslim world for our insensitivity under his predecessors. He renounced American exceptionalism—which dates to the Founders, who believed their new nation a beacon to the world—save in the sense that every country considers itself "exceptional."
But others stubbornly refuse to respond as Obama is convinced they should. Putin seizes chunks of Ukraine, unmoved by Obama's view that it is not in Putin's interest to do so. Syria's Bashar Assad ignores Obama's "red line" on chemical weapons, and the sole consequence is Obama claiming the line was drawn not by him but by the U.N.
ISIS fills the vacuum left by American departure from Iraq, committing unspeakable atrocities that now include beheading an American. ISIS aggression has finally prompted some limited American air strikes. But Obama—who cannot take action without emphasizing what he won't do—emphasizes at every juncture that no U.S. troops will be used.
Obama is surprised by others' bad actions. It is not, after all, how reasonable people are supposed to behave. As he said after Foley's execution, such conduct "has no place in the 21st century." Secretary of State John Kerry said exactly the same about Putin taking Crimea.
Yet our adversaries are unimpressed by the Obama-Kerry judgment that they are out of step with modernity. They instead proceed to do what they want, confident no meaningful American response is forthcoming. Foreign leaders, friendly and otherwise, have taken the measure of our president and act accordingly.
At present, no one fears America. No actual or potential foe worries how America will react to aggressive behavior. Increasingly, no friend is convinced America will take decisive action when events so demand. Does anyone believe, to note just one example, that Obama would respond forcefully and effectively should Putin decide to retake the Baltic States?
It is simple reality that the United States remains the indispensable nation for preserving freedom and preventing triumph of aggressive evil of the sort on display by ISIS. It remains true that Americans are, by destiny rather than choice, the watchmen on the walls of world freedom.
I write "remains true" because the words are not new and not mine. They are John Kennedy's, in the speech he was scheduled to deliver in Dallas on Nov. 22, 1963.
Kennedy was right. We are getting an ever clearer view of what the world looks like without American leadership. It's not a pretty place. It's not safe for anyone—including us.•
__________
Rusthoven, an Indianapolis attorney and graduate of Harvard College and Harvard Law School, was associate counsel to President Reagan. Send comments on this column to [email protected].
Please enable JavaScript to view this content.