Indianapolis airport officials hope to soon renew their lease with AAR Corp., the aircraft service company that is a key tenant in United Airlines' former maintenance hub.
Rodriguez
Mario Rodriguez, executive director at Indianapolis International Airport, said Chicago-based AAR agreed to the terms of a renewed lease at the Indianapolis Maintenance Center, and the airport is waiting for a signed document. The current lease is set to expire in November.
"It's just business as usual, which is a good thing," Rodriguez said.
AAR leases 10 hangars, which is most of the 1.7-million-square-foot facility that was built with state, local and airport support in the 1990s. It's also a major employer of aviation technicians, with 680 people on the payroll and 134 contractors, AAR spokeswoman Kathleen Cantillon said.
AAR paid $5.7 million in rent last year, helping the airport clear $1.4 million in income from operations at the maintenance center, where Republic Airways is also a tenant.
Turned over to the airport as a result of United's bankruptcy, the maintenance center was vacant when AAR began using a single hangar in 2004. The company at first worked on its own planes and expanded as it landed business from airlines.
The so-called MRO business became a very lucrative one for AAR. As CEO David Storch said during a July conference call with stock analysts, "We have had very appealing, very attractive returns from this business, and this business has been a very positive cash generator for the company."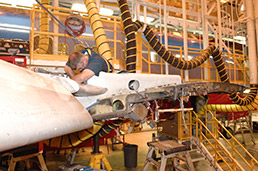 Chicago-based AAR Corp. leases 10 hangars in United Airlines' former maintenance hub. The operation has 680 people on the payroll and 134 contractors. (IBJ file photo)
Storch said AAR's profit declined in the most recent quarter partly because of a seasonal drop in demand for MRO services. He expects opportunities to improve in 2015.
AAR has been chasing work on wide-body aircraft and last month announced a deal with the state of Illinois and the Greater Rockford Airport Authority to build a new facility designed to handle those jets.
AAR's 200,000-square-foot facility at Chicago Rockford International Airport, expected to open in 2016, will operate 24 hours a day, allowing for scheduled and unscheduled work on commercial and military aircraft, the company said. It could employ as many as 500 people.
Illinois, which negotiated with AAR for two years, said it will make a $15 million investment in the facility and provide $600,000 in job-training grants.
Rodriguez said Indianapolis International has plenty of space where AAR could build new hangars, but it wasn't in the running.
"The airport was never approached," he said.
Indianapolis airport officials would not discuss terms of the pending lease renewal.
The current lease calls for the company to share revenue if its local operating profit exceeds a certain threshold. Airport officials say AAR has never triggered the revenue-sharing requirement, but Rodriguez thinks that could change during the next lease term.
He predicted that airlines will begin deploying more planes, and their fleets, which are on the new side, will start to require more maintenance. Those two trends should translate to more work for AAR, he said.
In Indianapolis, AAR mainly works on Southwest Airlines' 737s and some wide-body aircraft, 767s and 777s, for Aeromexico, Cantillon said. In addition, the company will soon pick up work on 737s and 757s for a "major U.S. carrier that prefers not to be named," she said.
AAR has several MRO facilities around the country: Duluth, Minnesota; Oklahoma City, Oklahoma; Miami; Lake Charles, Louisiana; and Hot Springs, Arkansas.
The Indianapolis Maintenance Center was built in 1994, and the airport issued $220.7 million in special facility revenue bonds on behalf of United, which at one time employed 3,000 people at the airport.
Under a settlement agreement between the airport authority and a trustee for bondholders, rent from AAR and other tenants goes into a trust account, where it is applied toward the airport's operating costs, reimbursement for past costs and debt service.
The IMC is part of an airport-area tax-increment finance district, which, as of 2012, wasn't generating enough revenue to cover its annual debt payments. The airport-area TIF district also encompasses Holladay Properties' AmeriPlex distribution centers and Comlux, an airport tenant that makes interiors for luxury jets, as well as the Naval Air Warfare Center at East 21st Street and Arlington Avenue.•
Please enable JavaScript to view this content.