Commercial tenants come and go, but vacancy rates on Zionsville's brick Main Street remain in the low single digits. The exception: the 14,000-square-foot Carter Building, which has stood empty for more than two years.
The three-story brick structure at 91 S. Main St. was erected in 2006 to house the Carter Toy Museum and Ice Cream Parlor. It closed after founder Robert Carter's death in 2011, its contents sold at auction the following year. The real estate, however, remained on the market.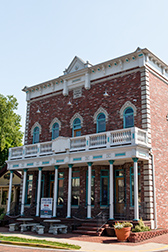 Carter Building, Zionsville (IBJ Photo/Eric Learned)
The building, listed for $2 million, is available despite its attractive high, stamped-tin ceilings, second-floor porch, elevator and off-street parking. Listing broker Tammy Kelly of RE/MAX Ability Plus said it has been under contract twice, but the deals fell through.
"It was built for such a specific use; that's one of the challenges," she said. "It's a great, open space. But it's a lot for one user."
Size matters when it comes to filling unusual properties like the Carter Building. So does cost—especially in the fast-growing northern suburbs, where development is rebounding as the economy recovers.
Businesses seeking access to the desirable demographics in Hamilton and Boone counties have plenty of options, including build-to-suit construction and leased space in multitenant "vanilla boxes." Making existing structures work can be a pricey proposition.
So when those properties hit the market, they're likely to linger until the right buyer comes along.
"That's just such a unique property, it's going to take time," Kelly said of the former toy museum.
'Vintage detail and charm'
The museum building is far from alone.
The owners of the distinctive green Craycraft House on Conner Street in Noblesville, for example, lowered their asking price to $299,000 in late August after the multitenant commercial property failed to sell at auction despite being about 80-percent leased.
Built as a residence in 1892 and renovated for business use in the mid-1980s, the three-story Victorian was appraised for more than $600,000 in 2010, said Wickliff Auctioneers' Darin Lawson, who has the listing.
100 N. Union St., Westfield (IBJ Photo/Eric Learned)
The existing cash flow should be enough to draw investors looking for an immediate return on their investment, he said, but would-be buyers are concerned about the cost of maintaining the historic structure.
"We've tried to overcome those fears with a really low price," said Lawson, Wickliff's president and senior auctioneer. "I don't know what else we can do."
The city of Noblesville has a vested interest in the nearly 9,000-square-foot building's fate—particularly since City Hall is next door—but there's not much officials can do to speed the sale, said economic development specialist Alaina Shonkwiler.
"We don't want to see it [become] vacant, but right now it looks like that's not going to happen," she said.
Economic development leaders also are keeping an eye on two commercial properties for sale on Noblesville's historic courthouse square. The buildings at 876 Logan St. and 20 N. Ninth St. (listed for $525,000 each) are fully occupied by longtime tenants that see value in the location, said listing agent Kurt Meyer of F.C. Tucker Co.
Take The Gentleman Soldier, a military-themed antiques shop/gallery in the Logan Street building, for instance.
"It wouldn't be the same in a strip mall on the highway," Meyer said. "They sell the atmosphere, the vintage detail and charm."
He credits decades-old efforts to revitalize the courthouse square, which continues to draw public and private investment—and remains a hub of activity—thanks to renewed interest in dense, walkable communities.
Craycraft House, Noblesville (IBJ Photo/Eric Learned)
'Maturing the market'
Carmel and Fishers are redeveloping their downtowns to accommodate the growing demand from residents and businesses alike. Westfield also has grand plans for its core, which leaders hope will remain a mixture of old and new.
Startup microbrewery Grand Junction Brewing Co. already landed a prime spot near a planned downtown civic plaza, taking over a building at 110 S. Union St. that was vacant for about a year after Keltie's restaurant closed.
Just up the street, at the corner of Union and State Road 32, handwritten "for lease" signs hang in the windows of a building that most recently housed Union Baking Co. The purveyor of sweet treats is moving to a larger site a few blocks east.
Offering just 1,600 square feet of space, the former bank at 100 N. Union isn't large enough to appeal to the kind of retail users Westfield wants to attract, said "real estate guy" Curt Whitesell of WKRP Indy. Parking is another obstacle.
"The number of people who can take that space and make it work is really pretty small," said Whitesell, who specializes in downtown Westfield. "Functionality is an issue. … It takes a special user that needs that exact space."
Or one that is willing to make a major investment.
Whitesell said when he gets calls seeking information on the corner building and other downtown properties, the first question usually is whether it can be transformed into restaurant space. His typical response: "It can, but is that the smartest way to spend a half-million dollars?"
Westfield Mayor Andy Cook said city officials want to encourage reuse of existing buildings to preserve as much of the city's "eclectic" downtown architecture as possible.
But he acknowledges the difficulty.
"That is much easier said than done," Cook said, citing the structural and mechanical issues inherent with older structures.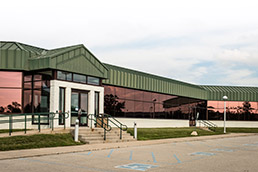 Schwab building, Fishers (IBJ Photo/Eric Learned)
Still, he's hopeful the early success of Grand Junction Brewing and nearby Rail Epicurean Market, a gourmet shop that opened in an old barn at 211 Park St., are signs of what's to come.
"It's just a matter of maturing the market," the mayor said.
Time tells a story
The former Charles Schwab & Co. call center near Interstate 69 and State Road 37 in Fishers has been vacant since the San Francisco-based company moved its local operations to Indianapolis' Woodfield office park about five years ago.
Home-improvement giant Lowe's considered the 113,000-square-foot facility (with in-house cafeteria) at 12115 Visionary Way earlier this year when planning a $20.5 million customer-service center, said Fisher Community Development Director Tom Dickey, but ultimately chose a 140,000-square-foot building at Intech Park in northwestern Indianapolis.
Fishers dangled a vacant-building tax abatement in addition to other incentives, but that wasn't enough to make up for the estimated $5 million to $10 million in necessary improvements—think new roof and HVAC upgrades.
"It came down to the fact that [the Fishers building] needed such a significant investment, it just wasn't competitive," Dickey said.
The town lost another high-potential user for the property during final negotiations last year, when Schwab temporarily took it off the block. That project, a 1,200-job Geico service center, landed in Carmel.
Dickey said a lower asking price could spark additional interest, but local officials have no authority to make such a request.
"At some point, the length of time it has been on the market begins to tell a story," he said.
Zionsville town leaders are similarly constrained when it comes to increasing interest in the Carter Building or another unusual Main Street property: Artist Nancy Noel is selling her 11,000-square-foot gallery/restaurant venue as she works to open a gallery in New York City.
Noel spent more than $1 million renovating the 19th-century Methodist church at 75 N. Main St. in 2006. Dubbed The Sanctuary, it is listed for $1.7 million.
"The price point is the key that gets business in the door, and we don't have the code," said Wayne DeLong, the town's planning and economic development chief.
A façade grant program and microloan initiative for small businesses can help with some expenses, he said, and the town recently commissioned a downtown marketing study to provide property owners with data that will help attract users. The study also identified gaps that newcomers could fill.
Both the Carter Building and The Sanctuary seem well-suited for "assembly-type" uses, DeLong said. Zionsville needs rentable special-event space where food can be prepared and kept warm on-site, he said, but "that takes a visionary to bring it to fruition."
Kelly, the Carter Building broker, said she has talked with potential buyers interested in opening a microbrewery or restaurant there, but size has been the primary drawback.
Although the property owner isn't reconsidering the listed price—the offers that fell through were close enough, Kelly said—she is now open to leasing the facility.
"Hopefully, that will generate more interest," she said.•
Please enable JavaScript to view this content.