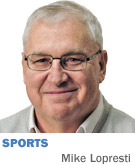 Do the gods of sport have email? Hope so, because it's time to send off a strongly worded note of complaint.
Matter of fact, several messages need to be delivered. So let's begin.
To: The Foul Fate Department
Re: Recent injuries
OK, which one of you has an Indianapolis voodoo doll with a pin stuck in it?
This has gone far enough. First, Paul George. Now, Robert Mathis. What next, locusts in Lucas Oil Stadium? And nobody has forgotten Reggie Wayne last year, wrecking his knee with not a defender in the same ZIP code. Somebody up there seems to have a thing for taking out Indianapolis team leaders. We're not talking about day-to-day types of bad breaks, either. We're talking about see-you-next-year misfortunes.
"We realize it can be a cruel world in a sense when it comes to injuries," Andrew Luck said the other day. That's true everywhere, but really. The Pacers' big scorer shatters his leg stepping on a basket standard? The Colts' Mr. Sack hurts his Achilles in a workout 500 miles from team headquarters? The Colts might never get the other quarterback dirty.
To: The Great Film Room in the Sky
Re: Big Ten football
Somewhere up there, Woody Hayes and Bo Schembechler can't be happy. Not if they've been watching Big Ten football lately. It's been only a week since Black Saturday, when the league's stock plummeted as if it were Sears. The conference had a worse early September than Roger Goodell did watching Ray Rice tapes on TMZ.
In the first two weeks, the Big Ten lost seven non-conference games. The SEC lost one. Michigan was shut out for the first time since the Reagan administration. Ohio State lost at home to an unranked non-conference opponent for the first time in two decades. Michigan State gave up more points in 18 minutes at Oregon—28—than the Spartans allowed last year against Purdue, Illinois, Michigan, Northwestern and Minnesota combined. Don't even ask about the Purdue/Central Michigan game.
It's an odd time when Michigan can't score a point all day, while the most feared offense in the league might belong to … Indiana?
Commissioner Jim Delany correctly noted you can't bury a league after two weeks, and perhaps the results will improve. But in the battle for national respect, the Big Ten was quickly facing second down and long.
Here's the worry. The college football world is so ga-ga over its new playoff system, those not in the running late in the season are going to feel as if they're on the porch with their noses pressed to the window, missing a great party inside.
What if that includes the entire Big Ten membership? All 14 of 'em? Won't November seem a tad empty? No playoff contenders, no prestige. That is the nature of the newborn beast. Delany is hoping someone from his flock emerges, but Custer hoped the Sioux would run out of arrows, too.
Tell Bo and Woody we hope the league picks it up, and try not to throw anything.
To: The NCAA
Re: Penn State
Good move by the Indianapolis office, granting the Nittany Lions early parole. The Jerry Sandusky scandal was horrendous, with lots of people culpable. No one should ever forget that. But the sanctions heaped upon Penn State always felt like a rush to justice in the heat of an awful moment, without due process or careful thought.
So now the Nittany Lions can dream about a bowl. It would seem the Big Ten could use any bowl contenders it can get.
To: Baseball fans of central Indiana
Re: The 2014 Major-League season
Look at it this way—it's almost over.
A lot of you are Cubs fans. Last place again. It must seem like this movie has been rerun more often than "The Wizard of Oz." Wrigley Field turned 100 this season, and the Cubs pitchers have celebrated by being the only staff in baseball without a complete game through Sept. 9.
A lot of you are White Sox fans. Not only is their record as bad as the Cubs, Paul Konerko couldn't even ride into the sunset without breaking his hand.
A lot of you are Reds fans. You've watched them turn into the authorities of almost. At last count, they had 35 one-run losses. Nobody else in the majors had more than 27.
Opening day is just seven months away.
To: Roger Goodell
Re: Woe is you
You've had better summers, right? Jim Irsay's personal demons, the Redskins name flap, ongoing NFL concussion issues, the Ray Rice PR disaster, and now Jerry Jones has been named in a sexual assault suit by a former exotic dancer (which he denies with more vigor than the Cowboys defense ever displays).
Some are even suggesting now that you should be waived, as if you were the fourth-string tackle. Feeling a tad beleaguered? But trust me, Adam Silver over at the NBA office isn't having much fun right now, either.•
__________
Lopresti is a lifelong resident of Richmond and a graduate of Ball State University. He was a columnist for USA Today and Gannett newspapers for 31 years; he covered 34 Final Fours, 30 Super Bowls, 32 World Series and 16 Olympics. His column appears weekly. He can be reached at [email protected]
Please enable JavaScript to view this content.