An Indianapolis developer plans to spend $9.1 million to build a five-story apartment-and-retail project on part of a surface parking lot in Fountain Square that had been owned by the city.
The city has selected Deylen Realty from three proposals it received in November to redevelop the lot at 1202 S. Shelby St., Department of Metropolitan Development Director Adam Thies told IBJ on Monday.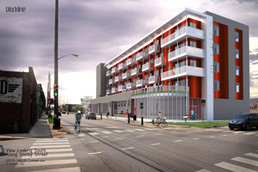 Forte, located one block southwest of the Fountain Square Theatre Building, would include 64 market-rate apartment units. (Image courtesy Blackline Studio)
The 72-space parking lot, located about a block southwest of the Fountain Square Theatre Building, is ripe for redevelopment because it doesn't generate any taxes for the city, Thies said.
"That's one of my goals," he said, "to get properties that aren't paying taxes on the tax rolls."
Deylen Realty hopes to begin construction next summer and complete the project in about a year.
Called Forte, the mixed-use development will include 4,000 square feet of retail space along Shelby Street and 64 market-rate apartment units above. A two-story parking garage, with one level underground, will provide 70 spaces for tenants.
About 55 surface spaces would remain behind the apartment building for public parking.
Deylen Realty bought the nearly one-acre parcel from the city for $332,500, an average of two appraisals done of the property, said Craig Von Deylen, a principal of the firm.
"We think Forte is an architecturally interesting project that follows up on the Hinge," he said. "These will be high-quality, market-rate apartments."
The Hinge apartment and retail development on Virginia Avenue in the nearby Fletcher Place neighborhood is just one of several projects Deylen Realty has undertaken southeast of downtown.
Its latest project is the $10 million Slate. The 68-unit, mixed-use apartment project at 501 Virginia Ave, which includes 9,900 square feet of street-level retail space along the Cultural Trail, should be finished in the spring.
The firm's office projects include Fletcher Place Terrace and Fletcher Place Lofts on South College Avenue. Just to the north, Deylen plans to redevelop a former bowling alley into office space at 325 S. College Ave. next to Iaria's Italian Restaurant.
Rents at Forte will range from $740 per month for a studio to $1,170 for a two-bedroom unit.
Von Deylen expects rents at Forte will be cheaper than at Slate, at least in the beginning, because his firm is seeking a 10-year tax abatement from the city to help offset its investment. Rents should gradually rise during the life of the abatement as the incentive amount lessens, Van Deylen said.
"Fountain Square needs housing for the folks who work in the restaurants and the service industry that's there now," he said.
Deylen's proposal was the only one the city received that it seriously considered. The other two requested incentives that the city either doesn't offer or couldn't for that piece of property, Thies said.
Reverie Estates, whose proposal included a movie-house component, is working on another project in Fountain Square. It is seeking approval Wednesday to rezone 1015 Virginia Ave. to convert a historic garage into a fresh-food market. The paved lot surrounding the garage would provide space for urban-food and fashion trucks, which would park lease spaces during lunch and dinner to serve food and sell clothes.
Nolley Organization submitted plans for its Shelby Station project that would have included 20,000 square feet of retail and 87-market-rate apartments.
The Metropolitan Development Commission is set to hear Deylen's plans for Forte for the first time Wednesday at a pre-meeting conducted before official proceedings.
The property will need zoning variances, Von Deylen said.
 
Please enable JavaScript to view this content.