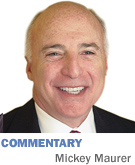 It is not often that obituaries run in this column—maybe three or four in the past 25 years. But, confound it, interesting people were born, raised or lived in Indiana in the last 100 years, and on the cusp of Indiana's bicentennial it is appropriate to examine and enjoy that Hoosier heritage.

Sure, Kurt Vonnegut Jr., Red Skelton, Tony Hulman, Herman B Wells and many other luminaries come to mind, but some of the most fascinating Hoosiers are names most of us have never even heard of. Can you identify Frank Inn and Margaret Ray Ringenberg?

According to Frank Inn's obituary in a Sunday New York Times, Elias Franklin Freeman was born in Camby in 1916, Indiana's 100th birthday. He grew up in Mooresville, where his father was a Quaker minister who ran a flower shop and nursery. Freeman headed west after being fired from his job on an Indiana farm when he was spotted helping the plow horses lie down and relax.

He earned his fame by training animals for the movie industry and became television's greatest animal star-maker. In the early 1950s he trained Cleo, the basset hound on "The People's Choice;" Tramp, the mutt on "My Three Sons;" and Higgins, the shaggy star of "Petticoat Junction." His troupe had roles on "I Love Lucy," "Ozzie and Harriet," "The Adams Family" and "Barnaby Jones." For years, he trained a succession of Lassies.

No one seems to know why Freeman changed his name to Inn. I guess show-biz people just do that.

Inn's menagerie included not only dogs and cats but also farm animals and jungle animals. He trained Arnold the Pig of "Green Acres" fame. He had a mountain lion, bears, snakes, raccoons and chimpanzees—even skunks. Inn received recognition for his work with animals, including 40 Patsy Awards given by the American Humane Association.

Inn's crowning success was training Benji, who starred in four feature films and assorted television shows. Inn rescued him from an animal shelter. In fact, Inn sourced almost all of his dogs and cats from shelters, inspiring an estimated one-million canine adoptions. He was recognized for that effort with a citation from the American Humane Association. He died in 2002, leaving instructions that Benji's ashes were to be buried in the lining of his coffin.

Fort Wayne native Margaret Ray was born in 1921 and lived most of Indiana's second century. She excelled as an American aviatrix who logged more than 40,000 hours of flying during her career.

Ray began her aviation career during World War II, when she became a ferry pilot with the Women's Air Force Service Pilots, or WASPs. Although she was not allowed to fly combat missions, Ray performed grueling and often dangerous duties, such as ferrying, test flying and target towing.

After the war, she married Morris Ringenberg and became a flight instructor and commercial pilot. During that time she entered airplane races, including the Powder Puff Derby and the Grand Prix, garnering more than 150 trophies. In 1994, at the age of 72, she completed an around-the-world air race. Seven years later, she flew in a race from London to Sydney.

Her exploits rated a chapter in Tom Brokaw's The Greatest Generation and a TV documentary, "Wings for Maggie Ray," which credited her with fearlessness, confidence, drive and determination. Her autobiography, Girls Can't be Pilots, was published in 1998. She died at 87 in 2008 while attending an Experimental Aircraft Association annual air show. She was representing the WASPs.

The next two years will be exciting for the Hoosier State as we prepare for and celebrate our 200th anniversary. We will have ample opportunities to recognize the birthday, including a commemorative book and coin, torch parade, time capsule, bicentennial train, galas and legacy projects. We will also learn about Hoosiers of our second century—Hoosiers including Frank Inn and Margaret Ray Ringenberg—whose exploits are a part of our proud Hoosier heritage.•

__________

Maurer is a shareholder in IBJ Corp., which owns Indianapolis Business Journal. His column appears every other week. To comment on this column, send e-mail to mmaurer@ibj.com.