The expansion Black Acre Brewing Co. is undertaking in Irvington to increase production fivefold paints a bright picture of the state's burgeoning craft beer market.
Black Acre opened in February 2012 on East Washington Street and already is embarking on a project a few blocks away to grow its capacity from three to 15 barrels.
Since the brewer began production, the number of microbreweries operating in Indiana has roughly doubled, to 96. But can the industry sustain such blistering growth, especially in Indianapolis, where much of the activity is occurring, without foaming over?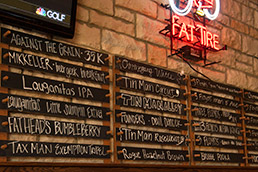 Indiana is closing in on being home to 100 craft breweries, a milestone the Brewers of Indiana Guild plans to recognize in some capacity. (IBJ file photo)
Brewery operators are confident it can.
"No one ever says, 'Hey, another restaurant opened; we've already got five in town,'" Black Acre co-owner Justin Miller said. "And more restaurants are moving away from domestic beers."
Miller and other brewers, though, admit public skepticism is growing louder.
"It comes up a lot," said Sun King Brewing Co. co-owner Clay Robinson, one of the pioneers of the local craft beer scene. "There's been a lot of conversation about it for a while."
Undaunted, breweries are plowing ahead, through either openings or expansions.
Black Acre's new outpost on Bonna Avenue should be finished early next year and will enable Miller and his partners to provide more beer to their brewpub, and ultimately to distribute on a limited basis to bars and restaurants.
Statistics from the Boulder, Colorado-based Brewers Association suggest the Indiana market is far from tapped out. Despite all the growth, just eight of 100 beers sold in the state are craft varieties, and that counts as craft such national brands as Sam Adams.
 

DuVall
Nationally, overall beer sales fell 1.9 percent last year, even though sales of craft beer rose 17.2 percent. Microbreweries produced 15.3 million barrels; major domestic breweries produced 196.2 million.
In Indiana, craft breweries produced 120,828 barrels last year, up from 68,636 in 2011—a 76-percent increase.
Bill Rieber, an economics professor at Butler University, said Indiana's craft beer industry still has room to grow.
"If there was an obvious shakeout coming," he said, "I'm not sure so many would have entered in the first place."
Most of the barrels produced by local microbreweries are tapped for patrons who can enjoy a glass of suds in an adjoining taproom, giving the brewery a captive audience.
The average cost to open a brewpub is about $750,000, according to the Brewers Association.
TwoDeep Brewing Co., Tow Yard Brewing, Chilly Waters Brewing Co. and Outliers Brewing Co. are among the slew of breweries that have opened in the past year in or near downtown. A few more in the works in other parts of the city: Daredevil Brewing Co. in Speedway and Bent Rail Brewery & Coffee Co. in Broad Ripple.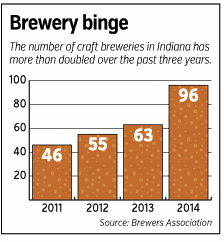 Even as Hoosiers' appetite for craft beer has grown, some brewpubs have closed, most notably downtown's Alcatraz Brewing Co., which had operated on the first floor of Circle Centre for 16 years when it shut down in 2011.
While additional taprooms heighten competition, the fiercest competition among craft brewers is for tap handles at bars and restaurants, or shelf space at groceries or liquor stores.
"That might be a problem," said Skip DuVall, owner of Chilly Waters in the Fletcher Place neighborhood. "But at my place, I can open up a restaurant and serve my own beer, so that doesn't really affect me at all."
Opportunities abound
Pioneer Sun King is a heavyweight on the local craft brew scene—and one of the most successful at winning tap and shelf space. Sun King beer is sold in more than 1,000 locations around the state.
Founded in 2009 on College Avenue downtown, Sun King is on track to produce 29,000 barrels this year, with most of the production going toward filling kegs and cans for retail distribution.
The company is approaching a crossroads, however. Indiana's small brewer's permit allows breweries to produce only 30,000 barrels a year (each barrel equals two kegs). Two years ago, the Legislature passed a law that allows breweries to not count the beer they sell out of state against the 30,000-barrel limit.
So Sun King is considering selling across state borders. At the same time, it's gearing up to lobby lawmakers during their upcoming session to raise the 30,000-barrel limit. The federal government defines small breweries as producing fewer than 60,000 barrels annually, or double what Indiana allows.
Despite the regulatory uncertainty, Sun King is moving forward with plans to build a second production facility and tasting room, in Fishers. The $8.8 million facility could increase the company's capacity by 20,000 barrels once it opens in July.
Even though Sun King beer is available in 80 percent of the state, there's still room for growth, Robinson said.

Wise
"People say, 'Sun King is everywhere,'" he lamented. "But as someone at Monarch [Beverage] said, 'I could give you a list of 500 more places where [Sun King] cream ale could be sold.'"
Reasons to be nervous?
An expansion also might be on the horizon for Thr3e Wise Men Brewing Co. in Broad Ripple.
The brewpub launched by Scotty's Brewhouse owner Scott Wise is exploring building a production facility downtown or in Fishers, to keep pace with demand.
Wise, who operates 11 restaurants, plans to open a Scotty's Brewhouse in Fort Wayne later this month and another in Southport in November. He said he needs additional capacity to supply the restaurants with the Thr3e Wise Men brand.
The beer also can be found on bar taps of other restaurants, though Wise said that market is getting increasingly crowded.
"If I'm just selling to bars and restaurants, I'd be nervous," Wise said. "You might get on the tap, but they'll only keep you around if the beer sells."
The founders of Round Town Brewing Co., who plan to crack the restaurant and bar market, are undaunted. The startup has filed plans with the city to operate at 924 N. Pennsylvania St., in 11,000 square feet at the rear of the Arts Council of Indianapolis building.
Round Town will feature a small tasting room. It plans to offer pint service, but only after keg and can distribution starts rolling.
The head brewer is Jerry Sutherlin, who will bring his skills from the downtown Rock Bottom Restaurant & Brewery, where he remains the brewmaster.
Round Town co-owner Max Schenk said Sutherlin's expertise is a key competitive advantage.
"I've got the Peyton Manning of brewers on our side," she told IBJ earlier this month.
Whether all the breweries survive, Robinson at Sun King said, depends on whether they can deliver on the basic tenets of business: offering both a good product and customer service.
Only about a quarter of microbreweries fail, while about half of brewpubs close, according to the Brewers Association. But for the brewpubs, the statistic actually is encouraging considering that 60 percent of all restaurants close within three years, said Bart Watson, the group's staff economist.•
Please enable JavaScript to view this content.