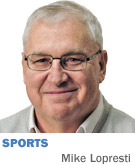 Good thing the Pacers season starts Oct. 29. The past few months haven't exactly been a laugh-fest, have they?
Lance Stephenson left town, Paul George made millions of TV viewers wince and turn away, and—even in the preseason—the lineup kept taking hits, from David West's ankle to Rodney Stuckey's foot to George Hill's knee. Much more of this, and the Pacers might not be able to match the point totals of the Baylor University football team.
"Every team, every coach deals with injuries," Frank Vogel said the other day. "Just one of those things we have to overcome."
The thing is, the Just One Things seem to be mounting. Another phrase uttered more than once lately by the Indiana coach: "We have a long way to go."
But here comes the first game, anyway. Before play begins, let's have a little Q and A for the NBA season.
Q: What's the best part about Wednesday's game against Philadelphia?
A: Couple of things. One, it's Opening Night. Two, the 76ers went 19-63 last season.
Q: Is the experimental 44-minute game in the preseason a good idea?
A: They're shooting at the wrong basket. The NBA doesn't need shorter games, it needs shorter seasons. Last regular and postseason, the Pacers played 101 games in a schedule that stretched 214 days. That's longer than the Spanish-American War. The two teams that advanced to the NBA Finals played games in nine different months of the calendar.
Also, if they want to shorten the game, do something about the last two minutes. With a timeout after virtually every possession, they stretch into infinity, and make a fast-paced game suddenly look like Keystone Avenue at 5 o'clock. College basketball has the same woe. Do something so teams can't call six timeouts in the last 120 seconds. Please.
Q: Paul George was shooting jumpers the other day. Does that mean he'll be back soon?
A: Only if the Pacers' schedule includes playing anyone in a game of H-O-R-S-E.
Q: Is it a bad sign that the guy with the broken leg is out there shooting, and the healthiest leading scorer, David West, is on the sideline, discussing MRI results?
A: Welcome to the Pacers, 2014. They're the early front-runners for Orthopedics Team of the Year.
Q: Kareem Abdul-Jabbar worked this off-season with Roy Hibbert. When will we know what impact he had?
A: The first sign might be if Hibbert's first shot Wednesday night is a skyhook.
Q: How will Lance Stephenson do this season?
A: Lance Who?
Q: Should we expect any moves from Larry Bird to beef up the troops?
A: I'm sure he'll be trying to come up with something shrewd, or my name isn't Evan Turner.
Q: We know Stuckey comes to the Pacers after seven seasons with Detroit, and the hope is he can be a reliable scorer. Anything else we should be asking about him?
A: Yeah, where in blazes is Eastern Washington University?
Q: On Dec. 1 last season, the Pacers were 16-1. Where will they be this Dec. 1?
A: Traveling to Phoenix. It'd be hard to predict the record, but the guess is, it won't be 16-1.
Q: The other day, Phoenix Suns owner Robert Sarver took to the microphone to apologize to his fans because the Suns exhibition-game opponent that day, San Antonio, was missing several players and Coach Gregg Popovich. Popovich responded by suggesting Sarver should have made his comments in a chicken suit. Could anything like that happen here?
A: The last time the Spurs played here, they won by 26 points, and Indiana still had George and Stephenson. If it gets worse this time, Herb Simon might take to the microphone and apologize to the fans because the Spurs brought all their people.
Q: What part of the schedule should we circle?
A: How about the entire month of February? The Cleveland Cavaliers, with the new guy, LeBron James, make only two visits to Indianapolis, and they are within 22 days of each other in February. Right in the middle of that, the Spurs come to town. 
One more thing. While the NCAA Final Four is ablaze in Indianapolis next April, the Pacers will be home both Friday and Sunday night, playing Charlotte and Miami. Lots of hoops downtown that weekend.
Q: West has always been such an articulate, thoughtful voice to the outside world, in good times and bad. How important will that be now?
A: Very. But this season might put him to the test.
Q: Who gets introduced last in the Indiana starting lineup, as the most recognizable Pacer?
A: I figure either West, or Boomer.
Q: Kobe Bryant wasn't all that pleased upon hearing ESPN ranked him as only the 40th-best player in the NBA, behind names such as Klay Thompson and Andre Drummond. Any other rankings we should be amazed by?
A: This might qualify. Roy Hibbert will make $4 million more this year than Tim Duncan.
Q: What should be the team theme to the fans for this season?
A: How about … "It's not as bad as you think"?•
__________
Lopresti is a lifelong resident of Richmond and a graduate of Ball State University. He was a columnist for USA Today and Gannett newspapers for 31 years; he covered 34 Final Fours, 30 Super Bowls, 32 World Series and 16 Olympics. His column appears weekly. He can be reached at mlopresti@ibj.com.
Please enable JavaScript to view this content.