With the future of a state-owned downtown parking lot in limbo, Indiana is looking to a smaller space on the west side of the capitol as the site of a public plaza to commemorate the 2016 bicentennial.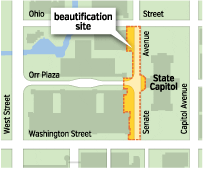 The Indiana Department of Administration hired Ohio-based MKSK Studios to design a $2 million bicentennial plaza along a two-block stretch of Senate Avenue, which is closed to through traffic, on the west side of the Statehouse. The plaza would incorporate the west entrance, which has been the scene of the last two gubernatorial inaugurations.

IDOA hopes the Legislature will appropriate money for the plaza, as well as for a $2.5 million project to create a visitors center on the ground floor of the State Library and rehab a connecting tunnel. The Bicentennial Commission, which is trying to raise $5 million for various projects around the state, could also contribute funds.

The bicentennial plaza will host a torch, which is to be carried to Indianapolis from the first state capitol in Corydon.

Merritt
Sen. Jim Merritt, R-Indianapolis, a member of the Bicentennial Commission, said he suggested creating an entire park with the torch as its centerpiece on what is currently a parking lot outside the Statehouse's north entrance.

The parking lot—used by lawmakers, the governor and top staff—was originally green space. Merritt said he hoped a garage built on a state-owned lot north of Ohio Street would absorb the Statehouse parking.

"That was expensive. Parking is at a premium," Merritt said. "The Department of Administration has been working very, very hard to find something we can all be proud of and remember for 2016."

The Ohio Street lot is highly sought-after. Three real estate developers responding to a request for information by the Indiana Finance Authority last year said they would put mixed-use buildings with parking there.

One proposal, from Flaherty & Collins Properties, shared Merritt's idea, using the north side of the Statehouse grounds as green space.

IFA decided not to proceed with development on the Ohio Street lot and other parking assets for the time being, because of other demands for government space. The Pence administration is studying whether to construct a building to house the judiciary and legislators, plus parking.

MKSK, which has an Indianapolis office, was chosen over 11 other architecture and landscape architecture firms that responded to the IDOA's request for information in June.

IDOA did not release a copy of MKSK's proposal by IBJ's publication deadline.

Bicentennial Commission Executive Director Perry Hammock said MKSK's preliminary design had an "amazing" effect on the Senate Avenue site, which is covered in concrete sidewalks and asphalt.

"There is more space there available than people would think," he said.

Merritt said the proposal includes a water fountain on Robert Orr Plaza, which runs between the two state office buildings west of Senate.

IFA hired the local office of Moody Nolan, based in Columbus, Ohio, to create a 3,600-square-foot education center with bathrooms on the ground floor of the State Library.

The Statehouse lacks a place for the busloads of fourth-graders who tour it every year to gather before going through security and meeting with docents, Moody Nolan architect Jim Kienle said. The head of Moody Nolan's Indianapolis-based preservation practice, Kienle designed the Indiana Government Center South building, a project started under former Gov. Robert Orr and completed by former Gov. Evan Bayh.

The State Library, a short walk from the west entrance of the Statehouse, will get an interior remodel with educational displays, where visitors can learn about the Statehouse even when no docent is available, Kienle said. The $2.5 million project includes repairs to the tunnel that connects the state office building, library and Statehouse.

The tunnel has many cracked tiles and floor and wall finishes in need of work, IDOA spokeswoman Shelley Triol said.•