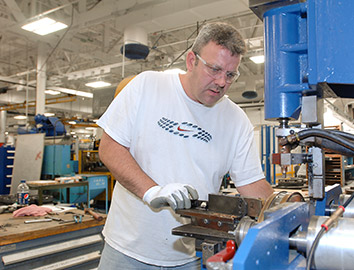 The Indianapolis operations of Rolls-Royce Holdings Plc will be hit by job cuts over the next 18 months as the world's second-biggest maker of aircraft engines plans to eliminate about 2,600 positions company-wide.
The bulk of the cuts will be made in Rolls-Royce's aerospace division, the London-based company announced Tuesday. The firm employs about 4,500 workers in its Indianapolis operations, devoted mostly to civil and defense aerospace work.
Company spokesman Joel Reuter confirmed to IBJ on Tuesday morning that the Indianapolis operations will be affected by the cuts, but said that specific plans and numbers were not yet available. Rolls-Royce employs more than 55,000 people total in 45 countries.
The cuts would come in a variety of positions, including engineering, administrative, managerial and operational, Reuter said. They are expected to take place over the next 18 months.
Rolls-Royce is struggling with slowing sales and a slumping stock price. It said last month that it was evaluating job cuts after forecasting revenue could fall again in 2015—following an anticipated decline this year—as a slowing economy prompts clients to delay orders and sanctions over the Ukraine crisis stall Russian deals.
"The measures announced today will not be the last," CEO John Rishton said in a statement Tuesday. The restructuring will result in incremental costs of about 120 million pounds ($192 million) over two years while saving around 80 million pounds annually once fully implemented, he said.
Shares of Rolls-Royce have fallen 33 percent since the beginning of the year. They were trading at $846.71 early Tuesday afternoon, up 1.4 percent for the day.
The bulk of the planned job cuts will take place next year in the main turbine division, taking advantage of the end of development work on the Trent 1000 and XWB engines that power the Boeing Co. 787 and Airbus Group NV A350.
Rolls-Royce has operations in 12 different sites in central Indiana. The majority—2,400 workers—are office-bound in a downtown complex at 450 S. Meridian St. They include engineers and employees involved in corporate services.
From a hardware perspective, its largest local operations are two plants located at Raymond Street and Tibbs Avenue, where engines are built and tested. Another nine smaller locations are devoted to manufacturing, distribution and other functions.
Please enable JavaScript to view this content.