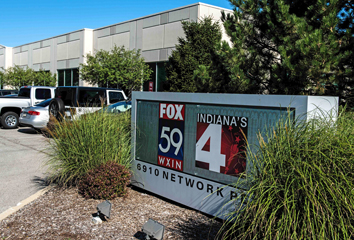 WTTV-TV Channel 4 will feature three familiar faces when it begins broadcasting as the city's new CBS-TV affiliate on Jan. 1.
Veteran anchors Debby Knox and Bob Donaldson will be joined by longtime local meteorologist Chris Wright for three different WTTV weekday newscasts, at 5 p.m., 6 p.m. and 11 p.m., the station announced Wednesday.
CBS announced in August that it was moving its network affiliation in Indianapolis to WTTV after six decades at WISH-TV Channel 8. WTTV is owned by Chicago-based Tribune Broadcasting, which also owns WXIN-TV Channel 59, the local affiliate of Fox Broadcasting.
Knox, 60, will come out of retirement to join WTTV. The award-winning newscaster spent 33 years as anchor at WISH before stepping down last November.     
Donaldson, who has been with Fox 59 since it launched newscasts in 1991, will continue to anchor Fox's 10 p.m. weeknight newscast.
Wright, a 10-time Emmy Award winner, was with WTHR-TV Channel 13 from 1999 to mid-2013 before leaving the station after the high-profile hiring of meteorologist Angela Buchman. Wright also worked for WISH from 1996 to 1999 after breaking into the Indianapolis market with Fox 59 in 1991.
Since leaving WTHR, Wright has worked as a freelance meteorologist at stations in Atlanta, Cleveland, Detroit and Cincinnati.
WTTV also announced a 5 a.m. and noon news team of anchors Marianne Lyles and Tim Doty, and meteorologist Lindsay Riley.
Lyles, who was born in the Philippines and grew up in Chicago, most recently was morning anchor at WISN-TV, the ABC affiliate in Milwaukee. She previously worked for WFIE-TV in Evansville and KAVU-TV in Victoria, Texas.
Doty joins WTTV from Tribune Broadcasting's WXMI Fox 17 in Grand Rapids, Michigan, where he was morning anchor.
Riley arrives from Dallas/Fort Worth in Texas, where she anchored NBC 5's weekend morning news. She also worked in Lexington, Kentucky; and Buffalo, New York.
Please enable JavaScript to view this content.