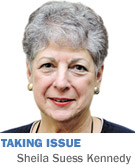 On Nov. 4, 24 percent of eligible voters bothered to show up and participate in the democratic process. The average "mandate" for winning candidates was 13 percent.
There are plenty of theories about America's embarrassingly low turnout rates. My own favorite explanation is a bit of snark from a source I can no longer recall: "If God had intended us to vote, He'd have given us candidates."
That's painfully true. As the campaign and the accompanying avalanche of awful commercials and emails unfolded, most of us recognized an old political truth: You can't beat someone with no one. That axiom applied to the just-concluded midterm both metaphorically and literally. In many of the national, high-visibility races, voters were left to choose between the devil they knew and the devil they were just getting to meet.
Partisan rhetoric drowned out discussion of the issues. There were no Dick Lugars or Lee Hamiltons on the nation's ballots—I saw no thoughtful, reasonable and knowledgeable candidates who were prepared to confront the complex problems we face with intellectual honesty and an obvious concern for the common good.
Worse still, as I scrolled through an online list of Indiana Statehouse winners and losers, the most frequent notation next to the name of the winner was "unopposed." Thanks to gerrymandering and a healthy dose of residential "sorting" (rural areas are reliably Republican, cities even more reliably Democratic), truly competitive districts are so rare that the minority party doesn't even run a candidate.
There is no shortage of recommendations for increasing turnout, some worth considering, some problematic, most politically unlikely. A recent discussion by commenters to a post on my blog included the following: Move voting to a weekend or make Election Day a holiday, or save a bundle of money and make voting far more convenient by going to a vote-by-mail system. (Oregon, one of the three states that votes by mail, had a midterm turnout of 69 percent.)
Pass a constitutional amendment reversing Citizens United and its progeny, and take other steps to reduce the enormously corrupting influence of money in our political system. Eliminate gerrymandering via nonpartisan redistricting.
We might even consider emulating Australia, where voting is mandatory. (You are fined if you don't participate, but they do have something akin to a "none of the above" option.)
These are all reforms that would move us in the right direction, but even if they were implemented—and I'm not holding my breath—I think they ignore the root of the problem. The reason we have such a sorry lot of incumbents and challengers is that Americans no longer value government.
For 30-plus years, pundits and political figures have insisted government is useless at best and an impediment to individual liberty at worst. We've scorned bureaucrats, rejected the concept of the common good, and equated even the most modest efforts to solve problems collectively with socialism or worse.
And then we wonder why the good guys in appointive and elective office can't get anything done—why no one values public service, and why we have a political landscape dominated by self-important dunces manipulated by special interests.
Like it or not, however, We the People need government. We can legitimately argue about how much government we need, what it should do, and how much authority it should have. Those questions are the stuff of productive political debate.
But when citizens develop contempt for the very idea of government, decline is inevitable.•
__________
Kennedy is a professor of law and public policy at the School of Public and Environmental Affairs at IUPUI. She blogs regularly at www.sheilakennedy.net. She can be reached at skennedy@ibj.com. Send comments on this column to ibjedit@ibj.com.
Please enable JavaScript to view this content.