People listings are free. Information must be submitted at least 11 days before the Monday issue in which it is to appear. Publication of information might be delayed due to space limitations. To submit information and photos online go to www.ibj.com and use the People submissions form. Photos may be sent as jpegs, 300 dpi and face 3 inches wide. For more information, contact bmaurer@ibj.com.
Architecture/Design/Engineering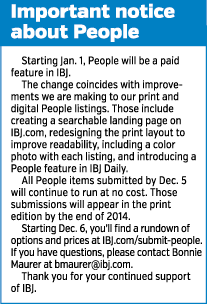 *Stephen Culbert has joined Loftus Engineering Inc. as electrical department manager, and *Kristina Ehlers has joined as lighting department manager. *Kenneth Godwin has been named director of engineering.
Tom Karis has been named transportation regional manager for central U.S. at CHA Cos., Indianapolis office.
InterDesign has added the following: *Bryan Ziolkowski, project architect, and *Becky Stambaugh, architect, marketing department, project management administration.
Civic/Not-for-Profit
*Dr. Timothy Franson, YourEncore, has been named to the board of Critical Path Institute.
*Leah Nahmias has joined Indiana Humanities as the director of programs and community engagement.
*Meredith Slavens has joined Morning Light Inc. as administrator.
*Allen Brown has been named CEO of Adult and Child Center.
*Neil Hudelson has been named director of philanthropy at The American Civil Liberties Union of Indiana.
Second Helpings has named the following officers: Marie Powell, Milestone Advisors, chairwoman; John A. Elliott, Kroger Central Division, vice chairman; David Feinberg, Crowe Horwath LLP, treasurer; and James Hamilton, Bose McKinney & Evans, secretary. New directors are Connie Gigax, consultant; Lisa Harris, Eskenazi Health; Jerry Adams, Levy Restaurants; Jeff Bricker, Ivy Tech Community College; Kim Borges, Regions Bank; Bob Koch, Gordon Food Service; Angela Krahulik, Ice Miller LLP; Didier Martin, Dow AgroSciences and Dow Chemical; Jean Paison; André Robinson, Sysco Food Services of Indianapolis; Pat Garrett Rooney, community volunteer; Gordon Slack, Dow AgroSciences, retired; Joe Slaughter, Herff Jones, retired; Albert S. White, Lilly Corporate Affairs; and Dr. John Zimmermann, retired, Lilly Research.
*Allison Meta has been elected to the board of Arts for Learning.
USA Funds has named the following senior program directors, philanthropy department: Lorenzo L. Esters Kentucky State University, Frankfort, Kentucky; Derek Redelman, Indiana Chamber of Commerce; and Dominique "Domy" Raymond, Complete College America.
Theresa Tuttle has joined Easter Seals Crossroads as a physical therapist.
*John B. Bishop, Cohen Garelick & Glazier, has been named president of the Juvenile Diabetes Research Foundation, Indiana State chapter, young leadership committee.
Construction
*Thomas White has been named chief safety officer at The Hagerman Group. *Jack Waterman has joined the Fishers office as an estimator.
Doug Kyle has joined Southeastern Equipment Co. as sales representative, Indianapolis office.
Performance Contracting has promoted the following interior division staff: *Pat Roth, vice president, operations; *Brian Kavanagh, operations manager; and *Mike Toft, construction manager.
Frank Obie has joined S & B Construction Group as a pre-construction estimator and project manager, religious services division.
Education
The University of Indianapolis Professional Edge Center has named the following: *Libby Davis, assistant director for manufacturing and logistics/financial services/entrepreneurship; *Nicole Martinez-LeGrand, assistant director for arts and humanities/communication and law; and *Jennifer Smith, assistant director for public service & nonprofit management/social services.
*Dr. Mark W. Turrentine has been named the first John W. Brown professor of cardiothoracic surgery at the Indiana University School of Medicine. *Taihung "Peter" Duong has been named interim associate dean for admissions at the IU School of Medicine.
Health Care
*Dr. Dan Ordaz, sports medicine physician, has joined St.Vincent Sports Performance.
*Joseph Hooper has been named president of Community Howard Regional Health.
Law
*Charlotte Fillenwarth, *Janice Pascuzzi and *Hannah Brown have joined Hall Render Killian Heath & Lyman as associates.
Nathan Hacker has joined Eskew Law.
*Nicholas C. Dugan has joined Riley Bennett & Egloff LLP as an associate.
*Anna Konradi has joined the Indianapolis office of Faegre Baker Daniels as an associate on the business litigation team.
Manufacturing
*Amy Dobrikova has been named director of strategy and business development at Crosspoint Kinetics.
Real Estate
*Bob Sargent, *Jolene Dailey, *Cindy Burris, *Terry Dowling and *Angelica Plesner have joined Keller Williams Indy Metro North as real estate brokers.
Jennifer Funkhouser and Tyler Malone have joined RE/MAX Legends Group.
*Mike Jones has been named owner of RE/MAX At The Crossing.
Becky Ross, Doreen Harris and Rebecca Ehrsam have joined RE/MAX Advanced Realty.
*Brian Snyder has been named director of agency development for RE/MAX Real Estate Groups.
Retail
*Patrick Moyers has been named general manager of Circle Centre mall.
Services
*Ginger Darrough has been promoted to chief analytics officer at Fuzion Analytics. *Paul Lorentz has been promoted to chief financial officer.
Chris Seitz has been promoted to vice president of IT shared services with KAR Auction Services. Mary Kinietz has been promoted to director of IT shared services, and Ryan Kreag has joined as director of platform services for IT shared services.•
Please enable JavaScript to view this content.