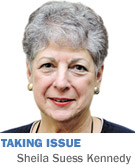 We have a Thanksgiving tradition at our house; before I let anyone eat, we go around the table and each person must share what he or she is most thankful for.
This year, my own gratitude was informed by two reports that made me aware of just how fortunate the people around my table truly are.
The first report was a student presentation on childhood hunger in Marion County. In my graduate classes, I assign student teams broad areas—economics, environment, social issues, etc.—from which they are to choose a topic, research it, and report to the class. The first team chose child hunger. Among their findings:
• One in four children in Marion County is hungry.
• 80,000 children in the metro area suffer from hunger.
• 77 percent of IPS students qualify for free meals, based upon family income.
• 34 percent of qualifying households have a member with diabetes, 61 percent with high blood pressure.
• 90 percent of households buy the cheapest food available, even when they know it isn't the healthiest option.
Shortly after that student presentation, I met ALICE. ALICE is an acronym for Asset Limited, Income Constrained, Employed—and the composite of a major report just issued by the Indiana Association of United Ways. ALICE households have income above the federal poverty level, but below the basic cost of living. The report was generated using state and county data.
Here are some of the "highlights" of the ALICE report:
• More than one in three Hoosier households cannot afford the basics of housing, food, health care and transportation, despite working hard.
• In Indiana, 37 percent of households live below the ALICE threshold, with some 14 percent below the poverty level and another 23 percent above poverty but below the cost of living.
• These families and individuals have jobs, but many do not qualify for social services or support.
• The jobs they are doing are critically important to our communities. They are child care workers, laborers, movers, home health aides, heavy-truck drivers, store clerks, repair workers and office assistants—yet they are unsure if they'll be able to put dinner on the table each night.
As the ALICE report notes, for families living on the edge, families struggling just to put that dinner on the table, saving money is a pipe dream. There is nothing left to save. So these families are vulnerable to any unexpected expense—a car repair, an uninsured illness, even an unexpectedly high utility bill can be enough to plunge them into debt or worse.
The entire report is available online via the United Way website.
As the executive director of the Jennings County Economic Development Commission wrote in the introduction to the report:
"ALICE is the family in Elkhart whose car breaks down, which takes the grocery money, which sends the family to the food pantry. ALICE is the family in Terre Haute whose entire economic life comes undone when the breadwinner breaks a leg and loses three weeks' wages. ALICE is the family in Marion whose 11-year-old watches the 5-year-old because they can't afford after-school programs despite both parents working full time."
This year, sitting at a table loaded with more food than the 19 of us could eat, I was grateful not to be ALICE—and deeply troubled by the policy choices that keep her "asset limited, income constrained and employed."•
__________
Kennedy is a professor of law and public policy at the School of Public and Environmental Affairs at IUPUI. She blogs regularly at www.sheilakennedy.net. She can be reached at skennedy@ibj.com. Send comments on this column to ibjedit@ibj.com.
Please enable JavaScript to view this content.