People listings are free. Information must be submitted at least 11 days before the Monday issue in which it is to appear. Publication of information might be delayed due to space limitations. To submit information and photos online go to www.ibj.com and use the People submissions form. Photos may be sent as jpegs, 300 dpi and face 3 inches wide. For more information, contact bmaurer@ibj.com.
Advertising/Marketing/Public Relations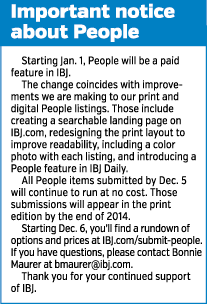 Indy Pride has named the following officers: Chris Morehead, president; Cortney Thompson, vice president, festival operations; Chadwick Offutt-Gillenwater, Professor Watermelon Productions, vice president, programs; Jon Markee, treasurer; and Shere Brooks, secretary. New board members are Joel M. Bazzell, Fifth Third Bank; Kate Flood, divorce lawyer; Adam Goble, Empire Beauty School; Dana Harrison, PFLAG, Seymour, Ind.; Jason Hinson-Nolen, North-American Interfraternity Conference; Megan Klopchin, community outreach director; Terrell Parker; Joshua Peaslee, Indiana University-Purdue University Indianapolis, Indy Pride's membership director; Elvis Robles; and Brett Michael Seibert, co-director of festival operations.
Media
Jason Drake has been promoted to senior video producer at Think Ahead Studios.
Real Estate
Carpenter Realtors has added the following: Shawn Baumgartner, Deena Cooper, Mary Ann Pearson, Andrea Ratcliff and Janet Reynolds.
Jennifer Overett, Kane Lauck and Daniel Goodrich have joined RE/MAX Ability Plus in Carmel.
RE/MAX Plus has added the following: Paula Henry, team leader, and Don Kuroiwa, Nikki Stevens, Jason Hofmann, Lesa Furman and Gray Flores.
Services
Cassie (Anderson) Lee has joined Schindler Elevator Corp. as sales representative, existing installations / service.
Dr. Riley Alexander has joined Aledo Consulting Inc. as a senior health care consultant.
Technology/Telecommunications
Fuzion Analytics has added the following: James Black, scrummaster; Krista Harrington, principal marketing and branding advisor; Kara Richey, principal data architect; and Nick Hotz, product owner.•
Please enable JavaScript to view this content.