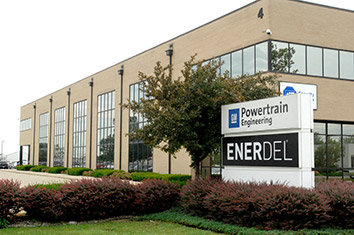 EnerDel Inc. is regrouping under a strategy of targeting niche markets, as Indianapolis and Hancock County officials press executives about the firm's future and former pledges of local investment and job creation that failed to pan out.
The company's 2010 economic development deal with the state for $21.1 million in tax credits already has been cut short, with EnerDel qualifying for only a small fraction of the credits.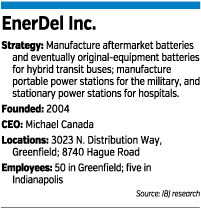 The maker of lithium ion batteries now is moving to sell replacement battery packs for transit buses, starting with Allison Transmission hybrid units, CEO Mike Canada told IBJ.
Its second priority is a mobile power station for the military, and the third is adapting the military units for stationary use by hospitals and other institutions.
Canada projected revenue of $10 million this year, at least $45 million next year, and $55 million in 2016. EnerDel will begin hiring more workers in early 2015, then a year later should turn its first profit, he said.
"It's essential for us to penetrate the [bus] market very quickly," Canada said. "We're very excited."
The company was founded in 2004 and five years later snagged a $118 million renewable energy stimulus grant from the federal government. A subsidiary of Ener1, the firm settled in the Indianapolis area and at one point hoped to hire as many as 1,400 people for its local operations. But its bet on a small electric-car company, Think, failed to pay off, leading Ener1 to declare bankruptcy.
Promises broken
Russian industrialist Boris Zingarevich acquired Ener1 out of bankruptcy in 2012 and took it private with a new business strategy. But after those earlier promises of hundreds of jobs, the patience of some government officials has been wearing thin.
The Indianapolis Department of Metropolitan Development this fall demanded that EnerDel repay $2.3 million the company saved from a tax-abatement deal with the city. On Nov. 11, however, DMD said it was "working toward an agreement" to avoid ending the agreement.
In 2008, EnerDel promised it would invest $12.1 million in real property improvements and $78 million in personal property investment for its battery-making facility at 8740 Hague Road. As part of the tax abatement agreement, EnerDel pledged to retain 67 full-time positions at an average wage of $32 per hour and create 317 new positions at $29 per hour.
Employment at the location near East 86th Street and Interstate 69 increased as assembly of Think electric cars ramped up in Elkhart, but then plunged when the Swedish company filed for bankruptcy protection in 2011.
The Hague Road location now has only a handful of employees in research and development, Canada said.
In October, the Hancock County Council summoned EnerDel brass to a meeting to ask why job promises, which started as high as 1,100, hadn't been fulfilled for a facility it opened in Mount Comfort. EnerDel made the batteries in Indianapolis and trucked them to Mount Comfort just east of Indianapolis for assembly into packs.
In January 2010, EnerDel announced that it would invest $237 million to lease and equip more than 200,000 square feet in a building at the Axcess 70 business park in Mount Comfort. In April 2010, Hancock County officials approved an incentive package worth $30 million in tax savings, in exchange for the promised investment and job creation.
They didn't come to pass. The last time EnerDel filed a report with the county, in May, it cited 65 jobs at Mount Comfort; Canada said the location currently has about 50.
EnerDel filings show it has spent $25.4 million on real estate improvements but didn't disclose spending on equipment, according to the Hancock County Auditor's Office.
However, county council members in October were convinced the company still had potential. They took no action on the original incentive plan.
"Our goal in life is not to kick someone while they're down," said Hancock County Council member Bill Bolander. "We felt like they were trying to make the company survive."
EnerDel's incentive contracts with the state didn't survive the firm's reversal of fortunes.
In August 2010, EnerDel and the Indiana Economic Development Corp. reached agreements on two incentive contracts totaling $21.1 million in tax credits through 2018, based on its plans to hire 1,400 new employees in central Indiana and make huge capital investments.
However, the status of those contracts has since been designated by the state as "ended," meaning credits no longer can be approved for the company. IEDC approved EnerDel to claim $2.3 million in tax credits only before the end of the contracts, according to state records.
EnerDel has actually claimed less than 1 percent of the $2.3 million in credits for which it was still eligible, according to Katelyn Hancock, IEDC director of media relations.
IEDC wouldn't comment on why or when the contracts ended, because its discussions and negotiations with companies are confidential, Hancock said.
What's next?
Meanwhile, EnerDel is betting the farm on the replacement batteries.
Early this month, Allison approved EnerDel's aftermarket pack for its H 40/50 EP transmission—which dominates the domestic hybrid transit market. Panasonic, which supplied the original batteries, is the only other approved maker, said Allison spokeswoman Melissa Sauer.
In July, EnerDel beat out Panasonic to ink a five-year deal with King County Metro in the Seattle area to replace as many as 48 batteries a year in its bus fleet. King County runs about 700 of the 6,000 Allison units in operation around the world.
Oahu Transit Services in Hawaii, along with Washington, D.C., also have contracts for the packs, which are priced at $45,000 each.
EnerDel intends to use the aftermarket contracts as a foot in the door to persuade Allison and other transmission makers to use them as original equipment, Canada said.
As EnerDel moves to nail down replacement contracts in Chicago, Cleveland and other places with high concentrations of the buses, it is experimenting with the military power station in the hope it will find its way to hot spots where global positioning systems and other portable devices need recharging. The units are supplemented with diesel generators.•
 
Please enable JavaScript to view this content.