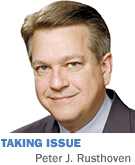 "Facts," John Adams said, "are stubborn things; and whatever may be our wishes, our inclinations, or the dictates of our passions, they cannot alter the state of facts and evidence."
Adams knew that dictates of passion could defeat facts and evidence. What we now simply call "Ferguson" is a sad example.
In August, Darren Wilson, a white Ferguson, Missouri, policeman, fatally shot Michael Brown, an unarmed, 18-year-old African-American. Protests and rioting were sparked by claims, seized on by much of the media, that Wilson shot Brown in the back while he had his hands up. Wilson disputed this, saying Brown attacked him.
A grand jury has now declined to indict Wilson for the shooting, fueling another round of protests, rioting and media commentary, much of it treating Ferguson as a paradigmatic example of racist law enforcement.
A policeman who shoots someone trying to surrender with his hands up should be indicted, convicted and punished. Shooting someone threatening the officer's safety, possibly his life, is far different. One may possibly question the officer's judgment, depending on the evidence, but the conduct is not criminal.
Most Americans, whatever their race, are indeed interested in the evidence and base their own judgments on what it shows. This is another way of saying most Americans are committed to the rule of law and elemental principles of justice.
But for a significant number, such principles are trumped by a preferred narrative that reinforces pre-existing social and political views. For many in the media and on the left, Ferguson is a dramatic morality tale about widespread, racially motivated police violence against blacks.
To those pushing this narrative, it matters not that stubborn facts don't support it. Physical evidence showed that Brown, who had just committed a robbery, attacked Wilson in his police car and tried to seize his gun. Physical evidence and disinterested testimony refuted claims that Brown had his hands up and was shot in the back. This included testimony by six black witnesses backing Wilson's story.
Ignoring facts one doesn't like is standard in totalitarian regimes, where censorship and propaganda serve an ideology that transcends discomfiting truths. Justice in individual cases likewise yields to whatever fits the governing ideological tale.
America is, and is supposed to be, different. Yet there are some shameful examples of this sort of mentality in our own history. A fictional one is illustrated in Harper Lee's novel, "To Kill A Mockingbird," in which a 1930s rural Alabama jury honors then-prevailing stereotypes by convicting a black man of raping a white woman, despite facts that prove his innocence.
Adams insisted that whatever the prevailing popular passions might be, the law must "preserve a steady undeviating course," and not "bend to the uncertain wishes, imaginations, and wanton tempers of men." And it must be "deaf as an adder to the clamors of the populace."
Adams' points about stubborn facts and the rule of law were made in defending British soldiers who fired into a crowd of Americans on March 5, 1770, wounding six and killing five in what Adams' fiery cousin Samuel labeled "the Boston Massacre. "Among the dead was Crispus Attacks, an African-American who became the first casualty of the American Revolution.
Today, we praise Adams' courageous insistence on individual justice, based on the facts and the law, despite "the clamors of the populace." We honor his example by following it.•
__________
Rusthoven, an Indianapolis attorney and graduate of Harvard College and Harvard Law School, was associate counsel to President Reagan. Send comments on this column to ibjedit@ibj.com.
Please enable JavaScript to view this content.