Accounting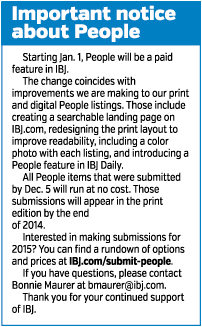 CliftonLarsonAllen has promoted the following: EJ Tolentino, principal, assurance, financial institutions and commercial entities; Olga Hall, director, tax, private, commercial, agribusiness, and manufacturing and distribution entities; Kira Sexton, manager, assurance, commercial, nonprofit, financial institutions, and manufacturing & distribution entities; Erik Augenbergs, manager, special advisory services, audit and financial analysis; Brent Barton, manager, tax, private, commercial, and manufacturing and distribution entities; Brittany Landrum, senior associate, assurance, financial institutions and for-profit entities; Elliot Smith, senior associate, assurance, public sector and manufacturing and distribution entities; and Erin O'Connell, senior accountant, special advisory services, outsourcing, nonprofit entities LLC.
Bailey Frye and Jay Sutton have been promoted to directors at Crowe Horwath LLP.
Advertising/Marketing/Public Relations
Burkhart Marketing Associates has added the following: Christine Caturano, chief strategy officer and managing director; Breanne Swim, senior digital strategist; Audrey Ryder, manager, client services; Allison Lauck, media specialist; and Heather Burnett, account executive.
Jerry Hofer has joined REACH Magazine and Valpak as an account executive. Lauren Miller has joined as sales/bookkeeping support coordinator.
Architecture/Design/Engineering
Michael Cox, Mark Eckert, Ken Fleetwood and Mike McCool have been promoted to partners and vice presidents at Beam Longest and Neff LLC.
Brian Neilson has joined KERAMIDA Inc. as vice president.
Andrew Acuff has joined The Schneider Corp. as GIS technician, and Andrew Magner has joined as GIS specialist.
Banking
Kevin Hipskind has been promoted to market president for central and northeast Indiana at Fifth Third Bank Greater Indiana.
John M. Belden has joined Salin Bank and Trust Co. as community president for Indianapolis and Columbus.
Civic/Not-for-Profit
Steven Ray has been named executive director of the North Central Indiana Regional Planning Council. Horizon House has added the following directors: Dr. David Mandelbaum, Sharon Reed and Scott Sladek.
Indiana Youth Institute has named the following new board members: Bruce Gobdel, South Bend; Tabitha Meier, Shelbyville; Eddie Melton, Gary; Stephanie Berry; and Perry Hines, Carmel.
Allison Wharry has joined New Hope of Indiana Inc. as CEO, and Paul Bryan has joined as director of marketing and development. Mark Ellison has been named president of the board.
Keri Brantley has joined the Ronald McDonald House of Indiana as annual fund manager.
Tanya M. Hand has joined United Way of Central Indiana as north area director. Mike Chapuran and Janine Robertson have been named managers of affinity groups. Lauren Rochester has been named community-impact manager. United Way of Central Indiana has elected the following new directors: Steven Alonso, Fifth Third Bank (Indiana); Bill Benner, Pacers Sports & Entertainment; Beth Nicholas, Dow AgroSciences; and, Dave Ricks, Eli Lilly and Co. Gina Hays, Mental Health America of Greater Indianapolis, represents United Way's agency executives.
Professional/Trade
Jennifer Ping, Bose Public Affairs Group, has been named to national public policy advisory group for the National Association of Women Business Owners.
Andrew C. Mallor, Mallor Grodner, has been elected into membership in the American College of Family Trial Lawyers.
Services
Frances Valentine has joined Thomas P. Miller and Associates as a senior project consultant.
Andrea Kilgore has joined Caregiver Homes of Indiana as sales and marketing director.
Sports
Chelsea Lowman has joined the Indianapolis Indians as community relations and promotions manager.
Technology/Telecommunications
Jeff Platón has joined Interactive Intelligence Group Inc. as chief marketing officer.
Kathryn Woodward has been promoted to director, operations at TelSpan.•
Please enable JavaScript to view this content.