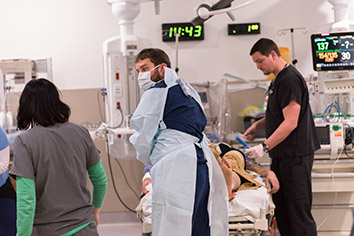 When a patient with Ebola sought treatment at a Dallas hospital in October, the hospital ended up losing more than $400,000 per day.
Those figures created a significant financial scare for hospitals in Indianapolis and across the country.
So to make sure they don't take the same kind of hit as Dallas' Texas Presbyterian Hospital, Indianapolis hospital leaders have spent the past two months ironing out a plan to deal with any cases of Ebola that emerge in Indiana. The plan is aimed at ensuring effective care while also minimizing the need to bring other hospital services to a virtual halt while patients are under care.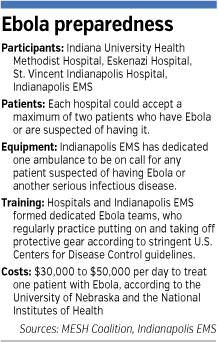 Eskenazi Hospital, St. Vincent Indianapolis Hospital and Indiana University Health Methodist Hospital all have volunteered to care for Hoosiers who contract Ebola. And the Indianapolis EMS ambulance service has volunteered to provide transportation for any patient suspected of having Ebola, anywhere in the state.
"One patient could be incredibly expensive," said Tim Stephens, CEO of the Mesh Coalition, a not-for-profit formed in 2009 to bring together the region's health care systems, police forces and government agencies to make sure they respond efficiently and effectively in a crisis.
Mesh spearheaded the Indiana Ebola preparedness plan, in concert with the Indiana Hospital Association, the Indiana State Department of Health, and Indianapolis EMS, which is an arm of the city of Indianapolis.
Ebola is a viral disease with no cure. Ebola has killed more than 6,000 people this year in an outbreak in West Africa.
Stephens noted that a single Ebola patient can significantly affect health care for the entire community. In Dallas, just one Ebola patient led Texas Presbyterian to stop accepting patients at its emergency room, diverting them to other hospitals.
Stephens wants to make sure that, not only are there hospitals ready to care for Ebola patients, but other hospitals are ready to handle patients who normally would have received care at the hospitals with the Ebola patient.
The shuttering of Texas Presbyterian's ER for nine days, Oct. 12-20, meant nearly 2,400 fewer patients were treated there and, presumably, went elsewhere for care.
The halting of ER traffic is what caused most of the $8.1 million in lost revenue Texas Presbyterian suffered during the first 20 days of October.
News of Texas Presbyterian's patient, Thomas Eric Duncan, being diagnosed with Ebola came out on Sept. 30. Duncan died at the hospital Oct. 8.
Two days later, one of the nurses that had cared for Duncan was diagnosed with Ebola. And on Oct. 15, a second nurse from Texas Presbyterian was diagnosed with the disease.
During that period, which featured intense worldwide media scrutiny and some panic among Dallas residents, Texas Presbyterian admitted 21 percent fewer patients to its hospital and performed 25 percent fewer surgeries, according to the third-quarter financial report issued by the hospital's parent organization.
Most hospitals don't have to fear those financial hits. This month, the U.S. Centers for Disease Control and Prevention has designated 35 hospitals around the country as Ebola treatment centers. But it's not clear how the costs those hospitals incur would be funded.
The Nebraska Medical Center, a designated Ebola treatment center, said it spent $30,000 per day treating two patients this fall. And the National Institutes of Health's medical center said it cost $50,000 to treat one of the Dallas nurses infected with Ebola.

Leonard
Ebola is expensive in part because a hospital might have to close parts of its facility to properly quarantine the patient. But treating the disease also generates an enormous amount of medical waste, noted Doug Leonard, CEO of the Indiana Hospital Association.
That's because Ebola is primarily borne in body fluids, including perspiration on the skin. In advanced stages, Ebola patients sweat and bleed profusely, meaning sheets, gowns, towels and other materials they touch are constantly contaminated.
One Ebola patient produces about 3,000 pounds in medical waste, Leonard noted.
That medical waste also has to be disposed of specially, so that transporting it through the hospital doesn't accidentally contaminate sanitation workers or the materials they come into contact with.
Still, Leonard added, he didn't have to do any persuasion to get Eskenazi, IU Health and St. Vincent to sign up as Ebola hospitals.
"Given IU Health's clinical expertise, we believe it is our responsibility to collaborate with community partners on matters of public health, and we are encouraged by the vigilance and preparation this matter is receiving in the state," wrote IU Health spokeswoman Whitney Ertel in an email.
Dedicated teams of staff members at Eskenazi, St. Vincent Indianapolis, Methodist hospitals, as well as the Indianapolis EMS, underwent special training in November to be ready to protect themselves and others.
Carl Rochelle, public information officer at Indianapolis EMS, said coaches at each organization have been conducting drills based on a checklist with those teams for putting on and taking off their protective gear.
Indianapolis EMS purchased higher-quality suits for its staff members to wear around any patient suspected of having Ebola.
Indianapolis EMS also dedicated one ambulance to use only on runs when patients are suspected of having Ebola or another highly infectious disease, such as MERS.
Kevin Holloran, a hospital analyst at Standard & Poor's, said he did not expect having an Ebola patient to be significant enough to alter his bond ratings for hospitals. He estimated the additional Ebola preparation would add one-quarter of 1 percent to hospitals' expenses.
"It's never an opportune time to have added expenses," he said. "But the ultimate solution is to rapidly identify and rapidly transport those patients to a center that can handle it."•
Please enable JavaScript to view this content.