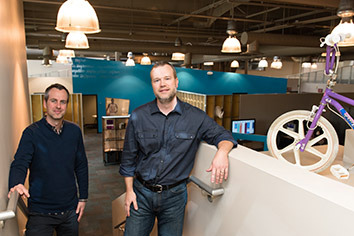 Seven years ago, Jacob Leffler and Brian Phillips sat in a tiny Broad Ripple office that housed their new digital marketing firm, with no clients and no money.
This year, The Basement boasts a client list that includes K-Mart, Kentucky Fried Chicken, Procter & Gamble, NCAA and Simon Property Group Inc. The firm's year-over-year revenue in 2014 has grown at better than 25 percent, hitting $2 million.
The firm is projecting 30-percent growth each of the next two years and, to accommodate expansion, moved this fall from its second home near Fort Benjamin Harrison to downtown digs inside Union Station.
The 6,000-square-foot space allows the company's 16 full-time employees to brainstorm and create digital ad campaigns that some in the advertising business say rival work out of the biggest markets on the coasts.
"With The Basement, you get the quality you'd get from the San Francisco or New York markets at half the price," said Brendan Jackson, who was a product manager at Yahoo and MTV before becoming director of marketing at Ifbyphone, a Chicago-based maker of telephone-marketing software.
Jackson said he got a cold call from Phillips and Leffler—one of many they made—shortly after they founded The Basement. At the time, Jackson was working as a director at a Louisville ad agency and "needed help in digital."
He was impressed by the duo's initial pitch. And that rarely happens.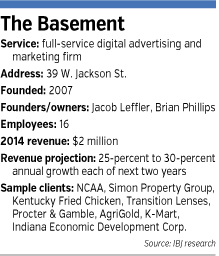 "I get a constant stream of small agency pitches, and I look at the work and respond to less than 1 percent of them," he said.
Phillips' interactive children's e-book and his three-dimensional architectural displays made for previous employer Schneider Electric caught Jackson's eye.
"Brian is one of the best creative people I've ever worked with," he said. "What [Phillips and Leffler] do is pretty unique, especially in the animation and rendering space."
The Basement has netted so many big clients, "they almost make it look easy," Jackson said. But it wasn't.
"Big brands generally look for agency talent in big media markets," he said. "They've traveled a long road in a relatively short time."
A few drinks later
In 2007, few would have blamed Leffler if he had wished he hadn't reconnected with his childhood friend from Indianapolis' east side five years earlier.
After a chance encounter in 2002, Phillips took Leffler out for a few drinks.
"I told him, 'I want to start a business. Help me,'" Phillips recalled. "I started by asking him to advise me. Then I bought him a couple of drinks and asked him to go in with me."
Leffler, who at the time worked in marketing at McDonald's Corp.'s regional office in Indianapolis, thought long and hard before he left the comfort of the Golden Arches.
"It was a big gamble," Leffler said. "I knew that."
But he also knew something else: Phillips had the artistic skills and tech savvy, and he had knowledge of marketing and a business acumen that made the two of them a good fit.
Both former high school jocks, Phillips and Leffler were equally fueled by a competitive fire that drove them forward in sync.
Phillips saw early on what he wanted to do—even if he didn't know what it was.
"Just as I was about to graduate high school, I saw 'Toy Story' in 1995 and I said, 'I want to do whatever that is,'" Phillips said.
After graduating from Warren Central High School, Phillips, 38, majored in computer visualization at ITT Tech. Along the way, he taught himself computer programming.
Leffler, 40, who graduated from Scecina High School and earned a degree in speech communications from Ball State University where he cut his teeth marketing the school's sports teams, said Phillips' talent wasn't difficult to spot.
"His work in illustration and animation was just amazing," Leffler said. "He was doing the kind of work very few if any around here were."
Slow start
Still, the duo's efforts to launch a business began in fits and starts. After two earlier iterations of their company failed to go where they wanted, they found success selling The Basement's digital offerings to other area advertising agencies.
Many ad agencies can develop websites, but Leffler and Phillips early on took the process a step further, incorporating interactive elements, animation, games and storytelling. Their sites also helped clients acquire key demographic data—such as age, gender and buying habits—that a growing number of companies sought from the people interacting with them online.
"Digital was a growing part of the industry and [The Basement] had a skill set a number of agencies needed," said George Evans, principal and creative director of Brandwidth LLC, an Indianapolis-based marketing firm. "They've had meteoric success and it's well-deserved. I've been in the business 35 years, and I've worked with very few people that are more talented and capable."
Leffler said that, to get started, he and Phillips took almost any size project—no matter how small. The key to early success was delivering projects on time, on budget and, most important, "with zero glitches," Leffler said.
The zero-glitches mantra didn't bother Phillips, who handled much of the programming in the early days.
"I thrived on it. I loved the challenge and competition of it. I still do," he said.
And, as employees at The Basement's client ad agencies began to take jobs in the corporate sector, the relationships Phillips and Leffler had built with them led to more work directly with corporate clients and less through ad agencies.
Something extra
The company's signature has been its ability to "map a story on top of an experience," Leffler said.
For instance, The Basement helped promote a security firm by developing a website that doubled as a game featuring Rob the Bad Guy to show weaknesses in home security.
The Basement also developed a website for K-Mart that featured a real-time layaway calculator, designed and developed an online eyeglass builder for Transition Lenses, and created an on-premise customer rewards program delivered via iPads for Simon Property Group malls.
In one of the company's highest-profile jobs, it worked on a series of campaigns for Kentucky Fried Chicken, helping with product launches that included a cooperative venture with EA Sports to introduce a $5 box meal and Madden NFL 10 video game.
In the KFC Rocks campaign—which jointly promoted KFC and Activision's Guitar Hero IV: World Tour video game—The Basement developed a website with an integrated sweepstakes and a custom online video game titled Surf the Crowds.
That campaign scored The Basement a National Addy Award from the American Advertising Federation for Best Online Video Game.
It's not just its work with technology that has helped The Basement grow.
"They're very strategic marketers," said Leah Kareti, a contract project manager with the NCAA who worked with the firm to develop an online high-risk alcohol-use prevention program for college students. "They'll work with the client for hours to make sure they know exactly what their objectives are."
The Basement isn't the only local agency doing national work. The likes of Young & Laramore and Bradley and Montgomery also serve big-name clients. Those firms, however, are four times the size of The Basement.
With the growth of the digital world, Evans of Brandwidth said, The Basement can be as big as it wants to be.
But Phillips and Leffler aren't sure they want to be among Indianapolis' biggest ad agencies.
"We want to be genuine with people," Leffler said. "Not every [prospective client] is a great fit. We want to focus on the clients who we can offer the highest amount of value based on what we're good at."•
Please enable JavaScript to view this content.