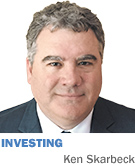 Recent economic reports suggest America can finally declare that a better economy is trickling down to Main Street. While recent years have been a boon to upper-income groups, evidenced by sales of luxury goods and rising stock prices, the economy now seems poised to provide a boost to the broader population.

The unemployment rate has fallen to 5.8 percent and expectations are for continued job gains in the coming quarters. In a reversal of trend, lower-wage workers are seeing bigger pay gains than the highest earners.

Perhaps the biggest shot in the arm will come from the sharp drop in the price of oil. Oil prices have fallen more than 40 percent in the past five months, from a June high of $115 per barrel to $62 recently. The estimated $750 savings in gasoline costs per household works like a giant tax cut.

Thus, sales are poised to increase across broader categories of consumer items. The benefit to the mass consumer is being witnessed in Walmart's stock, which has risen more than 10 percent in the last month. Inflation, in the meantime, remains moderate.

This is the kind of broad-based economic conditions that everyone hoped would finally materialize. Yet we don't hear much of a hoorah from financial commentators. The monthly employment report that until recently had all observers on the edge of their seats is now old hat, replaced by consternation over the decline in oil prices.

The rhetoric over the dramatic drop in oil prices has exposed the folly that periodically seeps from the financial press and Wall Street. While the general public is keenly aware that lower oil prices help reduce the strain on the family budget, the financial media and Wall Street are gnashing their teeth over the sharp price drop. Why? Because many financial players are losing their shirt, with several hedge funds caught with positions leveraged to an increase in oil prices. As always, none of the "experts" saw this coming.

So instead of celebrating the economic benefits of lower oil prices, we hear that debt-financed oil companies could go bankrupt. On a global scale, geopolitical analysts are warning of instability in Russia and the Middle East (how much more unstable can they get?). Putin has done just about everything possible to single-handedly sink the ruble and the Russian economy, and now Wall Street is worried about how lower oil prices will affect the region?

Certainly, U.S. companies that were booming in the Bakken region of North Dakota are going to see a significant drop in revenue. There will be less need for infrastructure and oil services, like pipe manufacturers, welders and railroads. Short-term thinkers are already predicting the final demise of the Keystone pipeline.

Sudden price jolts in markets tend to foster immature dialogue from those who are supposed to be professionals. Predictions such as those proclaiming that America's reliance on fossil fuels is over are just as irresponsible as the peak oil theorists who held sway with the media until technology made it profitable to frack oil from shale. It is also improbable that lower oil prices will stop the push for the further development of renewable energy like solar and wind power.

So turn down the volume and enjoy the benefits of lower energy costs.•

__________

Skarbeck is managing partner of Indianapolis-based Aldebaran Capital LLC, a money-management firm. His column appears every other week. Views expressed are his own. He can be reached at 818-7827 or ken@aldebarancapital.com.