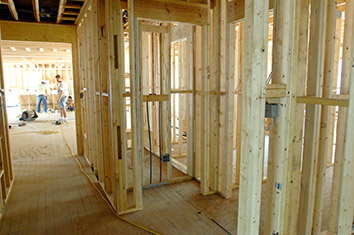 Central Indiana homebuilders had their best November since 2007 last month and are finishing the year on a positive streak.
Builders filed 386 single-family building permits in the nine-county metropolitan area last month, the Builders Association of Greater Indianapolis said Tuesday. That's up 22 percent from the 317 that were filed in the same month of 2013 and the best November since 500 permits were filed seven years ago.
More permits have already been filed this year in eleven months (4,757) than were filed in all of 2013 (4,626). Area builders are on pace to top 5,000 annual sales for the first time since 2007, when 7,326 permits were issued.
Area permit filings have been on the rise on a year-over-year basis for the past three months. They were up 8 percent in October and 1 percent in September.
Marion County saw 74 filings in November, up 45 percent from a year ago. Filings doubled in Johnson County, from 29 to 58.
Hendricks County had 59 filings last month, up 55 percent. Filings were flat in housing hotbed Hamilton County, with 135.
Boone County experienced a 24-percent drop, from 33 to 25.
 
Please enable JavaScript to view this content.