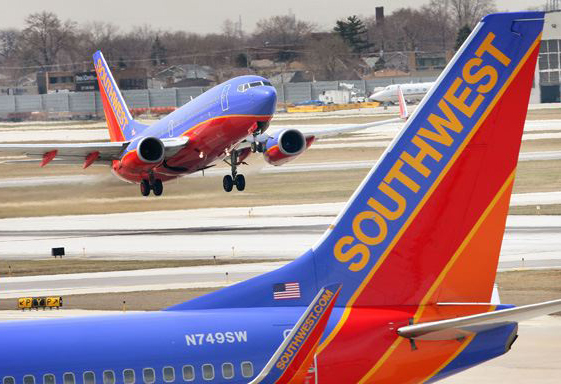 Southwest Airlines plans to add nonstop service to Boston and Los Angeles from Indianapolis, beginning in June.
Southwest will depart Indianapolis International Airport for Los Angeles once daily, and there will be two flights every day to Boston, the airline announced Wednesday.
"These two new nonstop flights to Los Angeles and Boston provide a significant expansion of flight service into key business markets for our airport," said Michael Wells, president of the Indianapolis Airport Authority's board of directors. "Our travelers will greatly benefit from this additional service through new flight options and enhanced competition, further boosting the level of air service our airport provides."
Southwest already has 33 nonstop flights a day leaving Indianapolis for 12 cities. The nonstop service between Indianapolis and Los Angeles will begin June 7, and between the city and Boston on June 28.
Southwest is not the only airline to offer nonstop flights from Indianapolis to those cities. Delta flies nonstop to both, and American also offers nonstop service to Los Angeles.
Southwest and its subsidiary Air Tran Airways operate more than 3,400 flights per day to 93 destinations across the U.S. and five other countries. It employs about 46,000 people. Shares of publicly traded Southwest rose 1 percent late Wednesday morning to $39.90.
The announcement comes just one day after Southwest baggage handlers staged protests at 16 U.S. airports, including in Indianapolis, claiming they have been neglected by the airline and drawing attention to its slide in on-time performance. The handlers are in the midst of contract negotations.
For years, Dallas-based Southwest was the most punctual of big U.S. airlines, but it stumbled after trying to squeeze more flights into its schedule.
Southwest was in last place in on-time arrivals among the largest five carriers in 2013 and much of 2014 but topped American and United in October, according to figures released last week. Over the summer it began scaling back its schedule changes and allowing more time between flights.
Please enable JavaScript to view this content.